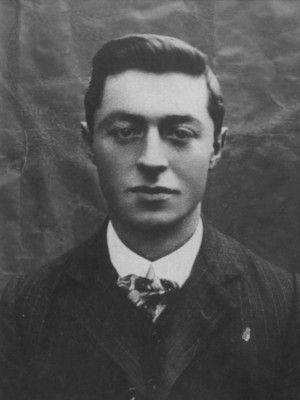 I Remember

by Oswald Barnett
Written for the family during 1964-65.
Transcribed by his daughter Betty Blunden
PROLOGUE
Writing the story of my life has been a happy task. It was really inspired by Betty who wanted me to tell her all about the family. I felt that the most efficient way to do this would be to write it rather than attempt to speak it.
'Memory unlocked the door' and I looked down a long avenue, right back to when I was four years of age. Starting with a brief account of the coming of my parents to Australia, I then began on my own history – the first day at school. It was like going through a gallery of pictures, all of them a little faded, but memory gradually put back all the colours. one thing led to another, and before long, the pieces began to fit into a pictorial mosaic.
My life has always been sheltered by love, no matter how stormy the outside circumstances. Going back to this period to incorporate it in this diary, I realise more than ever before how much I owe to my home environment, especially to my Mother and Father, and my sister May. In the attempt to put it all down in words, I have lived it all over again, though there has been a little sadness arising from it – the fact that I did not appreciate it as fully as I might have done and the futile longing that I wish I could have the chance all over again. I suppose this is the most common reaction – that children, when they have lost their loved ones, realise they could have more fully expressed their love. Strange, we "never prize the violets, till the lovely flowers are done."
As this is a diary, mostly of my own personal life, it has been necessary to use the personal pronoun very often. This I regret, but I have not the ability to do otherwise.
In the two great Social Ventures in which I was vitally interested it may seem that I claim too much for myself. Also, I am sorry, for though I was instrumental in bringing both to birth, I realize very frankly that neither would have succeeded without the dedicated support of those who caught the vision. It is obvious that the idea of saving slum babies would have been just an empty dream but for the enthusiasm of the young men and young women, and through the whole-hearted support of the Methodist Church, institutions of the Housing Commission was possible only because the inspiration set on fire the men and women who attended what was called "The Barnett Slum Study Group." To all of them, "I lift my hat."
I Remember
The story of my pilgrimage through the years.
My father and mother were born in Cornwall. They left St. Day in Cornwall on 31st May, 1874, and sailed from Liverpool on 4th June in the "Great Britain." In 1853 the "Great Britain" had made an historic trip to Australia. It was the first auxiliary steamship to complete the voyage.
At the age of eight, Father went to work in a mine and his schooling (for which his Mother had paid two pence per week) came to an abrupt end. He could, however, read and write, but his spelling was absolutely phonetic. He was naturally good at figures, and when working later as a quarryman, would calculate the cubic contents of a dray-load of stone, more quickly in his head than I could on paper.
After they were married, my Father, while working in the shaft of a mine, was, by a premature explosion, blown up several feet, and then fell down the shaft. Almost every bone in his face was broken, and thereafter he wore a beard. As he regained consciousness, a rescuer was pressing a glass of brandy to his lips. He impetuously knocked it away. As a youth, he had frequently taken too much liquor, one time being so much under the weather that his Father wheeled him home in a wheelbarrow. Thoroughly alarmed by his son's danger, his Father said that he would take no more liquor if his son would agree to do the same. My Father agreed, thinking that my Grandfather would not be able to keep his resolution, but when he found that his Father was fully determined, he too decided to keep the pledge. As he was converted later in the Methodist Church, there is no doubt his religious convictions greatly strengthened this resolve. As a result of the accident down the mine, my Mother persuaded my Father to give up mining and they decided to emigrate to Australia.
They brought with them their two daughters, Ada agreed three, and Mabel who had her first birthday on the water.
Landing in Melbourne on the 29th July 1874, they settled in East Brunswick where they lived for the rest of their lives. There they had five more children. Following May there was Jack, then Ethel and a twin brother, and following them were more twins, Percy and I. Ada died soon after arrival and Ethel's twin and my twin did not live long after birth.
THE FIRST HOME
As my Father was not permitted to work down a mine, he became a Quarryman, the work for which mining had evidently fitted him.
He prospered sufficiently to buy a small single-fronted cottage in Linden Street, East Brunswick on land 78 feet frontage and by about the same depth. Later, the cottage was doubled by adding two rooms on the West, allowing for a passage in between the old part and the new addition.
We had the best house in the street now, double fronted with twin gables. In the rear of the Eastern gable was a small louvre door, through which I used to crawl to get eggs from the sparrows' nests under the roof. I was quite dark there, so I would take an old bull's eye lantern (lit by a candle inside) to show me where to step over the ceiling joists. Even in those days there was a fear of an invasion by the Russians, probably the aftermath of the Crimean war. If they came, I would hide under the roof, where I was sure they would never find me.
But I was sure that they would never be able to land in Port Phillip Bay, because we had naval protection – an old gun boat, called the Cerberus. Its guns were said to be so near the waterline that when they were fired at an invading ship the cannon balls would hit at the water's edge, so that it would quickly sink. Thus were my childish fears banished.
Our dining room was looked upon as immense, being 17 feet by 12 feet. (The standard room in workers' houses was generally 12 feet square.)
The passage from the front door finished at the door opening into the dining room. When my brother Jack became a carpenter, he added the most compact all-purpose room I have ever seen. It was about eight or nine feet square, and was attached to the South-east corner of the dining room. As one entered the door, there was a hand-painted sheet-iron bath immediately on the left, stretching to the East wall. On the East wall were two wooden troughs and the copper. On the south wall was a coal stove.
As the troughs had removable wooden tops they served as table tops at breakfast time, which was very handy, as the food was cooked on the adjacent stove.
This room was also a very convenient bathroom, the water being heated in kerosene tins on the stove, and then lifted across to the bath some five or six feet away. On one occasion, as my Mother was lifting a tin of hot water to the bath (I was sitting on the edge) she slipped, and she poured the hot water all over my legs and feet. Though the hot water was hot enough to make my legs a little red, fortunately it was not boiling, though I let out a yell that was 'hark to the tomb'. I recovered quickly, and we celebrated by Mother, May and I going down to St. Kilda for the afternoon. The weekly hot bath was always on Saturday, hence the possibility of going down to the beach.
Other than breakfast, all meals were had in the dining room. We were rather proud of the dining room, but as it had a skillin my brother remedied this defect, when he built the kitchen-cum-bathroom-cum-laundry. This improvement gave the family much pleasure, for things hardly won are always the most appreciated.
We called the house by a Cornish name "Pendruver." The name was painted on a strip of galvanised iron in dark red letters outlined with gold, against a background of dark green. Ours was the only house in the street that had the distinction of a name.
I can still vividly remember the furniture we had. In the "front room" was a small piano, much prized, and used a good deal. There was also a "what-not," a three cornered piece of furniture consisting of a small group of shelves placed one above the other on which cherished ornaments were placed. The one thing I remember best was a bull-dog in white china with a black nose. Naturally, the "what-not" was placed in the most sheltered corner of the room, generally diagonally opposite the door.
There was also a dainty oval table, very beautifully inlaid.
In the dining room we had a painted drain-pipe in the corner, which was always filled with pampas grass, a big clump of which grew in a corner of the front garden. When pampas grass grows old it becomes very soft and fluffy and highly inflammable. One night I stood near it with a lighted candle, and as quick as lightening it caught fire. I was scared stiff because I knew that our house being weatherboard would burn like matchwood. I was afraid to touch it with my bare hands, so I pulled my coat sleeves over them, and quickly patted the fire out. When the family knew what risk we had run we were all very thankful.
One possession we greatly prized was a tea-set, with a cornflower design. I think it must have been very good china, for though it was always in use on Sundays and when visitors came, some of the cups and saucers are still intact.
Though our house was easily the best in the street, we were ashamed of the street itself. It was very narrow, looking back I should say not much wider than twenty-feet. Opposite to us was a tumble-down shack, and next to that a row of single-fronted cottages built on a frontage of about fifteen feet each. During the depression following the land boom, they were let at 4/6d. per week each. This was in accordance with the working mans dictum that rent should not be more than one day's pay, (for those in work) for the unskilled labourer it was then 5/- a day.
But it was not so much the street itself, but the approach to it, about which we were sensitive. In ran into a right-of-way at the top end, and it was galling to our pride to bring visitors down this right-of-way to enter our street. Nevertheless, despite the shabby approach to the Street, I spent a very happy childhood there in a family that was very affectionate.
Betty took me recently to see the home of my birth. The area was so changed that it was hardly recognisable. Our old home has been replaced by a factory, and several new houses have been built on the vacant blocks. The row of cottages opposite has been repainted and looks vastly superior. In a word, the whole street has had a face lift, but I missed the sentiment that through the years was attached to the old home. Probably this whole area with its out-of-date rights-of-way (belonging to the pre-sewerage era) will have to be demolished and re-planned.
CHRISTMAS DAY
One of my happiest recollections as a child was the way we celebrated Christmas day. Mr. and Mrs. John Jenkin were great friends of my father and mother arriving in Melbourne somewhere about the same time as they did. They always invited the whole family up to their place on Christmas Day. They had a very nice home in Barrow Street, Brunswick built in the centre of a four-acre block, the rear portion of which was let to Chinese for a vegetable garden. The Jenkins house was surrounded by orchard and garden. The fruit, of course, was a sheer delight to a boy – fruit of unending quantity and of that delicious flavour when it is picked straight from the tree. There was a cow always a famous milker, and cream was laid on. After a real oldstyle Christmas dinner, we rested awhile. Then races were arranged for the children down a curved path that ran to the front gate, and of course every runner got a prize.
There was a circular pond in the front garden, full of gold fish. As there was a fountain in the middle, it was a source of never failing interest, all the more so when one of us would fall in.
After a very tempting Christmas tea, there were the old-fashioned card games of grab and quartets, in which we would join as soon as we were old enough.
When it was time to go home, we were thoroughly tired, but home was two miles away – no trams, no cars, no buggies – just shanks pony. But it was worth it. Even now as I look back, I get quite nostalgic about the happy care-free days of childhood.
All these dear folk have gone to their reward, one of the daughters Edie, being the sole survivor of the original family, and she was ninety years old a few days ago. Her elder sister, Abbie, married Will Phillips. They too have passed beyond the veil, leaving three lovely children, Jack, Ron and Ida, all of whom carry on the old traditions of kindness and the hospitality of the old family. I am grateful that they are still friends of mine.
EARLY DAYS
When I was four and a half years old, I went to the State School situated in Albert Street, Brunswick, known as Hayden's (after the headmaster), and numbered 1213. It was practically a mile from home so my sister Ethell and I took our lunches (Jack and Mabel by this time having started work,) I can still vividly remember my first day at school. I was terrified, and cried so bitterly that my sister had to come and sit with me until I grew used to my strange surroundings. I was in the babies' class (really built for tiny children) and as Ethel was nearly fours older than I, and tall and lanky, she sat with knees practically under her chin. The memory of that day is still grievous unto me.
Brunswick at this time was not sewered, is mostly flat, the gutters most of the time held stagnant water, which was swept away once a week by Council men with huge brooms. They also had a short-handled three-cornered hoe with which they would root out the weeds growing in between the stone pitchers which formed the gutter.
Sometimes I fell into one of these steep slimy gutters, which was an adequate reason for my sister to take me home to get cleaned u~ by which time we would be too late to go to school. On one occasion I slipped into the gutter which was, of course, an excuse for returning home. On the way, my trousers dried and it looked as if there was no apparent reason why we should go home. At the instigation of my sister, I straddled an evil-smelling portion of the gutter, she took me firmly by the shoulders, and pushed me down into the slime. We then both went home, and had the day off, much to the annoyance of my Mother, for my trousers had practically dried the second time.
I FALL IN LOVE
Soon after I went to school I fell in love. She was a lovely creative fair skin, the most beautiful flaxen hair, and eyes as blue as the sea. When I first saw her, she was skipping on the asphalt in front of the Eastern end of the school. I can see her now, her lightfeeted skipping up and down, her hair flying in the wind, and her eyes dancing with delight. I was overcome with admiration, and loved her at first sight.
When I went home after school, I told my Mother all about her, how lovely she was, and how I loved her. I never spoke to her; I was too thunderstruck. I was about five years' old, she about six, and a grade ahead of me in school. When she moved up into the next grade she left the main school and went down to the "Adjunct" a quarter of a mile away. I never saw her again, though the vision of' her has remained with me ever since. I wonder if she happily married.
About this time the man next door took his children and me for a drive in his spring-cart to Heidelberg. It was an extremely hot day and he pulled up outside an hotel, which he entered forthwith, and came out with a glass of beer for each one of us. I never tasted such a lovely drink in my life.
When I returned home, I told my Father all about it. He was so angry that he wanted to jump the fence and tell the neighbour what he thought of him. But my Mother restrained him. But I shall never forget the taste of that beer.
When I was about ten years old, I went down to South Melbourne to meet an old school friend who had gone there to live. After a swim, we made our way to the tram. I was wearing a blue Galatea sailor suit with an outside pocket. As I was about to step on the tram, I found all my money was missing. It had evidently slipped out of my pocket and would have been hidden in the sand. So I went up to a lady passing by, told her my story and asked her would she kindly give me enough money to pay my fare home. She went for me like a pickpocket, and so frightened me I started to run, up Elizabeth Street, along the Royal Parade to Sydney Road, stopping every now and then to get my breath. I had learnt at school that exercise made your muscles grow, so, going down Edward Street, Brunswick, I stopped and felt the calves of my legs to see how much they had grown. I was tremendously disappointed that the long run had made no difference whatever.
As a small boy I often took my Father's contributions to his Lodge down to the home of the Secretary – a venerable old gentleman with a thin straggly beard. As I would wait for him to enter the payment in the Lodge book, I was invariably fascinated by a picture on the wall. I fancy it must have been some form of Lodge Certificate. At the top of the certificate was the picture of an immense Eye with the words "Thus God seest me." It used to awe me, and gave Me a great fear of God, the Eye that saw everything and from which we could never escape.
It is a good thing that such teaching of God as a God of fear, is being replaced by the truth that God is love.
It was the custom in those days for school children to wear long black stockings to above the knees and kept in position by elastic garters. (The widgies seem today to have resurrected this style).
One of the problems that arose, is that, in falling over, one generally tore a hole in the knee of his stocking. To make it practically indistinguishable I would rub some Day & Martin's blacking (Nugget was unknown in those days) on the knee behind the hole, which would then pass detection but for the closest inspection.
SCHOOL DAYS
I do not remember being very interested in school lessons until I was in the Upper Fifth Class under a typical school "marm" – Miss. Rennie. Much to my amazement I won a prize for history which seemed to arouse my interest and the desire to do well. Despite a stern exterior, Miss. Rennie had a kind heart. Sometimes she invited me down to her place for tea, which always proved a very enjoyable affair. She never called me "Oswald" but always called me "Fred." The only one in the world who ever did so.
I was put into the sixth grade when I was ten Years old, and here I stayed till I was fourteen. Our teacher, Mr. Sam Rowe, was much beloved. He was short and stout, with mutton-chop whiskers, and sported an extraordinary bell-topper, one rather squat, which suited his figure, and was often used as the "model" in model drawing. For many years after our school-days were over, many of the old scholars on the occasion of a back to Brunswick celebration would write to the Press and tell of the extraordinary influence that Mr. Rowe had on them. For many of us he was a most inspiring character, and had tremendous effect on the formation of our ideals. He was the most gifted and most loved teacher I ever met and I cannot think of' him without a feeling of exceptional affection.
I was under Mr. Rowe for three years, and happy and fruitful years they were. It meant going through the set programme with him three times in that period. In particular, English was thoroughly taught, parsing and analysis, derivations, prefixes and affixes, so that we got a pretty clear understanding of the structure of sentences, and the basic meaning of most of our English words that were in common use. This part of my education I thoroughly appreciated, even more so as the years have passed.
When the Upper Sixth was formed and separated from the Lower Sixth, Mr. F.N. Gibbs became our teacher. He was extremely strict. If we made a mistake in our parsing we stood up on the form. If we could give a reasonable excuse we were allowed to sit down. If the mistake was simply due to thoughtlessness we got a cut with the cane. The same applied to Arithmetic. It was most effective. At the close of a lesson, very few were left standing on the form.
Mr. Gibbs also held night classes in the city preparing teachers for their exams. I was employed by him to check the test papers in Latin, Euclid, and Algebra, write out the correct answers, and then, by what was called a jellygram, reproduce enough copies to supply the students. For the work I received one shilling per hour, the normal wages, at that time, of an unskilled labourer. But Mr. Gibbs' partner objected, as he was afraid that I may replace him as a partner. So Mr. Gibbs dispensed with my services.
It was said that Mr. Gibbs made 800 pounds a year out of his Teachers' Classes, but he received only 156 pounds a year from the Education Department. 800 pounds per annum was a considerable sum in those days. Mr. Rowe received 19 pounds per month (220 pounds p.a.) Mr. Hayden, the first headmaster in the State received 44 pounds per month (528 pounds p.a.) which was considered princely. So that his coaching classes brought in over 50% more than the leading Headmaster in the State.
Under Mr. Gibbs I became the Dux of the Upper Sixth and presented with a silver medal the size of a shilling. At Combined School Sports there was an inter-school tug-of-war, eighteen boys a side. Mr. Hayden bought twenty medals (they had been struck by the score), eighteen for the winning tug-of-war team, leaving two over. One was presented to me as Dux, the other to the leading girl.
One another occasion, being interested in a talk that Mr. Rowe had given us on the digestion of 'food in the human body', I wrote an essay on "Tracing a bit of bread and butter from the mouth into the blood." Mr. Rowe was delighted with it, showed it to Mr. Hayden who, after a sonorous speech, presented me with a little black book costing 1/-. The day of school prizes had not yet dawned.
THE GIRLS AT SCHOOL
There were many nice friendly girls in the Upper Sixth. Among them was Muriel Frith, whose golden hair hung down to her waist. She eventually became the wife of my pal, Charlie Whittaker. I liked all the girls, but loved none. I would pick out a girl that was likeable, find a poem in Wordsworth or some other poet dedicated it to say "Mary." I would copy the poem on a piece of paper entitle it to the girl I had in mind, draw butterflies all around the edge, and fill them in with coloured crayons, and then hand it to her.
After tea one night, having done my school exercise, I was busily engaged on one of my butterfly designs, when my Father leaned over saw what I was doing, and confiscated the illustrated poem. He folded it up, and put it in his waistcoat pocket. The next time I saw it, it was worn through at the folds. He must have shown it to every man who came into the quarry, and I guess they all laughed heartily.
After that, I copied out all such effusions and illustrated them in the secrecy of my bedroom.
THE CRUELTY OF BOYS
As a young boy, like all other boys of my age, I had a "shanghai" often referred to as a "ging." On holidays three of us would walk up to Campbellfield each armed with a "ging." Campbellfield would be some five or six miles away, and was open country, full of gum trees and briar bushes and birds. We were little heathens, taking a pot-shot at every bird we saw, especially little yellow rumped tom-tits. We climbed the trees, bird nesting. I shudder when I think of it now – with legs astride a lofty horizontal bough, riding out, as it were, to a magpie's nest at the end, popping an egg into my mouth, riding the bough back, and then sliding down the trunk, disgorging the egg, and blowing it to take it home. It was a real day in the country.
Then I used to shoot at sparrows around the house. I remember standing under a pepper-corn tree next door, when I saw a sparrow sitting on a bough right above me. I took sight, pulled my ging and the sparrow fell dead at my feet. For a moment I was elated at my skill, but, as I stood with the dead sparrow in my hand, I was overcome with remorse.
So I dug a hole in the front garden, and sadly lowered the dead sparrow. The eldest boy next door was a monumental mason, so he gave me two small slabs of marble, about six inches by two inches. I placed one horizontally over the grave, the other vertically at the head. I was sad at heart. I had taken a life and despite all my desires, I could not give it back.
I never shot another bird.
THE EDUCATION OF THE STATE SCHOOL
I am convinced that the State School gave me a grounding in education as good as any college could have done. It may be, from the professional point of view, a boy may gain more clients from his mates at a College, than he would from a state school, but I doubt even that. Only one member of my staff, Una Harrison, attended a college, (M.L.C.) and she is a credit to her college. My two senior Partners attended Melbourne High School, and my secretary attended the equivalent High School for girls. They all possess as much character as any others I have met.
It was a privilege recently to address the senior scholars of Camberwell Central State School at their Assembly. I have never met a better behaved set of children anywhere, and when it came to question time, they displayed remarkable intelligence.
As for Sport, I was amazed when the various Captains (both boys and girls) read out the results of various team matches, and also particulars of coming fixtures. This would be very nearly as good, I should think, as any Public School, and certainly very much better than in the State Schools of my day. None need fear the adequacy of State education (including coverage of Sport), nor doubt that State School scholars will not win as many honours and as many scholarships as those attending Colleges in these days of wider opportunity.
THE ECONOMIC STRESS
When I was fourteen years of age, I won a scholarship which entitled me to attend the University High School at half fees. This was not the day of scholarships in plenty for only two were awarded that year for the whole of the area north of the Yarra. But our economic circumstances were such that I was unable to accept. This was after the crash of the land boom in the nineties. The whole national economy was at a standstill. We were greatly affected at once, because the almost complete stoppage of building and road-making meant that little or no stone was needed. My Father's earnings fell from 15 pounds per week, to one pound a week, and then stopped altogether.
My brother Jack had been apprenticed as a carpenter and joiner and as building was now non-existent, there was no work for carpenters. So he was compelled to start his business life all over again. He became apprenticed to Tom Passfield, a wealthy baker and pastycook. Passfield was a prominent Church Member in our Sydney Road Methodist Church, but was not a generous employer. Jack worked ten or more hours a day, and worked the clock round in preparation for Good Friday – hot cross buns, and all for the miserable pittance paid to apprentices in those days, and with no bonus for overtime.
Jack was a splendid brother. He had a beautiful baritone voice, and sang in the Church choir. He was a first-class carpenter and cabinet maker. We still have a little china cabinet he made for me. When I was married he made for me a side-board in silky oak – a fine piece of workmanship, but when we moved from Cherry Road, we had no further use for it, so we sent it to "Decoration" for sale by auction. It brought the abysmal price of 30/-. It greatly distressed me to think that Jack's beautiful workmanship was valued at such an insignificant price, but sideboards were then out of date, and a drag on the market.
As a pastry-cook Jack was marvellous. I have never seen anyone move as quickly to make such appetising dainties. He eventually bought a restaurant in Collins Street (right opposite George & Georges drapery emporium). It was called "The Barbison" and was frequented a good deal by Artists. A three course dinner cost 1/6, and a splendid dinner it was. But it did not pay, and had to close down.
Jack went back to his trade as a carpenter, then went to Perth for a while, eventually moved to Sydney, living with our sister Ethel. Here he married "Lottie" and had four beautiful children.
Poor old Jack, he became very deaf and developed Parkinson's disease. At this time, I used to go to Sydney every month as a Director of the City Mutual and generally I called on Jack and Lottie, who always amiably made me very welcome. When Jack died I did not feel equal to going to his funeral, though I have regretted it ever since. Jack never had the chances I had. His forced change of occupation gave him a chequered career.
It was not long after that, that my Sister Ethel went to Perth to keep house for my Father and Jack. Here she met her future husband, Joe Simmell, also a carpenter who worked with Jack. Jack brought him home to tea, where he met Ethel. Joe was a fine fellow, a true Englishman. He doted on his wife, and was a splendid Father to his two sons, Basil and Reg.
While Father and Jack and Ethel were in Perth, there were only three of us left at home – Mother, my eldest sister May, and I. We depended mainly on May's salary, 30/- a week. Fortunately the house was paid for, so there was no rent or interest to meet. May worked in a drapery store, firstly for a short time in Brunswick then in Ball & Welch, then situated in Carlton, later moving to Flinders Street, City. While in Brunswick she worked until seven o'clock every night, and ten o'clock Saturday night, which was the shopping night of the week. Sydney Road would he crowded with people, spilling over onto the road, so that the cable trams could proceed only slowly clanging their bells all the way.
Remittances from W.A. were erratic. Every time the postman came with a letter which bore the W.A. stamp we would ask him in, and give him a hot Cornish pastie, which he greatly enjoyed. I have never tasted a Cornish pastie equal to those Mother made.
As work petered out in Western Australia, it was not long before Father and Jack and Ethel came home. From then on, the family income was pitifully small. Jack got a little work as a carpenter, Father got odd jobs, Ethel stayed at home to run the house, as Mother suffered greatly from rheumatism. The whole family mainly depended on May's salary, which was the only regular income.
Father got very despondent – there were no unemployment allowances or old age pensions in those days. I can realise now that my Father must have been very conscious of his inability to earn any money, and he must have suffered acutely. His mind must always have been at tension. Unemployment was the shadow that hovered our home. As a result, it was determined that I should become a Government Servant, and so be in constant work. The only Government Department open to take on employees at that time was the Education Dept., which needed a small supply of junior teachers. Under Mr. Rowe, I prepared for the half-yearly exam for our school, got top place, but there was no vacancy. Six months later there was another exam I again came top – but again no vacancy. By this time Father was feeling desperate, and he told me he saw a notice at the local wood-yard advertising for a boy at 7/6 a week. He suggested I should apply for it. Buy my Sister May, most emphatically protested. "You know," she said "we have always made up our minds that Os would be a Civil Servant, and so have constant employment. If you do not agree, I shall leave home and take him with me." How she was to keep herself and me on her small salary, I cannot imagine. But, worse still, how would the family manage without it. My Father gave in, I sat for the next exam, again got first place. This time fortunately there was a vacancy in my own school. I started as a Monitor in the teaching profession at a salary of 1 pound per calendar month, (about 4/7 a week). This solved one of the most important problems in my life – getting work.
There was another problem now appearing on the horizon. I Remember one day walking up the yard at the back of the school when suddenly a question flashed into my mind – "Why am I here? What is it all about? What is the whole purpose of life?" I had begun to think.
It is strange that children are instructed for the period of their school life. Necessary knowledge is pumped into them so that they can read and write and a little more. Then, at the age of 15 for 90% of them all education ceases. Their period of instruction is finished, now they need to be educated, to be taught to think. But they then go into a repetitive job, which after learning the mechanical technique necessary to do their work, makes little or no demand upon their thinking ability. They remain for the most part, uneducated, they not been trained to think.
It seems to me that State School should be open at night, with a fresh batch of teachers so that the elder children who go to work, could now attend the sort of class they wanted – in art, of music, or playing the drum, or science or just anything they wanted to learn. This would be the period when they began to think and the old school would become their "Alma Mater," and help them to understand life in their most strange and difficult days. Not only would a new life be opened up for them, but many of them would find an outlet from boredom, and have no need to join with high-spirited youths and lasses, who bored to tears, find an outlet for their energies in "bodgies" or similar bodies.
MY CAREER AS A STATE SCHOOL TEACHER
I was appointed as a Monitor in my own School, Albert Street, Brunswick, on the 20th August, 1898 and was immediately given a class (of about 60 little folk) known as the Upper A.B. The three lowest classes in the school were known as the Lower A.D. (or Babies), the Middle A.B., and the Upper A.B. All three classes met in one big room, the Lower at the East end, the Upper at the West end (each in a slightly sloping gallery) the middle class on floor level between the two galleries. Altogether there would be about 200 children in the room.
I rather enjoyed this teaching, but it did not last long. I was moved into the room where the next grade met (called the First Grade) consisting of the Lower First, the Middle First and the Upper First.
I was seldom given a class to teach. On one such occasion, I was teaching the Upper First, the old poem about the "Busy Bee." The children were repeating the line "When the sun is hot, they linger not." Just at that moment the Head Teacher entered the room, and told me in a critical voice, I should question the children to see if they understood what they are repeating. So he turned to the class, and asked in a dramatic manner, "What is it that the bees don't do when the sun is hot?' One bright youngster replied – "Please Sir, they don't swim." The Head Teacher was discomforted, but I was delighted.
I liked the actual teaching, but the Head Mistress of the room, an old maid of the Victorian pattern, with a wrinkled face, and a high colour, would call from one of the classes what were called the "weak readers," children who were not far above the moron type. "Take the weak readers, Oswald" the Head Mistress would say, and thereupon a dozen of these sub-normal children would gather round a table, and we would start "The cat sat on the mat" and I would spend half-an-hour trying to teach them to read. There the dozen children would be changed for another dozen "weak readers" and on I would plod, the most monotonous and the most depressing job in the world. The children instead of learning to read, after a while, with constant repeating of the words, would learn them off by heart, and then associate them with the picture on the top of: the page. If they made a mistake and associated the wrong reading with the picture, they would recite the page they had memorized belonging to the same other picture. It was just hopeless.
I simply hated it all. I remember telling my Mother "I would rather break stones on the road side than teach."
When I think of the way teachers are trained today, I sigh with regret for my past. I understand that today teachers can go to the Training College, and while there, are paid 8 pounds to 10 pounds a week. I would have loved to go to the Training College, but in my day, I should have had to pay 2 pounds a week for the privilege. Fancy doing that on 4/7d. a week!!!
At this time I had chestnut hair familiarly called "ginger." Also I lisped. Realising that the combination of these two things would easily make me the sport of the children, I determined that, as I could not change the colour of my hair, I should do my best to overcome the lisp. And so, in the right-of-way at the end of our street, (I can shut my eyes and see the spot now) I began to say aloud, "I muth not lithp" and kept on saying it until at last I won, and could say quite clearly, "I must not lisp."
Before I conquered the lisp, I used to recite: "How Tom Thawyer got hith fenth whitewhathed." It used to bring down the house.
Much to my gratification, then it was realised that it was the "lispth" that was the attraction.
After a year with the weak readers, I was moved up a grade – to the second classes. These were four classes housed in a hall a quarter of a mile away belonging to the Church of England. Having a class on my own was a Godsend. On singing afternoons, the green baize curtains separating the four classes would be drawn, aside, and the four classes would cluster to the centre, and one teacher out of the four of us, would stand on a table and take that singing lesson.. This I thoroughly enjoyed. I had recovered from the nightmare of the "weak readers" and was beginning to find my feet.
The following year, I would be about 17 years old, I was moved back to the main school, and given the fourth "Third Class" to teach, and had a classroom of my own. It was in the form of a gallery, the seats rising tier above tier to the top row. The children in this row were silhouetted against the windows, which was very trying on the teacher's eyes. I was very happy with my 70 children and I think they were too.
Once a week was drill afternoon. I would take about 120 boys out to drill. This was extremely trying, a line of 120 boys stretches a long way. While I would be marshalling the boys at the top end, the boys at the bottom were playing pranks. I would rush down to them, but while I roared at them, the boys at the top would then play up. At the end of the afternoon, I would not be able to speak above a whisper.
But I greatly enjoyed my own class, the fourth Third. We were all very friendly and I had so won their confidence that there was no necessity to use a cane.
All this time I was studying for promotion, as Pupil Teacher, sitting for one exam each year, thirteen subjects each time. I moved up from Monitor, as soon as I passed the first exam, to Third Class Pupil Teacher, and my salary rose from 12 pounds to 20 pounds per annum. Latin, Euclid, and Algebra were then being introduced into Teachers' exams, and those passing what was called the "New Programme" received an extra 10 pounds p.a.. I elected to go for the 2nd Class P.T. "New Programme" and was raised 20 pounds to 40 pounds p.a.
In this latter exam, my Latin paper was lost. Suspicion fell on me that I had not sent one in, but Mr. Rowe stoutly insisted that I had, and I was therefore given the privilege of being permitted to sit for a supplementary exam. Mr. Rowe kindly gave me extra tuition. After the final lesson, I thanked him and said I was pretty certain I would get a pass. He replied "of course, but you must get 100%" and to my surprise, I did.
In 1901 I passed the exam for the 1st Class Pupil Teacher (New Programme) at a salary of 60 pounds per annum. After twelve months I would have become eligible to become Head Teacher at a small country school at approximately 100 pounds p.a., depending partly upon the result of the children's annual exams, and the Inspector's report.
A CLERK IN THE GOVERNMENT SERVICE
As I was a bread-winner upon whom my family partly depended, I could not afford to go to the country, and pay board while there, which would leave little to send home.
So I studied for the Clerical Division of the State Civil Service. My word, I did grind for it. The economic pressure behind me made it a necessity for me to succeed.
As I look back, I am glad that I was born poor. Had I been born rich I should not have had behind me, always prodding me on, the thrust of economic necessity. I knew that, unless I studied consistently, I should not pass my exams, and would lose the opportunity to get fitted for a position requiring intellectual training. So poverty behind me inexorably pushed me on.
My memory was excellent in many respects (particularly in the memorising of dates, and events, and such like) but it often failed in practical matters. On the day of the examination for the Clerical Division, after I arrived at Wilson Hall where the examination was to be held) I found that I had forgotten my entrance forms on which was my number. I cycled home at top speed (over two miles) and arrived back twenty minutes late, all hot and bothered.
Eight hundred sat for the exam, (400 of whom I was told were school teachers) for 30 vacancies. I was fortunate enough to be successful and was appointed to the Office of the Master in Equity and Lunacy (situated in the Law Courts) in March 1903. My appointment was to the Lunacy Office, which proved to be a wonderful office, for it was staffed by splendid men.
Owing to the Governments recurring policy of retrenchment, there had been no Civil Service exams for 15 years, so practically every man in the Office was at least 15 years older than I was. As I look back, I realise I owe them all a tremendous debt. They were all very capable, very friendly and took great pains to teach me the work.
The man immediately above me was Arthur Donahue, a devoted Roman Catholic, and a man in every sense of the word. Full off common sense, he was very able and without the shadow of a turning. I was in the Office only a few months when I caught Scarlet Fever. The very first day I was away, he walked from his home, two miles away, to come and see me. No wonder I had for him a very deep affection.
All appointments to the Service were for a probation period of six months. However, just when my probation period had expired the Premier, William Irvine, (known as the Iceberg) decided that no more probations were to be approved. I went in to see the Master, Thomas Prout Webb, and he told me he was sorry, but I was sacked. This was a staggering blow. Here I was, 18 years of age, and out of work. As I had been impelled to resign from the Education Department when I entered the Clerical Division, that Department refused to take me back. A friend in the Crown Law Department asked me if I knew Willie Watt, the State Treasurer, or his partner W.H. Edgar. I know neither, but being a Methodist, I knew Mr. Edgar's brother, the Reverend A.R. Edgar of Wesley Church. So I went to see him and told him all about it. The result, was that the few probationers concerned had their appointments confirmed, though I guess none of them knew how it happened.
My salary at this time was 40 pounds p.a. (I had dropped 20 pounds p.a. to enter the Clerical Division). On confirmation of my appointment, I was raised to 50 pounds p.a. (nearly a pound a week). As I paid all my salary to my Mother, (excepting fares and a shilling or two pocket money) my finances were very tight.
I remember walking up Lonsdale Street one day after lunch, when I felt something hit my shoe. There was a hole in my trouser pocket and a 3d. bit, my sole wealth, had dropped through. it rolled along the footpath, until spied by a passing gentleman, who put his feet on it, picked it up and promptly put it in his pocket. He was one of the firm of Michaelis & Hallington, the rich leather merchant. I was too shy to ask him for it.
YOUTHFUL YEARS
As I had finished with teaching exams, I conceived the grandiose idea of writing a history of England. To this end I read every historical novel upon which I could lay my hands. I made careful notes on the books of old Sunday School lesson papers, safety pinned them together, and hung them on a string under my dressing table which consisted of a wooden packing case covered with cretonne.
I got so far with the idea that I actually wrote the first chapter or two in a black covered exercise book. I determined to illustrate it myself, pirating the illustrations from old history books. There was nothing original in it, neither in the text or in the pictures. I got so far as the Roman invasion of Britain, and then petered out.
I travelled to work from Brunswick on the cable tram which went from. Moreland Road, North Brunswick to Flinders Street, Melbourne, a distance of over four miles. The fare was two pence each way, but reduced to three pence return if on the trams before 9 a.m.
As I passed the University, it used to amaze me to see University students old enough to have moustaches, and here was I, very much younger, compelled to go to work. They lived in another world, I thought I would never be able to enter the University. But my chance came when I was a married man with four children, and I was 42 years of age.
THE MASTER-IN-EQUITY'S OFFICE
While I was a teacher, I had injured my hips in a couple of bicycle accidents, with the result that standing was particularly tiring. As there was much standing in the Lunacy Office, which made my hips and my back ache (taking down files from their pigeonholes and putting them back again), I asked to be transferred to the Equity side of the Office, where I could sit down, Sitting down as much as possible has been a necessity from boyhood on, and has had a considerable influence on the course of my life.
The room to which I was allocated was the "Searching Room," in which were kept all the files relating to Probates and Letters of Administration. The papers (excluding the wills) relating to deceased estates were filed away in rows and rows of pigeon holes. They were of course, carefully indexed, and anyone wishing to examine the will of a testator, or the papers relating to the affairs of an intestate, paid a fee of 2/6, searched the index for his particular matter, obtained the number of the file, when a clerk would produce the necessary papers.
There were many amazing wills. One testator, a sailor, scratched his will on the lid of an enamelled tin box. Probate was granted to it, because as he was on Active Service; his will had not to be witnessed.
It was amazing to discover the number of people who were afraid of being buried alive, and who requested in the will that a vein in their body be severed before burial. Some wished to be buried with a favourite dog or cat, though I doubt whether this directum would be fulfilled.
One testator evidently thought very little of his two sons. in his will he wrote "To my son – I give a shilling to buy a rope, he will know what to do with it. To my son – I give the sum of one shilling to buy a Bible, the best treatise on truth I know."
All wills were kept in the strong-room, but were first copied in huge books, and it was my duty to make a copy of the wills, about 3,000 a year. Some were short and simple, some were extremely long and involved, and took many hours to copy. Two clerks would compare the copy with the original, one reading from the original, the other checking the copy. The verbiage often consisted of phrases, in fact long paragraphs, taken from the Trust Act, and incorporated in the will. Checking became a tedious business, and the checkers resorted to various devices to hasten the examination. All common phrases were condensed by using the first letter of each word. For instance, "last Will and Testament" became last WAT. "After payment of all my just debts funeral and testamentary expenses" (a stock phrase in almost every will) was condensed into "after PAT of all my J DS FAT EXES" Nevertheless it was a tedious and monotonous job.
After some little time, it was decided to type the copy wills and I became the first typist to do so. Learning the "touch" method, I sat in my seat beside a window, typed away, and while so doing spent much time in looking out on William Street, up the centre of which was a horse-driven cab rank. It was interesting to watch, for as one cab drove off, all the rest moved up one quite automatically. The story is told of a prisoner condemned to die. When he was asked to choose his last meal, he asked for sausages. When they were placed before him, he refused to eat them, saying they were made from cab-horses. "How do you know?" he was asked. "I'll prove it!" he said. He cut one sausage into eight small pieces, removed the first piece, and all the rest moved up one.
MR. DAVIES THE CABMAN
At this time, there was an old Cornish cab-man, who lived near us. He was a fine old fellow, very religious, and had three enthralling interests, flowers, music, and children. As his back yard was bricked over to make a washing-stand for his horse, his garden consisted of a row of kerosene tins, in which he grew brilliant geraniums. For music he possessed a tiny harmonium on which he used to play his favourite hymns. He had no children so he had pulled some palings off the fence dividing his back yard from his neighbours so that the child next door could frequently come in and see him.
He had grown to manhood without being able to read or write. While a miner in Bendigo, his mates took him in hand, and during crib time, they traced the letters of the alphabet on the clay. He really graduated with honours, for not only could he read the newspaper, but novels as well. The masterpiece of all literature to him, (other than the Bible) was "Barriers Burned Away" by E.P. Roe.
His spelling, as was to be expected, was entirely phonetic. One night coming home in his cab, (fare threepence from the City to East Brunswick) he started to quote the Biblical Alphabet.
"A is for Adam, the Father of our race." He got as far as "F" and was stumped. "I can't remember what "F" was for" he said, "unless it was for Pharaoh."
THE FINEST MEN IN THE MASTER'S OFFICE
In the Searching Room (more familiarly known as the Long Room) my Chief, James Carter, was one of the finest characters I have ever met. He was very able, and extremely kind. He was a Lay Reader in the Church of England, and was so helpful to everyone that he was one of the most loved men in the whole office. Sometime after he lost his wife, he became engaged to a very fine woman, Miss. Hamilton. They were much in love with each other, and just before they were to be married, she unfortunately became ill and died. This was a great blow to Mr. Carter, but he met it with characteristic Christian faith. After he retired, he contracted cancer, and I went down to his home in Hampton to see him. He was delighted to see me, and wistfully asked me could he call me "Os." I was overjoyed by his desire to do so, and his request somehow strengthened the bond between us. In the office the clerks (except the juniors) always addressed each other as "Mister"! It may be a barrier to real friendliness. Personally, I love to be called by my Christian name. It removes all barriers.
Of the three most popular men in the Office, two were Roman Catholic (Arthur Donahue and Thomas Kelly, of whom I shall speak later) and Mr. James Carter, an Anglican. All three were practising Christians and admired by the whole staff. To them I owe much, not only for the way they taught me office routine, but also for the simple straightforwardness of their characters.
CHURCH AND SUNDAY SCHOOL
Our parents had always brought us up to attend Sunday School and Church. We attended the Sydney Road, Brunswick, Methodist Church. Remember, these were the days when Methodism was booming. The Church would hold nearly 800, and in order to get a seat for the evening service, one had to be there not later than five minutes to seven. Alas, times have changed. I understand the evening congregation does not exceed 75 to 100. Brunswick is full of migrants, and once a month, a service is held in Italian for migrants, which shows one attempt to meet the needs of an alien population.
We had some notable Preachers. Rev. Alexander McCallum was loved by everyone. He was a most kindly man, entered into everything with remarkable zest, and was a splendid preacher. During his appointment to the Sydney Road Church, we passed through a deep depression, following the burst of the fantastic Land Boom. People went mad buying up land, and prices rose astronomically. Buildings were started, houses and hotels were built, and we lived in an aura of imaginary prosperity. And then the Boom burst.
Of course, the working man suffered most. Unemployment was tremendous, and our family was caught in the maelstrom. So was the Church, Rev. McCallum received, I believe, 200 pounds p.a. as stipend, but the Church was unable to pay it, and Mr. McCallum went short without any complaint whatever. We held an exhibition in the school buildings for the purpose of making up the leeway. The Exhibition remained open for three weeks, and from memory, I think Mr. McCallum's stipend was eventually paid in full.
By a strange coincidence, Dr. McCallum's son, Colin, is a joint Treasurer with me at Wesley Church. He was the Chief Librarian in the Public Library, and is a very fine Christian gentleman, he was awarded an O.B.E.
In my late teens and early twenties the Rev. G.S. Wheen was our Minister. At first sight he seemed rather austere, but it was not long before he won the admiration of everyone, and in particular the affection of the adolescents. He was a magnificent Preacher, very scholarly, but down to earth.
He started a theological class for the young men and I am very grateful that I was a member. Among the members was one, Harrison Chadwick. One night, on being asked to pray, he asked "0 Lord, help us to get this theology into our heads, and when we get it in, help us to keep it there." It was very fitting that Harry's son is now a Methodist Minister in this State.
SABBATARIANISM
My Father was a strict Sabbatarian. We had a beautiful bush of Daphne, but if we wanted to wear a piece on Sunday, we had to pick it on Saturday night. (This was founded on the incident recorded in the New Testament where the Disciples plucked the ears off corn. on the Sabbath, which was a breach of Sabbath observance. But the Lord excused it because the Disciples were hungry and needed food.)
We were not allowed to travel on trams or trains or even in a horsedriven vehicle on the Sabbath, as that would be breaking the Commandment. If we wanted to attend the Wesley Church in the City, we walked there and back, a distance of between six and seven miles.
Until the trams came, we travelled to town on week-days by bus fare 3d. which you placed in a glass box behind the driver on the box seat. If you wanted change, you poked your hand, with the money in it, through a hole at the side of the fare box, and ring a bell attached, when the driver would give you change.
When the cable trams came along Rathdown Street, the big buses were scrapped, and a miniature box (called the pill-box) carried the tram passengers from the terminus at Park Street, as far as the Lyndhurst Club Hotel in Albion Street. The Driver was Mr. Buggy.
SUNDAY SCHOOL
Our Sunday School building was the best designed I have ever seen. The Assembly Hall was built in the form of a semi-circle, the classrooms with folding doors, opening off the semi-circle. There was also a gallery with class-rooms opening off it, a replica of the classrooms below, so that each class had a separate, self-contained classroom. At the opening of the service, the senior scholars met in the Assembly Hall, and the juniors in the gallery. There was a rostrum in the centre of the radius of the semi-circle, and as it was about six feet high, the Superintendent had complete control of the scholars, the seniors six feet below him, the juniors a little above his eye level.
Facing the back of the rostrum was the "Lecture Hall" where the young men assembled for the opening service. After 'the Assembly sliding doors were moved across, making the Lecture-Hall into a self-contained class room.
When I was about seventeen years of age, I became the junior Secretary of the Sunday School, firstly under Will Roberts, our old postman, later under Bernhard Trahair, a draper with a flourishing business in Sydney Road. He was a delightful fellow, with a pink complexion, and married Annie Wilson, the older sister of Arthur Wilson, one of my best friends.
There were over 800 scholars in the Roll of the Sunday School, and the average attendance was 554.
After Sunday School was over, I used to ride my bicycle across to Princes Park by myself. I was a shy and lonely boy, and had not yet made any companions. When I did the whole aspect of life was changed.
There is no doubt that the Sunday School is a fine place in which young people can gather. The best marriage market in the world. Young men of high ideals met young women of a similar type, and Cupid took over and did the rest.
Six of us young fellows came together, Charlie Whittaker, Arthur Wilson, Arthur David, Norman Ford, Ralph Coade and I. We formed a group which we called "The Fairies." Every Christmas we went for a camp over the holidays. At one camp, our Minister, Rev. J.G Wheen, came up to join us for a day and a night. I can, in my imagination see him now, walking into the camp, our tent being pitched on the banks of the Watts River, Healsville. He was carrying an oblong wicker basket with sloping sides and a lid across the top fastened down with a little peg of wood pushed through a small hoop. It was full of goodies packed by a thoughtful Mrs. Wheen. Our tent could just comfortably hold five. When Mr. Wheen came in to sleep he claimed an outside position, with the result he was less than half-in, the rest of him being well out. He said he did not sleep a wink all night, and we believed it.
MR. FRED STRAW
One of the men who had a tremendous influence on me was Mr. Fred Straw, He had a draper's shop in Sydney Road, but he had the soul of an artist. His wife was a lovely woman, and, to a great extent, took somewhat the place of my Mother in my admiration, and completely won my heart. Her influence was both profound and sweet.
The Straws had four children, Eric, the eldest became the first member of the Knighthood of Christ, which I shall describe later. He later followed in his father's footsteps and became a very successful draper – now practically retired and living at Emerald. Keith was next, a handsome boy (reminding one of Millars paintings (Bubbles) used to advertise Pears Soap). He was very quiet and courteous, had a fine brain, and became the head of the Explosives Department. He died of cancer in the pancreas.
Three more of the Fairies, Charlie Whittaker, Arthur Wilson and Arthur David, also became Teachers, Norman Ford became the Secretary of the Sunday School. The scholars were normal boys, but as they began to enter adolescence, there were some pretty wild ones among them.
One Saturday evening I arranged for the members of my class to come to our home for tea, as my Mother was a splendid cook. The boys sat down to a wonderful tea at 5 p.m. and went solidly until 7 p.m.
"Have a bit of this, Bill. It's great!"
"O.K. I'll have some of that next."
And so it went on, until my Father declared at 7 o'clock, he wanted his tea, and the boys and I adjourned to the "front-room."
Next Sunday afternoon, one of the boys was giving great trouble in class, and refused to stop talking. I told him he would have to say no more, or leave the room. He left, and outside the class room window, he began to pass uncomplimentary remarks. One boy, Bill Cruickshank, said "Fancy talking like that, after all he was at your place last night. I can't stand it any longer – I'll settle him." And with that Bill left the room. What he did, I do not know but there was complete silence from outside after that. The noisy offender, in later years became a Captain in The Salvation Army.
THE CHILDREN'S SERVICE
On Sunday mornings a Children's Service was held at 11 o'clock in the Assembly Hall of the School. The first man to organise his was Mr. A.B.C. Harris, a very energetic man, with a great capacity to interest children. Later, he was followed by Mr. Robert Agnew an extraordinary man, a most dramatic stony-teller, who could simply entrance the children.
It was here that Charlie Whittaker and I began our appearance in public. Charlie was a born wit, and a very clever speaker, and could hold children in a perpetual simmer of mirth. My function was to give short addresses, illustrated by lightning sketches in coloured chalks. These became so popular that for many years, I was requisitioned for children's Anniversary services in various Churches.
It was my custom to give the sketch after the service, to the child who read the lesson. In order to be seen at a fair distance in the dim light of a Church, the sketches naturally had to be very bold and rather crude. The children's imagination would fill in all the details. A smear of yellow across the foreground to portray Spring in England so worked on the imagination of one little girl that she declared she could see the daffodils.
But one boy, coming up to the platform after the service to claim the sketch, as soon as he got near, his face fell, and he sadly said, "Don't it look different Mister, when you get close to it."
Which reminds me of a very funny incident. I had been taking the service in our own Church at Canterbury, and after the service, was introduced to a lady from Brunswick, my old home town. As she shook hands with me she said, "We heard your son preach this morning." I told her the story of the boy and the lightning sketch, and added, "Don't I look different when you get close to me!" (Like the boy felt when he got close to the lightning sketch).
I started going to Sunday School at the same time as I attended the State School, when I was 4½ years old. As the Church was a mile away from home, and though it was before the day of cars, we went to morning school at 9.30 a.m., stayed to Children's Service in the School Hall at 11 a.m., came back to Sunday School at 2.30 p.m. in the afternoon, and when we were old enough, came back to Church at 7 p.m., the evening Service being followed by a Prayer meeting. Sunday was a full day, rather exhausting, but we loved it.
I have already mentioned that my Mother was a splendid cook. When the Church Anniversary came round, my Mother cooked generously for the usual tea meeting. Jam tarts, custard tarts, and pasties all by the dozen were packed into a large wicker clothes basket, carefully covered with a tea towel, and Ethel and I, each taking a handle would deliver the basketful of delicacies to the Sunday School.
Being Cornish our relations in Cornwall always sent us a packet of saffron, so we always had saffron cake at Christmas.
Custard tarts and jam tarts were commonplace to us. At day school in the lunch time, Billy Reid and I sat up on the cross beams of the play shed to eat our lunch. I swapped my custards and tarts for his German sausage sandwiches. it was a satisfactory arrangement, for it was to each of us a very definite change in our menus.
Billy was a handsome boy, black eyes, long eyelashes, a pleasant face, in fact rather a modern Apollo. The last time I saw him he was driving the local rubbish cart. Our roads had divided after school days.
THE METHODIST BAN ON CERTAIN AMUSEMENTS
At the relief of Mafeking (during the Boer War), there was great excitement in Melbourne. Crowds paraded the streets and trams were lifted off their tracks.
My brother Jack celebrated by taking me to the theatre for the first time in my life. Now the theatre was looked upon askance by the Methodists of that time. I was very perturbed – what if Christ came when I was at the theatre?
But I soon banished my fears. The play was a Comedy – "What happened to Jones!." I completely forgot myself and roared with laughter. The people around me laughed at me, I was so uproarious.
Playing cards were also forbidden at home. As they were so often associated with gambling, they were looked upon as the Devil's playthings. But the whole family was infected with card fever (Mother only slightly) but Father was in strict opposition. So that our cards would never be discovered, Jack built a secret drawer in our wardrobe.
Father was President of the Brunswick and Coburg Fowl and Canary Society. On the night that he was planned to go to a Canary Show, we arranged to have a domestic card party, particularly for my benefit. I think it must have been my birthday. But I had the 'flu. I got out of bed to play, but couldn't take it. I had to go back to bed again much to my chagrin.
Unexpectedly, Father came home early. The players foolishly scooped the cards into their laps, and then Father gave them a lecture on the evils of card playing, concluding with "It's all for Oswald's sake." Little did he know, that every afternoon after school, I rode my bike down to my brother's cafe in Collins Street, and played cribbage with the Caretaker.
I had a passion for cards then possibly increased because they were forbidden. Study pushed cards into the background, and only recently have I played "Five hundred" again, and thoroughly enjoyed it. But I have never played for money.
As for dancing, that was strictly taboo – Harry Robin (our Sunday School Superintendent at Canterbury) and I went away together for a holiday. After the evening meal, the guests engaged in dancing. Harry and I sat on the side-lines and watched. Many a girl took pity on me and asked me to dance. My reply was always the same, "I don't dance, thank you." "But I'll teach you." With that stubbornness of a typical Methodist of those days, I would reply: "You can't teach me."
One day as we were out walking, I said to Harry, "I think we are a pair of fools. We damn dancing, but we don't know a thing about it. I'm going to ask those girls to teach us." He agreed. So I asked the girls to come over after lunch and teach me to dance. They cheerfully complied. After tea, we adjourned as usual to the dance hall. A girl would ask me to dance. I would warn her about my ignorance. As my partner would try to engage me in conversation, I would say "Don't talk, count one, two, three." Before long the whole crowd was chanting "one, two, three" as they danced about the hall.
This cured me of a lot of priggishness and I am sure my influence on those girls was increased because I danced with them_. It had broken down the barriers.
The Church was strongly opposed to dancing, but things have changed in the last few years, and the prohibitions against dancing have been almost removed.
THE PREACHING BAND
The Fairies became the Leaders, Local Preachers and Teachers of the Sunday School. Under the leadership of Mr. Straw, a preaching band was formed which took services in the local Churches and also in the Old Men's Home at Royal Park. On one occasion at the Home, one of our younger men, Les Wilson, was to speak. Les stood up on the rostrum, and 'opened not his mouth'. After a painful silence, I got up and gave out hymns. Les told me afterwards his mind became an absolute blank, and he could not think of a single word to say. Later, he became very successful as a speaker and Leader of the Young Men.
On another occasion, Charlie Whittaker and I were to take the evening service at our Moreland Church. We arrived early, the Steward was about to show us into a seat, when we told him that we were the Preachers. He drew back a step, looked us up and down, and then said in an aggrieved voice. "They always treat us badly." Charlie and I felt like the Disciples when the Samaritans prevented them from entering Samaria, (you will remember they asked the Master to call down fire from Heaven." We delivered ourselves with burning zeal, and held a Prayer Meeting after the Service, but with no visible results.
We had some exceptionally fine men as Superintendents of the Sunday School at various times. Mr. Will Harding was a Christian gentleman, and loved by all. Will Pearce was a Postman, robust and forthright. On one occasion, after urgently suggesting that the young men should not smoke, he turned to the girls and said, "Girls, see that your boys come to you with clean lips." An unexpected burst of laughter completely dispersed the effect of his address.
Then there was Mr. Brazier, a big, strong man, with the gentleness of a little child. He was manager of Grundy's timber yard. We loved all these men and they were a powerful influence with all of us.
MY BEST BOY FRIENDS
Of all the people who influenced me for good, no one was more helpful than Charlie Whittaker and Arthur Wilson. It was with Charlie that I first became friendly. We both helped at the Children's Service on Sunday mornings, and then, as Local Preachers on Trial, we together took services in the various Churches in the Circuit.
Charlie did not have the same privileges as I had for education.
He left school when he was twelve, and went to work. So, for some considerable time, after spending Saturday afternoon boating on the Yarra at Studley Park, Charlie would come home with me to tea. After tea, we adjourned to the "front room" and studied together. We did a fairly thorough course in English, parsing and analysing every line in Scott's "Lady of the Lake," as well as many other poems.
We also did the same course in Arithmetic as I had done as a pupil Teacher. They were very happy and helpful times to us both.
During the summer time, Charlie and I would take a batch of boys to the South Melbourne Baths to teach them to swim. I was never a good swimmer and as for diving, I was hopeless.
One Saturday afternoon I was determined to dive from the springboard. I was suffering from laryngitis but that did not deter me.
The waves were pretty high, and the troughs between each wave were pretty low. I stood on the end of the diving-board, took a deep breath, dived as the top of a wave was directly beneath, but of course missed it, and landed with a fearful whack in the trough.
The sudden immersion gave me a wonderful reaction. I swam around to the steps, and felt so fine, I determined to swim down into the shallows. Then I got a second reaction. I was overcome with a paralysing weakness, all my muscles seemed to collapse, and I could swim no further. So I trod water, for the first time in my life. When I grew tired I sank to the bottom, then came up again. The boys on the decking above though I was giving a display.
After going three times I decided to give up trying. Looking up I could see the sunlight glinting on the surface of the water, and I had almost an overpowering desire to give up the struggle. Drowning, when you give up fighting, would be a very peaceful death just like going quietly off to sleep.
I raised my hand, Bob Richards dived from the decking. Charlie Whittaker swam out from the shallows, and between them they pulled me out. I felt too sick on the Sunday to go to Sunday School, but was quite recovered on the Monday.
As Arthur Wilson was one of the Fairies, he joined up with Charlie Whittaker and me in many holiday jaunts, especially on the Yarra at Studley Park, as well as in our Christmas camps.
We all belonged to Mr. Straw's Thursday night class, and had the same experience. When I entered the Law Courts in 1902 as a clerk in the Master's Office, Arthur would come up every dinner time, and we both sat on a wooden form in the quadrangle, and ate our lunch together.
Years later, when the appeal was being made to rescue babies from the slums, Arthur joined and became a tower of strength. He and I generally took services together, and became known as "The Heavenly Twins." I can never thank God enough for the friendship of Arthur Wilson, the finest man I have ever met.
THE SUNDAY SCHOOL ANNIVERSARY
The Sunday School anniversary was always a great occasion. A huge platform, capable of holding, I should think about 800 (there were 800 scholars on the roll) was built right across the East End of the Church. The front portion was on the level, and it was here that the seniors sat. Behind them the seats rose in tiers, until they reached the back wall. It was here that many hundreds of children sat.
For weeks beforehand the children practised special hymns after the Sunday School service, but the last couple of Sundays the whole afternoon was given to practise. The Anniversary continued over two Sundays, three services each Sunday, each one with a crowded congregation. Parents came, who seldom, if ever, came to Church any other Sunday.
The enthusiasm was tremendous. As usual with Methodists, a tea-meeting was held one night during the week, and that was always a great success.
Of course, Sunday School picnics were held every year – always on Cup Day. With a school of 800 scholars, it was felt to be to expensive to transport them by van or train to any distant picnic ground, seeing there were to many of us we were marshalled like an army, and marched, four abreast, down to the Sydney Road to Royal Park. Those who had a few pennies to spend would buy, before the start, either a coconut, some sweets, or a few early cherries.
Of course it was a gala day – buns served at eleven o'clock, the first sitting of lunch at mid-day – sandwiches and cakes, washed down with the most delightful drink, raspberry vinegar. Of course there were races for everyone in the afternoon – from the babies up to the Teachers.
Later on the School decided on a great adventure – to hire vans in which to go to the picnic. It was a scramble for the boys to get on the same van as their girlfriends. Coming home, they sang all the way. And the boys who had not any particular girl friend, sat on the tail board, and joined in the music by playing mouth organs.
It was a day of days, early and eagerly awaited every year.
I was tremendously in love and asked Elizabeth would she come up the river with me on the following Wednesday afternoon, the 14th June. She sweetly agreed. We met outside St. Francis Church in Lonsdale Street, and went by cable tram to Studley Park. We hired an outrigger at Burn's boat shed, and rowed up stream. We came to a nook where honey suckle had twined over a small gum tree that was on the bank. We tied up to a tree under this little honeysuckle arbour, and sat together in the stern of the boat. I pleaded my cause earnestly, telling her I felt like King Arthur when he met Guinevere.
"For saving I be joined
To her that is the fairest under heaven
I seem as nothing in this mighty world,
And cannot will my will, nor my work
Wholly, and make myself in mine own realm,
Victor and Lord, But were, I joined with her
Then might we live together as one life,
And reigning with one will in everything
Have power in this dark land to lighten it,
And power on this dead world to make it live."
I did not recite this to her, but very sincerely gave her the substance of it. Of course, she could not doubt my sincerity and consented, and we became the happiest couple in the world.
All the "Fairies" became engaged about the same time, and it was the custom on certain holidays, to hire a van to take the whole twelve of us to a day picnic. Later on, when we were married and owned cars, it became a car picnic. They were royal days six couples all in love – each knowing all the others thoroughly, and all full of fun and unselfishness.
Elizabeth had a lovely Mother. Her Father had been a cricketer, and, one Saturday afternoon, after making a great score, he threw himself on the ground to cool off. As a result he got pneumonia and died. He left two children, Frank and Elizabeth.
Times were hard, so Mrs. Hyett eventually married again – to Jim Sanders. They had two children – Myrtle and Percy.
Jim Sanders did not live very long, so eventually the second marriage only increased the inevitable financial burden.
From the time I knew her, Mrs. Sanders had her father living with her, Ephrain Pearce, a fine old Englishman – but past work.
Myrtle was a lovely little girl, of whom more later.
Percy was a headstrong boy. Both Frank and Elizabeth wanted him to get a better education than they had had. But Percy was stubborn. He had had enough of school, and wanted to go to work. So he became apprenticed to a copper-smith.
One day he was walking back to the coppersmiths shop, he saw a crowd of men gathered in the street. He pushed his way in, to find that a bull-dog had fastened its teeth into a little fox terrier, and the bystanders could do nothing to make him let go. So Percy lit his blow-lamp and placed it behind the bull-dog's tail. There was a terrific howl, the bull-dog jumped into the sky, and bounded down the street.
But it was too late – the little fox terrier was dead.
The war put Percy out of work, so with thousands of others, he had to go to war to get a job.
He was wounded in France, and, as a result, he lost his left arm. Immediately we heard, Elizabeth and I banked 1 pound per week for him, so that he would have a little nest egg awaiting him, pending the effort the Government would make to rehabilitate its returned soldiers. He eventually got an invalid pension as a disabled soldier, so he was financially independent.
MY FATHER'S DEATH
My father, who had been suffering grievously with asthma for six months, died in 1905. One night before he died, he sat up in bed, and sang, "Nearer my God to Thee." He had a fine bass voice, and to hear him sing this wonderful old hymn in the very early hours of the morning was something I shall never forget.
His last years had been made very unhappy through prolonged unemployment. He felt his position keenly. He was a very capable man, and, if he had had the advantages of education, he would have been a great man.
He died when he was only sixty, quite worn out.
MY MOTHER'S DEATH
My Mother died five months after Father. She had peritonitis. On the Saturday the local Doctor said she would recover. so she requested that the whole family gather round her bedside on Sunday morn, and sing "Praise God from Whom all Blessings Flow." But she took a turn for the worse early that morning, and when the Doctor called, he said she would not last the day. She knew all this, but still she wished us to sing "Praise God." Our emotion was so great that it was with difficulty that we sang, but, controlling ourselves as well as we could, we did our best. Jack had a fine baritone voice, May was a soprano, Ethel a contralto, and Joe her husband, who was present too, had a fine base. Between us we managed to sing the Doxology to the end. Late that night my Mother died.
There was no one in the world equal to our Mother. She was a real gentlewoman. Unlike my Father who left school at eight, Mother went to school until she was seventeen. She was the best speller that we knew, and a beautiful reader. On a Sunday night, after tea, my Father read from the Bible, and we had family prayers. Then we gathered around our little piano, and sang hymns until it was time to go to Church.
Though Father was a Quarry-man, and suitably dressed as such, with bowyangs to keep his trousers up, on Sunday he was a sartorial model, wearing a "flagger" coat, and a high-crowned boxer that was more than half-way to being a bell topper. This was of course, the Cornish method of being dressed for Church. Mother dressed becomingly, wearing a black lace bonnet and shawl.
After the elders, had gone to Church on a Sunday evening, Ethel and I stayed home with Mother. As soon as we went to bed, Mother would wrap a shawl around her shoulders and sit in the passage-way between our two bedrooms, and read aloud to us until we went to sleep.
As a small child, I became aware that my Mother would die sometime, and whenever I though of it, I would cry myself to sleep.
Later on, she would often sweep her fingers through my tousled hair, and I with all the self-consciousness and impatience of an adolescent, would shake my head, and say, "Please Mother don't do that." How I have longed for the touch of her fingers through my hair since then.
The night of Mother's death, we all felt very sad and lonely, so we decided that we should sleep all together on the floor in the dining room, including my sweetheart Le, for which I was very grateful. The companionship of us all together, gave us great comfort, and when morning came, we were all in perfect control of ourselves.
My Mother was only sixty when she died but she was never strong, and was quite worn out. She got up each morning at 5 a.m., lit the fire in the kitchen stove, and cooked the breakfast. Father got up at 6 a.m., had to walk over a mile to the tram which he took to North Coburg where his quarry was situated. It was a gala day when he took me with him, riding 2nd class in a "dog-box" (probably the first railway carriages were built in Victoria). North Coburg was country then. Briars grew in the open paddocks and the smell of them today takes me back to my boyhood.
We had to cross a creek to get to the quarry and, as we hopped from stone to stone, it was always an adventure. After heavy rain Father would tell us the creek was running a banker and was difficult to cross. How I longed to be with him then.
Mother's work was arduous – no washing machine, no electric irons (flat irons and the old box iron stead) no electric sweeper (no carpets to sweep, only linoleum and bare board, which had to be scrubbed on one's knees). There was cooking for six, no refrigerator, not even an ice-chest.
Mother always cleaned the family shoes, but when Father died, I woke up to this fact and thereafter cleaned my own. I am profoundly grateful that from that time on, I was the first to rise, clean the stove, and light the fire. Mother thought I was wonderful and it made her last days very happy. I was happy too.
SICK LEAVE
After my Father and Mother died, May and I tried to remain in the old home for a while. She had to be at work at 8.45 a.m., but I did not have to be at school until 9.15 a.m. She worked on till 6 p.m. – I stopped at 3.45 p.m. so naturally a good deal of the housekeeping and cooking had to be attended to by me. This double occupation became a bit trying and I got run-down, I felt I needed a few month's rest, so I told the family Doctor, and he, without any examination, gave me a certificate stating I had incipient phthisis, (a miner's consumption). This of course, alarmed me, so I went to Dr. Player, a well-known physician in Malvern. He thoroughly examined me, sent a specimen of my blood to the University, the result being that I was proved to have no infection whatever. Dr. Player, however, said that I had a slight curvature of the spine. This seemed a bit formidable, but I learnt afterwards that it is a very common complaint. In fact, anyone who has to have one shoulder of his coat a little more padded than the other, has curvature of the spine, but I did not know that at the time.
The Doctor's certificate, however, was sufficient to induce the Authorities to grant me six months' leave of absence.
I then went up to Nagambie to stay with a Mr. & Mrs. Rannard (a brother of a fellow clerk in the Master's Office). I was met at the Station by a rough sort of working man, who worked out on the orchard. He had carted the fruit into the station to be dispatched to towns.
As it was about lunch time he invited me to dine with him and hi s family. It was a poor sort of house, and they were very poor people, the Father being a seasonal worker. But they were royal hosts. The lunch consisted of rock melon, and bread and butter and a cup of tea – nothing else, but I never enjoyed a meal more in my life. It was the open heartedness of my hosts that turned a simple meal into a feast.
Many years later I had such another experience. In the course of business I had to call on a Doctor in an Adelaide suburb. He was sick in bed, and we discussed the business in his room. Then I was asked to stay for lunch. We had tomato soup and scones, and I never had a lovelier meal. It was due to the hostess, a very able and a very open-hearted woman.
One Sunday afternoon, coming home from afternoon church, we called to see two ladies to leave some documents. They were having their tea, and asked us to join them. After some demur we stayed. We had hot toast made at the fireside and tea. Our hostesses were charming people and again I had a memorable meal, one never to be forgotten.
This eating of meals with friendly people is one of the loveliest things in life. You will remember that the Scriptures tell us how Christ often went to dine with someone. He seemed to be fond of dining-out, for He was called a "wine-bibber and gluttonous." But it was always an occasion when He told in simple terms something about the Kingdom of God.
The most memorable one, I think, was when he asked a despised tax gatherer, really a renegade, to come down from the sycamore tree in which he had climbed to get a peep at Jesus "For I am going to dine with you" He said. From the giving point of view was there ever such a generous response? The old tax-gatherer was truly touched, to the very depths of his pocket, for he said, "Lord, behold, the half of my goods I give to the poor, and if, I have taken anything from any man by false accusation, I restore him fourfold" i.e. four hundred per cent, surely a tremendous repayment from a tax gatherer.
And you remember the words of Jesus: "This day is salvation come to this house." A wonderful climax to a meal.
ON THE GOULBURN RIVER
The Rannards had a very fine orchard on the banks of the Goulburn River. My stay there was a wonderful break, and I enjoyed it immensely, especially the fruit available at all times. But what I enjoyed most of all was the River. The Rannards had a flat bottom boat of which I had the unrestricted use. I had been taught to row in the Civil Service Rowing Club, but the practice I had in the flat bottomed boat on the Goulburn greatly developed my aquatic education. In the mornings I would help to pack the fruit for the market in Melbourne. After this I was free to row on the river. I learnt to manoeuvre the boat in every possible way, forwards, back wards, to the left or the right, or to go round in circles. It was a wonderful relaxation.
My sister Ethel was anxious to have a lengthy holiday, and as there was no room at Rannards to accommodate her, through the kindness of Jessie Mathieson (one of May's dearest friends, who was clerk at Ball and Welch, Castlemaine), it was arranged that both of us could board with a farmer named Williams at Glen Luce, a little hamlet about six miles out of Castlemaine.
Glen Luce proved an idyllic place. Sam Williams (the eldest son) drove a team of big draft horses, carting wood to the mines. It was an amazing feeling to sit up on the top of a long load of logs, which, every time the wheels struck a rut, writhed underneath you like a mass of serpents.
There was much beauty around Glen Luce, simple rustic beauty, tree lined road, a rippling creek, a placid dam supplying water in a race to the mine, which was working an hydraulic sluice for gold.
Once, after heavy rain, the race broke away, and carved a new bed for itself. It formed a series of picturesque little waterfalls, I had a camera, and had as much delight in taking these little run-away waterfalls, as I would in taking the majestic Niagara. One is intimate and friendly – the other is awe-inspiring and terrifying, as I discovered years afterwards. It is like meeting people – the high and mighty ones may be very impressive, but the ordinary homely people may be more friendly and lovable.
THE IDYLLS OF THE KING
The most vivid memory I have of Glen Luce is that of lying on the straw in the loft and reading again Tennyson's "Idylls of the King." They enthused me, especially the cry of young Sir Gareth when his Mother urged him to stay at home and follow the door, instead of seeking adventure at the Court of King Arthur. You will remember his answer – "Follow the deer? Follow Christ the King – live pure, speak true, right wrong, follow Christ the King, else where-Fore born?"
This reply seemed to me to be a fine conception of virile Christianity, and, on my return, was the inspiration off the foundation of the "Knighthood of Christ" of which I shall write more anon.
There were only three mails a week in and out to Glen Luce, and I sent a letter every mail to my sweetheart, and she replied also. On the envelope I generally did a pen and ink drawing or a watercolour sketch.
We were not pleased with the contraction of the name "Elizabeth" to "Lizzie" so, taking the first and last letters, L and E, we shortened it to "Le" .
THE VALUE OF PHYSICAL LIMITATIONS
As Kate Williams was a Nurse in the Castlemaine Hospital, she arranged for me to be examined by the Superintendent, Dr. Hill. After a thorough overhaul he pronounced me to be quite fit, but inclined to be a bit nervy. He was surprised, after what previous Doctors in Melbourne had said, that I remained alive.
There was in the Master's Office a brilliant man namely McCoy but he was an alcoholic. Eventually Mac was sent down to Lara for treatment. He came back cured.
But Mac was a stubborn Scotchman and he determined he would prove he could drink and leave it alone when he liked. So the first morning after his return from Lara on the way to the Office, he went into a pub, had a couple of beers, and was violently sick.
But he was not deterred. He kept on drinking until at last he could keep it down.
He was eventually dismissed from the Service, and the last time I saw him he was walking along in the gutter in Bourke Street, looking for cigarette butts, and was wearing a battered straw decker.
He caused me to think. Here was I, wanting to serve God with all my heart, but every now and then my health, never robust, kept me in check. Why did God give McCoy perfect health, which he wasted, and deny it to me, when I wanted it to use in His service? Time proved He always gave me sufficient strength to do His will.
THE KNIGHTHOOD OF CHRIST
On my return to Melbourne I discussed with Mr. Straw the formation of a night class for boys based on the "Idylls of the King." He was enthusiastic and when I asked him to suggest a leader, much to my amazement, he unhesitatingly said, "You!" This was a real shock to me, as I had never thought of it that way. But after some hesitancy I felt obliged to accept the challenge. This would have been somewhere about 1905.
So I announced that we would form a week-night class for boys, based on Tennyson's Idylls of the King. On the first night, one boy turned up – Eric Straw. I explained that we would take Gareth's reply to his Mother as the basis of a monthly vow. "I promise by God's help, to live pure, speak true, right wrong, and follow Christ the King." Then we both knelt down, I took the vow, and Eric followed. The meeting (of two) closed, but as we were walking away, another lad turned up, Ben Dunstan, and we went through the same performance. Again we locked the door, and proceeded to leave, when a third boy appeared. For the third time we explained the idea, this boy also took the vow, and thus ended the first night of the Knighthood of Christ.
The numbers grew and we met consistently once a week, taking the vow one after another on our knees once a month. This went on for eight years. When we moved to Canterbury and Arthur Wilson took over the leadership. Many hundreds of boys have taken this vow down the years, boys that have scattered all over the world, many of them taking key positions. One was Percy Deans who became Private Secretary to William Morris Hughes. His brother Bert became the Manager of Robur Tea Company in Sydney. From Canterbury came Rupert Willis who is one of the great cancer experts in the world, his companion Ken Bailey who was knighted, is now Australian Ambassador to Canada. Horace Thomas who became a medical missionary in India, became a specialist in tropical diseases, and was awarded the Kaiser-i-hind medal for his services during one of the dreadful famines that affect India every now and then.
It was obvious that over many years I had the very great privilege of meeting with boys first, and then, when the first girls joined the group, the name was changed to the Good Companions. My attempt to lead them necessitated much time spent in study and prayer. Their trust and affection has filled my life with a wonderful friendship.
Probably teaching, we only teach those who listen, but it teaches the teacher more than anyone else. My preparation was simple, I wrote out on paper, with wide spaces in between, the verses on which I intended to speak.
Then I read about ten different translations, and noted the words that evidently were differently translated. For instance the word "steward" in the Authorised Version doesn't convey much to me, a steward on a boat, a waiter, but in a modern translation the word is rendered "trustee." Being for so many years in the Master-in-Equity's Office of course the word "trustee" conveyed a great deal to me – the person to whom the whole of the estate is entrusted, but who doesn't own a scrap of it.
As well as a number of translations of the Bible, I also had some fine text books "In the days of His flesh," "The training of the Twelve," and one by Edersheim, (a Jew at one time I should think) on the "Life and Times of the Messiah." It gave me an intimate account of Jewish thought and customs related to the Bible. For instance, referring to when Jesus drove the 'traders' out of the Temple, he stated that a pair of doves in the open market cost 2½d, but the traders in the Temple charged 15/6d.
The catch was that any doves not bought from the "traders" were rejected as having a blemish, which made it impossible for the poor people to buy elsewhere than from this religious monopoly. No wonder Jesus referred to them as "a men of thieves."
OUR COURTSHIP & HONEYMOON
From 1906 to 1909, the period of our courtship, were lovely halcyon days. We loved each other completely, heart and soul, and as we pledged ourselves to each other, we realised that if our love was to be superior to circumstances, we must also pledge ourselves to God, and, as we loved and served Him, the Author of our love, our love would grow sweeter and deeper.
When we could afford it, on a Saturday night, on a holiday etc. we would hire a boat at Studley Park and row up the River. How we loved this. The Yarra at Studley Park is very beautiful, and is as secluded as if it were a hundred miles away. There are some lovely reaches on the river, and in Winter and early Spring, the banks are bright with wattle. No music is equal to the lapping of the little ripples against the prow of the boat, as we row upstream against the wind. It tolls the bells of moods of fairyland. The river has many moods as a woman, and all as beautiful. To drift down in the moonlight is an experience never to be forgotten.
On one occasion we had landed on the bank and taken out the oars. I then decided that a better landing place was a little further down the stream, so I untied the boat and jumped into the prow. A big tree stood in the water near the bank, and I thought I could clasp the tree and let the boat turn around. But the current was stronger that I thought. Standing in the prow, my arms did not stretch right around the trunk, then I felt the boat was drifting away. For a moment I was undecided. With my arms around the tree as far as they could go, standing up and leaning forward somewhat, could I push myself back onto the boat, or would the boat drift out more quickly with each push, and I would land in the water. It was a tense moment, but I decided the only thing to do was to give a mighty push, hoping the boat would be stronger than the drift of the boat and I should land back in the bow. I gave a mighty heave, and landed back in the boat much to my relief and Le's too.
We were married on 6th January. What a day it was, hearts bursting with high ideals and excitement. 'Twas then we had our first ride in a motor car, Lally, a former school teacher friend, had started a motor driving school, and he drove us to our new home, and next morning to Flinders Street Station en route for our honeymoon.
That honeymoon was idyllic. We got out of the train at Fern Tree Gully, and took to coach to Olinda. Previously the coach had started at Bayswater and only now had changed its route to start from the Gully and travel along the mountain side through Ferny Creek, one of the most picturesque drives in Victoria.
We stayed at Bella Vista, Olinda, and the board we paid was 25/- week each. Even this would not have been possible but for the fact that a cousin in Cornwall (whom we had never seen) sent us 5 pounds as a wedding present.
Everyone at the boarding house was very pleasant, knew we were honeymooners, so gave us the best seats wherever we went. In fact, we had the box seat on the coach from Fern Tree Gully on our way up. At a pretty little corner in the road we passed an artist painting. Later she proved to Betsy Grieve, who had a painting in the Melbourne Gallery. Miss Grieve had arranged with the coach driver to give her a certain signal with his whip, if he thought we were honeymooners. He guessed right away, gave the signal, and so everyone in the house soon knew we were on our honeymoon, with result that they all combined to give us a good time.
I shall never forget one thing. On the last day, as we were sitting out in the garden down by some black currant bushes, dear old Le suddenly burst into tears. "What's the matter, darling?" I said in great distress. Then she told me her fear. She had gone to business all her life and spent most of her leisure time in sewing and making dresses for her family, and she was afraid she would not be able to cook suitably for me. So I kissed her tears away and her fears with it. As a matter of fact she turned out to be a wonderful cook.
JOHN CURTIN
Le's Mother was also a good cook, especially at making apple pies. Le's brother Frank was the first Secretary of the Socialist Party and a bosom pal of John Curtin. Years later, I happened to be in Canberra, and called to see John Curtin, then the Prime Minister. "Why didn't you tell me you were coming?" he said. "I have a deputation of graziers waiting outside, but they can wait a few minutes." I voiced my appreciation of his action in his successful efforts to bring the American Fleet to defend Australia during the war, despite the strong opposition that many had to the proposal.
Then he replied with questions. "When did we last meet?' "At Frank Hyett's Mothers home, where we had a delightful apple pie." "Yes," I remember. "Have a cup of tea." "Thank you, but I have just had one." "How many in your family now?" And so we talked for a few minutes in a very friendly manner, and then I bade him goodbye.
John Curtin was a gentleman, extremely capable and in fact, Professor Copland at a recent dinner to Gordon Whitlam (who had retired as part-time Lecturer in Marketing at the University) told me he had been in close touch with all our Prime Ministers for over thirty years and, in his opinion, John Curtin was the ablest Prime Minister he had met. He placed Stanley Bruce next, as the second ablest and Ben Chifley as the third.
OUR FIRST HOME
Our first home was a double fronted weather board house in Albion Street, Brunswick – rent 14/6d. a week. (How times have changed.) We erected a tent in the back yard, for I was a fiend of fresh air. At my parents' home in Linden Street, East Brunswick, it was the practice to padlock the front gate and lock up all the doors and windows every night before we went to bed. When I first heard of the need for ventilating bedrooms, I surreptitiously opened only my window, and next morning I woke up with a sore throat. Nevertheless, after that I always slept with my window open.
We had not been at this house very long (just long enough to plant every vegetable in season, and lay a brick path right through the back garden), when Will Bedford told me he was going to sell his house in Balmer Street, as he had bought a business in Yarck.
Balmer was a new street that ran off Blyth Street, which at that time was supposed to be one of the aristocratic parts of Brunswick. We wanted to buy it, but had no money. My sister May came to the rescue, and lent us all she had. But it was not enough for a deposit for a loan from the bank. So Miss. Bedford bridged the gulf, and I gave her two short dated Pro Notes for the balance. As the due date drew nearer, I knew I would be unable to meet them, but to my surprise, dear old Le had saved enough out of her housekeeping to meet the payments. How she did it I do not know, I was on a salary of 160 pounds per annum (a little over 3 pounds a week).
With all the expenditure that inevitably starts after marriage, it was just a financial miracle that Le had saved enough to enable us to meet our indebtedness.
THE FAMILY
We were both radiantly happy. Le was a beautiful woman, very loving and very capable. In due time our first baby arrived. The Doctor in attendance did not believe in giving any assistance to a Mother, and as I was naturally extremely anxious, he contrived to send me to town to get something for him. At last little Joy, our first born arrived. She proved to be a ball of energy, always getting into mischief, and as she grew older, doing the most daring things, such as walking along the ridge of the house in her shoes. As the family grew, she also led others in the most dangerous exploits. But she was extremely, able and lovable. She tore her school tunic almost every day, but as she was skilful with her needle, she was always able to mend it.
In due time she married Ray Burkitt, a clever young fellow who won his way to the University by means of scholarships.
For some years the couple lived in Castlemaine, where Ray was appointed Senior Mathematical Master at the Technical School. Later on, he was transferred to the Melbourne Technical School. As he was a fully qualified Civil Engineer, he was appointed to the Housing Commission. (Since writing this he has been appointed a Commissioner.) His latest exploit was to start a Youth Club in Balwyn, which prospered so much that they have built a magnificent set of buildings for both boys and girls, and is capable of an average of 400 members.
At the opening of the building a bronze plaque was unveiled stating that "The creation of this building was due largely to the faith, drive, and example of Ray Burkett..."
Joy had a varied education. She took a course under an artist, won a scholarship at the Ballarat School of Mines (coming home only at week-ends.) Later she went to Prahran Technical School (dux of her form) and then to Swinburne Technical School. In between she had a year at the Methodist Ladies College.
Now she had fulfilled her ambition, in being appointed Arts and Crafts Mistress at the Presbyterian Ladies College, where she is much loved.
The Burkitts have three delightful children – Johnny, married to Jean, Jill, married to Graeme Woolley, and the youngest, Gwynneth, married to Brian Nicholson. John Burkett showed little ability when at the State School. For two years running he was at the bottom of his class, much to the chagrin of his parents.
Then he was transferred to Mont Albert School, and Joy too, took a hand. She really went back to school herself. She studied Johnny's text books, went through them with him every night until he thoroughly understood. It was well worth it, for that year he became Dux of his class.
He is now a representative with Burnie Board, and was nominated as one of the best six travellers on the road in Victoria.
Since writing the above, he has become the representative of, a firm that manufacturers built-in furniture, and is very successful. He married Jean, a lovely lass, well balanced, and the sort of wife Johnny needs. They make a splendid pair, and they have been blessed with a dear little baby boy.
Johnny has always wanted to be a farmer. He has chosen the farm he wants (a dairy farm in Gippsland), the Commonwealth Bank has agreed to finance it, and, as soon as he sells the house, he will move on to the farm, and start a new life.
Joy was followed by Betty, the dearest little baby, much quieter in her youth than Joy. Joy was her champion. Diagonally at the back of us lived a widow, Mrs. McCulloch, with four sons. one day Mrs. McCulloch came down to us to complain that Joy had given one of her boys a black eye. It appears that two of the boys had hit Betty, whereupon Joy attacked them both, blacking the boy's eye after flailing her arms like a windmill. One of the boys is now Art Critic for "The Age."
Now Betty was a delightful child, clever and obedient, but with a very clear perception and a definite mind of her own.
After matriculating at M.L.C. she studied Commercial Art at Swinburne Technical School, became Chief Artist at Prestige Hosiery, where she met her future husband, Ralph Blunden. They have three sons, Peter and Andrew who proved to be very brilliant boys, and Richard, who is a sick boy.
Eventually Ralph and Betty started a business as Advertising Agents, which was so successful they employed over 20 people on their staff, and received the greatest praise for their work.
Now they have amalgamated with another progressive and moved their offices to Ampol House, at the same time buying an old fashioned two storied house in Royal Parade, only two blocks away from their Office.
In 1913, we decided we would like to live in Balwyn, so we bought a block of land in Cherry Road, 163' × 190' at 30/- a foot. "The road was unmade, the Canterbury Station was a mile away, and the tram came no further than the corner of Burke and Cotham Roads. When the tram did come through the fare to town was 6d. a day, today it is 2/-.
It was a delightful situation, with an uninterrupted view right across to Mount Macedon. The Land opposite was a council reserve, though the frontage to Whitehorse Road was proved to be privately owned. I made a fuss about this, as before I bought our block, I enquired from the Council if they owned the whole of the area, and was advised that they did. So I induced the neighbours to join in a round robin, and on the day the Whitehorse Road area, together with a few frontages at the lower end of Cherry Road, were put up to auction, the Council bought the whole lot, with the result that a larger area was added to the Recreation Reserve, and the view was retained unspoilt.
It was a delightful position, particularly at night, with an uninterrupted view across Yarra Valley. After the confines of Brunswick with its flat streets, this seemed like living in the country.
My brother-in-law Joe Simmill, (the husband of my sister Ethel) built the house according to plans we prepared. The outside walls were of weatherboard up to sill heights, and then rough cast cement on to expanded metal, which were very durable and showed no cracks during the whole thirty years that we lived there.
When we moved in, the third bedroom was used by painters as a storeroom. We put a kitchen safe in there, full of various bottles awaiting time for us to unpack them. One day the painters left the door unlocked, Betty made her way into this room, and we discovered her there with a bottle of Lysol in her hand, which she was raising to her lips. I seized her in my arms, and frantically tore down to the Doctor's. It was a tremendous relief to hear him say that though there were drops of Lysol on her pinny, none had ever entered her mouth. "If it had," said the doctor, she would have been dead before you reached me." As I took her home, I met Le in Balwyn Road on her way down with Joy to meet me. We were both very near to tears, with delight, to know that our little Betty was unhurt.
Our first son, Hyett Oswald, was born in 1917. He was a lovely baby, but the Thyrus gland situated at the back of the windpipe began to swell, and though we took him to the greatest children's specialist of the day, there was nothing to do but wait until the swelling subsided. Though we took him straight back to hospital, he died that night in his sleep.
This was a terrific blow to both of us. Le was prostrated, and I was dazed and confused. Why should God treat us like this? We loved Him and served Him to the best of our ability. I was afraid; what would God to next? Would He take one of the other children? Or worst of all, would He take my beloved wife? II lived in fear for the next twelve months, unable to pray to one who had compassion on us.
Of course it was all wrong to blame God for it. He was not executing a judgment on us, nor was He acting in a capricious way. It was the outcome of some natural law which the Physician of that day had not yet learnt to control.
The coming of the fourth baby, June, restored our faith and happiness. June was a quaint little soul, seemed to be thinking all the time, even as a baby. A photograph of her at this time, wherein the artist had painted around her a field of daisies, always reminded us of the saying of Wordsworth, I think it was "Out of the everywhere into here."
June has had a varied career. After matriculating at M.L.C., she came into my office and did two years of the Commerce course at the University. Then she decided to do Science and two years at that course. She enlisted as a W.A.A.F., became an Educational Officer, and while in the Army she completed her B.A.
After being demobilised, she joined the Diplomatic Corps. She was at first stationed in Canberra, then at Wellington, and later at Dublin. While she was in Dublin she was promoted to Second Secretary. She is now at Geneva, and is a First. Secretary.
Le Annette followed June – she was a most interesting baby. When at the seaside, while others played on the beach or looked for shells, Le would wander around till she found a family where there was a baby. She had the same passion for babies as her Mother. She has a fascinating sense of humour.
She did well at School, went to M.L.C. and matriculated in due course. She became one of the tennis team at school, and became a very fine player – like her sister Joy, who also played tennis enthusiastically. She became a nurse at the Melbourne Hospital. She found that like most trainees, the first year was rather exhausting and trying, but she persisted, and after she had finished her training, became a nurse to Dr. Gleadel. She is loved by everybody.
She married Tommy Beenie. Tommie went straight from Scotch College to the war and was a prisoner of the japs, for three years on the infamous Burma Road. He is a very fine character, unassuming but very capable and efficient – a perfect husband and father. They have four lovely children, Rosalind, Susie, Catherine, and David – a wonderful family.
Brian followed Le, and he and his wife Doris also have four charming little children. It was amazing to both Le and me to realize we had twelve grandchildren, (since increased to fourteen).
After leaving Wesley, Brian went to a secondary school run by Clive and Janet Nield at Warrandyte, on the most modern lines. The scholars called their teachers by their Christian names, and seemed to work when they felt inclined. If it were very hot, a child might say, "Its so hot, Janet, do you think we alight go for a swim?," whereupon the whole class would go for a swim in the Yarra. This co-operation with the children would perhaps be very successful if the children always had the urge to do well, without any discipline. But the general experience is that children, as well as being induced to do things, sometimes want a little pushing from behind.
I think Brian learnt many good things at Warrandyte, but not sufficient learning to matriculate. He needed to pass in two languages, but failed in German, and so was unable to go to the University.
He joined the C.S.I.R.O. He was such a good mechanic he earned top wages of all the mechanics. After he left the C.S.I.R.O. he acted as manager of a firm manufacturing hair washes, and later was for a time, managing a Disposals firm. Now he is a traveller for Robert Bryce & Co.
Brian married Doris Heywood, a very pretty girl, and they have four beautiful children, Anthony, Timothy, Jane and Lee.
HOLIDAYS
I was always a great believer in holidays. When we had only two children, we would go to a boarding house, tariff from 25/- to 30/- per week. When the family increased, we would rent a beach house. For many years the Kruse's house at Dromana was our holiday place. It was excellently situated, only a few minutes from a splendid beach. The finest part of the house was a wide tiled verandah around three sides. Water was supplied by a well at the back door, and pumped up as required. Cooking was a tremendous ordeal as the old stove would not draw. The beds were most unrestful, the worn out mattresses were like buckets, so that when you got on the bed, you nearly reached the floor.
The children all helped – peeling vegetables, dusting, making beds, etc. Despite the poor beds and stove, we always had a carefree time.
Joy and Betty put up a great swimming performance. They swam from our bathing spot, to the pier, – a mile away.
One holiday we went to Apollo Bay. We had a Hupmobile Tourer, with no boot, so that the children were packed into the car, and the baggage, strapped onto the running boards. Of course, the doors could not then be opened, and the adults had to step over the top and slide into their places like pencils. We must have been a novel load, Le and I, Auntie May, three children and Le Annette a baby 15 months old, and the dog. We came back on the Ocean Road, before it was made. As we skidded around every corner, the children in the back seat would cheer.
We had some wonderful holidays with Joy and Betty up on Will Richard's selection at Noojee. Will had built his house of timber that grew on his land. The fireplace in the kitchen was about six feet square and had great ends each side, in the fireplace itself.
It was a very picturesque spot, on the banks of the Tooronga River. In Spring it was a land of gold, with wattle and broom in full bloom. On one holiday I made a "pusher" in which to push Joy around. It folded up and was also convertible into a high chair. It took Will and me the whole three weeks of holiday to make it. Pushing it along Blyth Street, Brunswick one day after our return, the whole thing suddenly folded up with Joy in it. After that I scrapped the idea of a collapsible pusher, and made it a fixture.
BALWYN'S STATE SCHOOL SCHOLARSHIP
To celebrate the Jubilee, the Committee of the Balwyn State School decided it would be a fine thing to endow a Scholarship for the best boy, and also for the best girl every year. They at first estimated that they would need to raise 250 pounds. "At any rate" said the Headmaster, Mr. John Steels, "if we cannot raise that amount, even 50 pounds would be acceptable." I felt the target was far too low, and suggested a minimum, of more than treble. As a result I was appointed President of the Fund-raising committee. Two methods were adopted – one, direct giving by the parents in small monthly instalments, the other, a big Bazaar to be held in the Canterbury Gardens.
To accomplish the first, the area from which the school children came was divided into districts, and each Committee-member agreed to arrange to canvas a district. Each Collector was given a "blue" book, ruled in money columns for each month, and it was his (or her) task to call on the parents and collect an amount, mostly 1/- a month. This not only raised a fair sum, but it aroused the interest of every parent.
The second method was to organise a Bazaar. This entailed a remarkable amount of work, both for men and women. They all worked like Trojans. The Bazaar was held in the Canterbury Gardens on a Friday evening, and all the following Saturday. From memory they raised over 400 pounds, which together with the sum raised by direct giving, produced sufficient money to allow the winning boy and winning girl each year to receive 6 pounds per annum for three years to help cover the cost of books and fares. Why I was so enthusiastic, was due to my own experience. When a lad of fourteen, I had won a scholarship. I was unable to accept it, because firstly it meant the payment of half the fees, but also the cost of books and fares, made it impossible. With the Balwyn State School Scholarship, the first problem was surmounted by arranging with the Education Department free education in any of its High Schools or Technical Colleges. The interest on the fund we raised solved in part at least, the fares and books expense.
The first boy to win a scholarship was Robert Charles Backheler at the age of ten. He attended the Melbourne High School where the Headmaster, Mr. Joseph Hocking, said that Backheler had the best brain he had met in all his career. It was a great joy to me when "Bob" joined my staff as a Junior, he is now a Senior Partner.
Some other outstanding children have been Scholarship winners, one Bert Corbin, became a celebrated mathematician.
The private colleges agreed to take any of the scholarship winners at half-fees though I think this was seldom accepted. Unfortunately a fire at the School destroyed all the records.
I APPLY FOR A JOB IN THE NAVY
Somewhere about this time I was very dissatisfied with my lack of prospects in the Master's Office, so I applied for a job in the clerical division of the Navy. I spoke to my brother-in-law Frank Hyett, about it and he had a word with Frank Anstey, the member for Brunswick in the State Parliament.
Mr. Anstey got to work, and Frank told me that all was well, and I was to get the appointment. I waited and waited, Frank made further enquiries, and Anstey assured him all was well. Eventually it turned out that Anstey recommended another "Barnett" and he got the job. I have been thankful ever since.
STUDYING FOR ACCOUNTANCY
It seemed to me the only way of the dead-end was to qualify either in law or in Accountancy.
Law meant attending lectures at the University, and the Department would not, at that time, grant leave for that purpose. So I turned to Accountancy.
Mr. Mountjoy of the Brunswick Church, started a small study class, which I attended for a short time. On our removal to Balwyn, I had to study on my own. This I did mostly at night, (Sunday excluded) and Monday morning, (washing day). I got up at 5.30 a.m., lit the fire under the copper, put my feet on too, and studied until the copper boiled. Then I was busy transferring the clothes to the troughs and putting them through the wringer. It was fruitful use of what would have been wasted time.
After the intermediate examination in book-keeping, Le asked me how I had got on. "I think I must have got about 90%" but I was staggered to find that I got only 60%, and as it was necessary to get 65% to get a pass, I had the first failure I had ever had in an exam. I tried again and thought I did so well, I must have got nearly 100%. But I only got 70%, passed alright, but became painfully aware I was missing out somewhere.
I determined to get some tuition. Mr. Frank King, later the Treasurer of M.M.B.W., was coaching students, so I enrolled with him at 3 pounds 3 shillings per quarter. I was delighted to find I was the only one in the class at the time it was convenient to take me. We spent most of the time arguing, "But why do you do it that way?" And Frank with great patience would explain the reason. It is a curious kink I have, that I find it difficult to understand a thing until I know the reason at the back of it. The result was very satisfactory, I not only passed the Finals of the Federal Institute but also the Government exam for Company Auditors. I was loath to sit for this as I-could not afford the 2 pounds 2 shillings entrance fee. "Borrow it" said Frank, which I did from Le. So the whole of my Accountancy tuition cost me 6 pounds 6 shillings (two quarters from Frank King at 3 pounds 3 shilling per quarter). I am for ever grateful to Frank for his very clear and able tuition. Some years ago, when Frank was Treasurer of the M.M.B.W., he died suddenly at his desk with the telephone in his hand. He was a very competent man, and an excellent administrator. His death was a great loss to the State.
The Commonwealth Institute, (for practising Accountants only, or for those working in the office of a member of the Commonwealth Institute) gave me the great honour of appointing me a Fellow of the Commonwealth Institute of Accountants. An honour I was told, which was given to only two Accountants outside their own membership.
The Chartered Institute of Accountants of Australia (an offshoot of the English Institute) permitted any accountant to enter who had been in practise for five years, irrespective of whether he had passed any examination or not. I was admitted as a fellow. The Australian Institute of Accountants was a merger of the Accountancy bodies, except the Chartered Institute and to this I was also admitted as a Fellow. On the recommendation of Douglas Copland, I was appointed a member of the Economic Society of England, but I let this lapse.
I AM APPOINTED A COMMISSIONER
The Master in Equity, Thomas Prout Webb, congratulated me on my success. (I believe I was the only qualified Accountant and Licensed Company Auditor in the Law Courts at that time). As the first World War was on the Master told me it would be impossible to advance me into the next class in the Service (the 4th Class) and he asked me if I would accept a Commission for taking affidavits. Of course I accepted with gratitude.
Soon my affidavit fees exceeded my salary (two hundred and four pounds per annum) and the financial pressure was eased. I made it a practice to arrange to bank one affidavit per week (1/6) in the Separate Savings Bank accounts of each of my three daughters which later on proved to be a boon.
As there were many sailors and soldiers killed during the war, there was of necessity a great number of applications for Probate (or letters of Administration). Each application meant a search to see whether a caveat had been lodged. (The record of some being kept in the next room to me) and an affidavit so that quite a reasonable number were sworn before me. Then the war stopped, applications became normal, and of course my income from this source steadily diminished. Then came the terrifying epidemic of Spanish Influenza. Deaths mounted rapidly again, so did applications for Probate, and of course so did my fees for affidavits.
In 1920 Le's brother Frank Hyett contracted pneumonia, and died. Of course his widow leaned on us for help, so it was natural that she and her three children came to live with us. So overnight, I found my family was doubled.
FRANK HYETT
Le's brother, Frank Hyett, was an amazing man. He had a wonderful brain, but owing to the economic thrust in the home, (his Mother being a widow in poor circumstances) he received no more than a bare State School education. But his mind was very active, and he soon began to search for the intellectual and spiritual satisfaction for which he craved. Though he was a Methodist, he visited all the various Churches, but none of them satisfied his spiritual thirst, because none of' them preached and practised a practical social Gospel.
At last he was captured by Socialism, with its claim for justice to the working man. He joined the Socialist Party, and became its Secretary. Eventually he became the Secretary to the Victorian Railways Union. He was a real orator and had the courage of his opinions. Because he insisted on speaking in the Streets, he was sent to gaol. His description of his enforced sojourn in prison was so tremendously funny, that though he continued to go on speaking, the authorities never again took any action against him.
When he contracted pneumonic influenza, I went to his home to see him just as the Ambulance had come to take him to Hospital. Frank knew his end was near, though he was quite conscious. As he was carried past me on the ambulance stretcher he said to me "Well, I'll soon know the truth about the life beyond."
About four thousand unionists marched to his funeral, and formed a guard of honour between the station and the Box Hill Cemetery. I never saw so many men in tears. He was much loved for he had done great things to improve the conditions of railway men.
A GROWING FAMILY
Le's Mother died prior to Frank's death, so Le's half sister Myrtle, came to live with us. So I had a wife, my sister May, two sisters-in-law, three small daughters, two small nieces and one nephew, all living with me. Myrtle lived with us for some years. I first met her as a little girl, four years old. She was in the Infant Class at Sunday School, and as Junior Secretary of the School, every Sunday afternoon, it was my duty to go in to the Infant Classroom and call the roll, and one Sunday I saw little Myrtle sitting there for the first time. She had big, beautiful grey eyes, exquisitely set in a lovely face. I fell in love with her straight away, little dreaming that in a few years time, I would be marrying her sister.
Myrtle was a great help in our home, willing and unselfish with a great sense of humour. Before long, Laurie Dredge, who knew her Brunswick, fell in love with her, and married her.
They had one child, Judith Ann, as pretty as a picture. Poor Myrtle contracted T.B., and was in hospital for two years. Judith stayed with us until her Mother's return.
In the meantime the Australian Railways Union, under the inspiration of Dick Keane, (then a clerk in the Railways, later a Senator), raised some 4,000 pounds to be used for the benefit of Frank's widow and children. Portion was used to build a house for them in Balwyn Road on land abutting ours on the back.
The rest of the money was funded and used for the education of the three children. The only son, Frank became a Solicitor. Ethel, Frank's widow, eventually married Colin Gardiner, a splendid fellow, once a clerk with me in the Master's Office, but later the Public Trustee for the State of Victoria. He was a modest man, won the Belgian Cross of Honour in the first World War, but would tell no-one what he did – said it was a mistake and the Cross was given to the wrong "Gardiner."
When Ethel and Colin sold their home, Laurie and Myrtle bought it, Laurie was a fine Christian gentleman, but unfortunately, he died of lung cancer on the last day of the year in 1961. Myrtle and Judith still live in the old house.
Since writing the above dear old Myrtle has passed away, dying from cancer. She was a wonderful woman, kind to a fault, understanding and sympathetic, and with a rare touch of humour. She endeared herself to all who knew her, and we miss her sorely.
I RESIGN FROM THE MASTER'S OFFICE
As soon as the Influenza Epidemic was over, naturally the number of deaths grew less, applications for probate decreased, and consequently my income from affidavits rapidly declined, just when I needed the money more than ever.
So my Chief, Tom Kelly urged me to leave the Service, and start on my own as a Public Accountant. It was a tremendous step to contemplate I had a permanent position at 3 pounds 19 shillings and 6 pence per week, (with prospects of a rise in the not too distant future), plus affidavit fees, then equal to my salary, but dropping steadily. There were no Government Pensions at that time, or I doubt whether I would have had the courage to make the break.
Of course I discussed the matter thoroughly with Le, told her she would have to keep the family on the children's Savings Bank Accounts, and she very loyally agreed to take the risk with me. After all, it is the woman who faces the prospects of her husband's failure even more than he does, and she has not the exhilaration he has in facing the new conditions, which are, of course, a tremendous challenge to his pride.
I was of the opinion that there were many Solicitors who could not. afford a full time accountant, and that their books of account were very badly kept. Owing to the kindness of a friendly Law Clerk, I was permitted to examine the books of his firm and this confirmed my opinion.
I therefore applied for six month's leave of absence. The Secretary of the Law Department sent for me and urged me to stay – promised me an immediate promotion into the next class. He asked 'me what I intended to do when I left the Service. I told him I meant to commence in practice as a Public Accountant. He replied with great scorn, "The place is lousy with Public Accountants." But this did not deter me.
The first problem was to get an office. There was not a vacant room anywhere in the City. Then an old friend of mine, William Buck, who was in practice in Collins Street, offered me the use of a table in his general office at a nominal rental off 7/6 per week, for which I was very grateful. I borrowed 5 pounds from Le's Mother, to buy some blotting paper and other little requisites, and duly settled down to my table in the General Office of Mr. Buck.
The next thing was to get clients. I had no idea that the ethics of the profession scowled at the thought of touting for clients. It was good I did not know, so I set out with enthusiasm to call on the various Solicitors I knew. The conversation on calling on a Solicitor would be somewhat like this.
"Good morning, Mr. Barnett " "What is it you want with me?"
"I want you to permit me to do your accounts." "You took them home with you last night, and brought them in again this morning untouched."
"How do you know that?"
"Oh! You all do that."
So I walked the streets of Melbourne and all I earned that first week was 1/6 on an affidavit that was sworn before me. Then the Secretary of the Law Institute noted that on my business card "A Commissioner of the Supreme Court of Victoria for taking Affidavits." He thought that now I had left the Law Court I should not retain my Commission. Without advising me he contacted the Chief Justice, Sir William Irvine, with the result that Irvine cancelled my Commission. I wrote to him in protest, but my letter was never answered. It was perhaps, the best thing that could have happened, for I could imagine later, when I had gathered a few clients together, to be rung up to go round to a Solicitors Office, and have some affidavits sworn before me, might be very inconvenient.
At the end of the first week I got my first client, Pitcher and Cranes, Solicitors, with instructions to install a simple system of accounting, with particular reference to the reconciling of Petty Cash. This I aid, and my first bill was for 20 guineas, made out on the basis of 10/6 per hour for the time taken.
At the end of three months I had earned 130 pounds, equal to 600 pounds p.a. (in those days valued probably four or five times as much as now). I now was getting more work than I could handle, so I fulfilled a promise I made to a junior under me in the office, and offered him a 1 pound increase on his salary, together with a space in the shape of a larger table, and a share in the profits. This increase in the size of table cost 10/- per week. I sat at one end, my chief clerk, typist and office boy sat at the other end. When a client came in he sat between us, so he had the benefit of the principal and the whole staff.
On one occasion I got a tangled set of accounts to unravel. As we were for the time being rather non-plussed as to where to begin, I took the whole staff (of one) with me, and we went down to Princes Bridge, hired a boat, and rowed up to Botanical Gardens. It certainly was refreshing.
Later on I was able to get an office in Chancery House, a room with a low division in it. I sat on the window side, my Chief Clerk sat on the other side. The typing became too much for my one fingered typist, so we engaged a typiste, a young girl, Rosie Neale, whose golden hair hung down her back. Now I had arrived, and was full of hope. Soon one room was too small so I was able to get suite of three rooms. Later this proved too small, and we got a suite of six rooms.
Then Marcus Barlow, who was my third client, was building Temple Court. I arranged to share with him the whole front of the tenth floor. During World War II, the Americans took over my suite and Os Burt kindly arranged for me to share his offices with him. After the war was over, I was able to go back to Temple Court, and subsequently, as Marcus Barlow had bought a delicensed hotel in North Melbourne, I arranged to take over the whole front of the tenth floor of Temple Court. It certainly was a difference from the loan of a table in a fellow accountant's office.
HOW WE GOT OUR CLIENTS
How did we get our clients? Let me confess. Being trained in a Government Office, I had no conception of the ethics of a public Accountant. I did what all normal businesses do. I let people know I was anxious to serve them. On one occasion, a friendly law clerk told me had mentioned my name as one who could act in a suggested arbitration case. "Never heard of him!" said the Solicitor, on the other side. So I determined that they should all hear of me.
Being for many years in the Probate Office, I was able to prepare a wall card showing the rates of Probate Duty from its inception in 1872 right up to date. On the reverse side of the card, I had a genealogical table printed (copies from a book in the Law Court Library) showing in diagrammatic form how the estate of one dying without a will should be distributed according to law. I sent a copy to every Solicitor, to the Principal Estate Agents, and to every Bank in Melbourne. The Curator of' Estates of Deceased Persons was so pleased with the chart, that he asked me if I would kindly forward him fifty copies for use in his Office.
Sometime later I prepared another wall card, setting out on one side the rate of income tax payable, and on the other side, the fees payable at the Titles Office. This I distributed in the same way.
This advertising of course is highly unethical, but as a Clerk in the Master's Office, I knew nothing of the cramping ethics of the Accounting profession. I even wrote to firms notified in Dun's Gazette as dissolving partnerships, offering to take accounts of the dissolution. To new companies I offered to act as Secretary or Auditor, all highly unethical. But I had determined to become known. At the same time, satisfied clients told their friends, until at the present time, the number of people employed in the office amounted to eighteen.
I refused no work that was honorable, even deigning to act in small promotions of new companies. It was fascinating. As Secretary of a new Company, I was always granted some bonus share, and a small weekly salary. On each occasion I felt that the Company would make good, and my fortune would be made.
THE MURNANE TRACTOR.
On one occasion an engineer invented a tractor that was controlled by a pair of reins, as if it were a horse. It was so easy to handle that my little daughter Joy, then aged about twelve, drove it round in circles up by the Old Haymarket. It was a great success. The Company sent the inventor to England and the Tractor gained the silver medal awarded for the greatest improvement in farm machinery for that year. We were all highly elated, and then sent the Inventor to America, all of us quite sure that there was a fortune in store. In the U.S.A. however, the tractor revealed a practical defect – it was so sensitive to the reins that in drilling a field it was impossible to keep it in a perfectly straight in line. It waggled with the slightest touch on the reins which meant that portion of the edges would either overlap, and be double sown, or that gaps would be evident in the sowing. This defect could not be overcome, so our dreams vanished in thin air.
INCREASING THE STAFF
As the practice grew, there was little time and less inclination to indulge in speculative ventures. Soon it was necessary to increase the staff, one addition being two boys almost straight from school. Bob Backholer had, however put in a short time as an apprentice in an engineer's shop, and eventually he found he was doing nothing but drilling holes, he left after this realisation and was appointed to the Savings Bank – but not for long. His Father was anxious for him to come to me, so he came, to my great joy.
The other boy, Vic Le Lievre, joined the staff soon after, and I believe they are two of the most brilliant accountants in Melbourne. Later on, they were admitted into the partnership, where they are now the senior members.
There was another notable addition to the Staff in these days – Miss Helen Trickett who became my secretary. She was very competent (a gold medallist in typing), was very loyal to me, and exercised a great influence on the younger girls on the staff. She is one of the most unselfish people I have ever met and kept the tone of the Office always at the highest level.
Later Miss Edie Eyers, a friend of mine, joined the Staff. She was a very loyal worker and remained with us until she retired.
Miss Una Harrison also joined us, became Qualified as an Accountant and became a very valuable member of the Staff, especially in the preparation of Income Tax Returns. This became as meal and drink to her. There were several other girls of outstanding character who joined us, but resigned to get married. Win Dean who was very capable and gracious but who, after being married a few years, died quite suddenly – Then Irma, another lovely girl, capable and conscientious, who resigned to marry a country farmer.
From the first, profits made in the practice were divided between partners and staff, according to salary, hours worked during the half year, and length of service. The amounts were taken to the credit of the persons concerned, and could be drawn (after leaving sufficient amount in credit to meet the particular persons Income Tax).
If left in the business it carried interest at Bank Overdraft rare. Most of the Members preferred to leave their bonuses lie to credit, against a definite need. A girl for instance, would have reasonably a respectable amount to her credit when getting married.
I was not long in practice before I had many callers – people in need – some genuine, some no-hopers.
I cannot remember how many reformed husbands called on me wanting to return to their respective wives in Tasmania. They all told such a pitiful tale, I could not refuse them.
One of the most interesting callers was Barney C. The "Oxford Group" picked him up in Pentridge, and they sent him to me to see if I could get him a job. He was a good looking chap, well dressed and with a charming manner. At Oxford Group house-parties, he could give a most expressive "experience."
Unfortunately, the only job I could get for him was selling shares for a proposed Temperance Society Residential Hotel. The Promoter was a friend of mine, and gave Barney 3 pounds a week in advance on his commission. At the end of three months he sold 100 shares and kept the commission. So the Promoter sacked him.
Eventually he got a job as Manager of a private Mental Home. One morning he came in to see me, highly excited. "I'm back to the old job" he said, "and I feel at home." "What is your old job?" I asked. "I'm a professional confidence man," he said, "and if you want to know any tricks of the trade, I'll show you in the next half-hour. I've just forged two cheques on the old lady, one on the butcher, the other on the baker. Don't you leave any cheques about for I could forge your name easily." "Why did you take up this game?" I asked, and then he told me his story. His parents died when he was about fourteen, and he got into this professional swindling gang – it was the only trade he knew.
We sent down the street together, and as we passed a Police Woman he said "I daren't look back. But you look back and see if she's looking back this way." I did so. "Yes, Barney, she's looking back here." "Can you give me the price of a fare to Albury?" I did, and have never seen him since. Barney was a decent chap – what he really wanted was to be educated to take a decent job – share selling was about the worst thing he could do.
But not all my "callers" were quite as gentlemanly as Barney. One asked me for the loan of 1 pound, and I promise not to pay you back. I honoured his honesty.
On one occasion a fairly regular caller came when I was out. So he asked my Secretary would she give him 2/- so that he and his mate could get a cup of tea. "You want a cup or tea, sit down a minute and I'll put the kettle on." He vanished like a stung possum.
H. D. McINTOSH
One of the most picturesque characters I ever me was H.D. McIntosh, who gained fame promoting the championship game fight, between Burns and Johnson. At the time I met him he was the Lessee of the Tivoli Theatre. Times were bad, the Theatre was mortgaged to The City Mutual Life Assurance Society, and as he was tremendously behind with his interest, and also head over heels in debt everywhere, City Mutual put in a Sydney man as Receiver and I was appointed his Melbourne Agent.
I shall never forget my first meeting with McIntosh.
"Weil, Mr. McIntosh, I am appointed Melbourne Agent for the Receiver," I said," and I hope we shall work harmoniously together."
"That's alright, I wanted you. If I didn't I'd throw you down the stairs now."
Despite the abruptness of his welcome, and the inherent dishonesty of the man, I grew to like him because of his tremendous courage.
When the people who had loaned him the pianos came to re-possess them, he stood at the top of the stairs with a revolver in his hand, and dared them to come up. They didn't.
There was a fine singer in his employ at 50 pounds per week. She was so magnetised by him she lent him her salary every week. As I came to see him one morning, he could not stay to talk to me. He and his lady singer were off to the races.
The sum of 800 pounds was owing to the Town Hall for electricity, and, as he fell down on every promise to pay, they at last cut off their supplies. That afternoon, I went down at his request, to see him. I stood behind stage, and looked at the poor little dancers, all dripping with perspiration, trying to do their best with make-shift lighting. Their wages were 3 pounds per week, all well in arrears. So H.D. took me round to the Town Hall to intervene with the electric light authorities. At 'first they were adamant, but he stormed and raved, threatened to bring the whole matter before Parliament and charge them with throwing all his staff out of employment. They weakened and said they would consider it. "You'll do no such thing. Take that telephone off the hook now and give instructions to put the current on at once." Which they did!
He owed such a lot of money by way of entertainment tax that one of my staff had to go there every evening to see tax was properly handled, and that the due proportion went to the Taxation Authorities. Yet despite all of this I could not help but admire his courage. It was not long before he was liquidated by his creditors.
MR. ROSE AND THE SLUMS
In the early twenties I came into contact with a Mr. Rose, who was a Band of Hope enthusiastic. He induced me to come and speak to a group of slum children gathered in a little Mission Hall situated at the corner of Exhibition and Little Lonsdale Streets. It was a very unique audience, not a pair of shoes or socks among the lot of them.
They were a lively crowd, very alert and quick to grasp a point. I had spoken on the effect of cigarette smoking on the growth of children, and illustrated the talk by sketches by broomstick art.
After the meeting was over, the Sister-in-Charge told me that smoking was a very minor problem as far as she was concerned. She knew every child and she knew every Mother, and practically every Mother either kept a sly grog shop or a house of ill-fame. This stunned me, for I realised the hopelessness of a child born under these circumstances. He or she was a securely imprisoned in an environment of crime as if they were locked behind steel bars.
When I got home, and saw my two youngest daughters asleep in our bed with their arms around each others necks, I could have burst into tears. As I pictured the squalid circumstances under which many slum children were condemned to live, I felt it wasn't fair and should be stopped.
MISS DICKINS
I then determined it was necessary for me to gain more knowledge of the slums, so I contacted Miss Dickins, who was then in charge of the Congregational Mission in Queensberry Street, Carlton, a mission amid the slums. Several times I went to the Mission which was the centre of her activities. The Hall would be crowded with human wrecks, the down-and-outs. It was an appalling experience, it was in the depression and poverty was acute.
The men gathered in the Hall, and perforce had to listen to an evangelical address. After that it was the custom to adjourn upstairs to a meal, but as the first floor was now condemned as unsafe, every man was given a parcel of sandwiches wrapped in paper, and a cup of tea, in the Hall itself, or as they passed out. On one occasion a man was so famished he could not wait to remove the paper from the packet, but ate the lot paper and all.
As was to be expected, many of them were "Methos," addicts to raw methylated spirits, the lowest downfall of all drunkards. Methylated Spirits, affectionately referred to as the "white lady," if drunk copiously at one time, later the drinker could then drink plenty of water, and so prolong the state of inebriation for some time.
Miss Dickins was a wonderful woman, intelligent, kindly, courageous and a power that kept men in reasonably decent order. I believe there was not a slum dweller in Carlton that she did not know.
She told me that she visited on one occasion, a woman in a garret. The woman was quite drunk, and her baby was lying dead on the table beside her. "I fed him" she said, and pointed to a bottle of milk beside. How hopeless the situation was.
THE BEGINNING OF THE BABIES' HOME
Just at this time the Laymens Missionary Movement in connection with the Methodist Church, in order to reinforce their dwindling ranks, decided to form a Young Mens Section, (of the Laymens Missionary Movement) and so called a meeting of the most prominent young men in Methodism. Arthur Parker, a great friend of mine, invited me to come to this meeting, and I agreed, providing that it was for one night only and I was not appointed to any Office.
I went, and I was surprised at the number and the quality of the young men present. I had an inspiration – I would tell them about the plight of the slum baby. They listened enrapt.
Then members of the Senior Section, pointed out that this objective rightly belonged to the Home Mission Department, and this meeting belonged to the Overseas Mission. I replied with fervour – "I have yet to discover that Christ drew any line between Home and Foreign."
After discussion it was agreed that the Young Men's Section should have two objectives – one – the establishment of a Medical Mission in Papua, Dr. Harry Judkins having offered to act as Medical Superintendent, the other objective – the establishment of a Home for Slum Babies. The Latter proposal captured the imagination of the young men (and also young women) throughout the whole Church, that in five years 30,000 pounds for the establishment of a Home for slum babies, and 2,000 pounds for the Medical Mission in Papua, was raised mostly by Church folk.
I must admit that though we captured the proposed Young Men's Section and used it mainly for Home Mission work, the members of the Senior Section made no demur, and loyally accepted the responsibility of the position.
The next move was to get official sanction from the Home Mission Department. I went to a Committee meeting of that Department and with all my enthusiasm, I put the case for the rescue of the slum baby. The result was that I was commissioned to get a suitable block of land at a price of about 800 pounds. For the convenience of the Honorary Medical Staff we should later need, the land would have to be within the three miles radius of Collins Street. I searched for three months without success, then a strange thing happened.
We were on holidays down at Beaumaris and at the boarding house, I met a wide awake Real Estate Agent. I told him of my search, he immediately told me he had a suitable block and in no time I was whisked to the present site of the Babies Home in Alexandra Avenue, South Yarra. It was a huge piece of land, about three acres, I think, far more than we would ever want. He suggested that we bought the lot for 9,000 pounds as we had a possibility of two builders who would buy what we did not want. So we marked off the portion we now hold for 3,954 pounds, a rather different amount from the 800 pounds suggested by the Home Mission Committee.
When I referred the matter to the Home Mission Committee, on inspection of the land, they were so impressed they wanted to buy the whole area. I would not agree, as the extra 5,000 pounds necessary to do that, meant it would take another twelve months to collect the money, and of course the babies would remain in the slums another year.
So the matter was referred to the Committee again, with Mr. J.Cato present, in the hope that he would give the extra 5,000 pounds. He would make no offer, but came with me to see the land. He asked me if I wanted the extra land to which I replied "No!" . "Why?" he queried. "Because to gather that extra 5,000 pounds would delay the building of the Home another year, which would mean that babies would have to remain a year longer in the slums.. "The present block is all we need!"
So we returned to the Committee. Mr. Cato bluntly said "Mr. Barnett says he does not want the extra land." and this killed the proposal to buy it. Several Committee members were annoyed and told me if we bought all the land we could make a lot of money out of its resale. I knew this, but I said, "we are not Estate Agents, we are out to save slum babies and the matter is urgent."
Of course, money was necessary, and the members of the Young Men's Section of the Layman's Missionary Movement accepted to raise the necessary Funds. At the same time approaches were being made to Ministers for us to take Services in their respective Churches. This necessitated a tremendous amount of correspondence. At first, while it was quite a small affair, it was all done in my Office. Then we appointed my niece Nancy Hyett, who acted as Secretary pro-tem. Eventually we determined to appoint a full time "Confidential Officer" and Mrs. Frances Leyton-Brown was appointed.
SHUTTING UP LITTLE LONSDALE STREET
Our Confidential Officer, Mrs. Brown had often to go to Court with reference to the committal of a baby, or with respect to the legalising of an adoption. On one such occasion, she came back from the Court in tears. A lad of about fifteen years of age was given 5/- by his grandfather to put on a horse. On the way to complete his errand he passed up Little Lonsdale Street. A painted jezebel was standing in her doorway as he was passing and she beckoned him in. She made certain suggestions to him which he accepted. Having discovered he had 5/-, she demanded that he give it to her. He refused, she insisted which so angered him he took up a poker and beat her. She called in a policeman and the lad was brought before the Court, and he was committed to the Reformatory.
Mrs. Brown told me that Little Lonsdale Street was a vicious trap for school boys. The Matron of the Home for Naughty Girls, at the corner of Little Lonsdale Street and Exhibition Streets, told her that watching from her upstairs windows, every afternoon college boys after school would come along the Street and would be admitted into these immoral dens at half-price.
So I determined I would go and see Thomas Blamey, Chief Commissioner of Police. When I told him the story he said he would fix it and he did. He put plain clothes policeman on patrol in Little Lonsdale Street, and if they saw a boy hovering about of these places they would say to him "What school do you come from?' "If you're not gone in two minutes, I shall report you to your Headmaster."
At the same time, if they saw a man about to enter such a place, they would say to him, "That place is under inspection, I would not enter it if I were you." This had probably no legal significance but the effect was magical. The denizens of these unwholesome houses found that their customers had vanished, and so they shut up shop and fled. This did not of course solve the problem entirely, but it shifted this evil from a Street in the heart of the City, which was a good thing as far as it went.
THE EXECUTIVE COMMITTEE
What a wonderful Executive Committee we had. Dr. Douglas Thomas was the President. He was an amazing fellow, full of dynamic energy, and threw himself into the movement wholeheartedly. He travelled everywhere in his car taking Church services, and as he was very original, he was always acceptable. Then there was Arthur Wilson, a Vice President who also threw his whole life into the movement. Never was there a man more devoted to the cause of rescuing slum babies that could compare with Arthur. He took services practically every Sunday and was the best Speaker we had. It was an inspiration to take part in a Service with him, he was so inspirational, and so dependable. Quilla Barber was another outstanding man as was Harry Meadows. Both were excellent Speakers, and were acceptable everywhere. Bert Williams was the "Andrew" of the Group. A very impressive sneaker, yet he delighted to be the lowly helper on every occasion. There was never a Birthday celebration at the Home, that Bert did not organise the traffic or sightseers who wanted to see through the Homes. He was a genius in organising these arrangements.
Bob Sutton was a voluble speaker, and held his congregations with his down-to-earth addresses. For many years he organised a monthly concert in Nicholas Home and it was always interesting and unusual.
One of the most colourful characters was Charlie Paul. He acted as chauffeur. One time when he was with me, I persuaded him to say a 'few words. It exhausted him, but he got over it and became one of our most original speakers, extremely witty and tremendously popular.
Fred Watsford never took to the pulpit, but became our song leader, particularly when we had our annual birthday demonstrations in the Provincial Cities. How he threatened us and obviously coaxed us to sing. With "Mick" in charge, the celebration was always a merry time, and full of excitement and good cheer.
Merv Harris became a co-Treasurer with me, and what an inspiration he was. Not only was he a fluent speaker, but a very clear headed business man. From that point of view, I think he and George Padgham were the backbone of all executive matters.
Sel Harris (the brother of Merv.) was a great acquisition. A very thoughtful and fluent speaker, he was always acceptable in the pulpit. The pulpit work he did for the Babies Home ultimately led him to enter the Ministry. He was hailed as a splendid Preacher, but when he found it difficult to accept some of the Methodist doctrines he resigned from the ministry, despite the fervent attempts of leading Ministers to induce him to withdraw his resignation. He left with no prospects of a good job ahead, but was not long before he became the Superintendent of the Burwood Boys' Home. His untimely death was a shock to us all, for we loved him dearly.
Right at the beginning of our Movement, Will Cock threw in his lot with us, enthusiastically supported by Nell, his wife, and his children Phyl and Howard. I think it was Nell who was the promoter and prime mover of the Babies Home Maintenance Circles, a group of women at the respective Churches who met once a month in various homes and sewed for the Babies.
Among the younger men, Clarrie Armstrong was outstanding. He became a well known and successful architect. He was always thoroughly reliable as a Speaker. At present he is the President of the Executive Committee.
Another very acceptable speaker was Angus Muirden, the Principal of Hassetts College. He was a very balanced man, spoke quietly but with great conviction, and was always a tower of strength.
But there was no man who meant more to the Movement than George Padgham. He became the Secretary, and was a magnificent organiser. He was an excellent speaker, and was always ready to take services for the Babies Home. He became our President and devoted tremendous thought and energy to the Movement. We all owe him a tremendous debt.
I have mentioned Quilla Barber – he and I were members of the General (Australian) Methodist Conference held in Sydney in 1960. We both of us took our respective wives with us, and while Quilla and I attended the Conference, they tripped about together.
One morning as Quilla and I were walking to the Conference, we stopped at the top of the hill, when Quilla put a pill in his mouth. (He had some heart complaint.) That afternoon there was a discussion on "Long Service Leave for Ministers." This subject had been thought out by Laymen of whom Quilla was one of the principals.
Two ministers unfortunately treated the whole matter with derision, one referring as the "Methodist Oscar," the other that he would be willing to contribute 2/6 per year towards the installation and running.
Quilla was tremendously upset. He went to the platform, and gave an excellent speech as could be expected of him, without expressing any malice towards the derisive opponents.
After he had spoken, he came back to his usual seat next to me, and put a pill in his mouth. Too late! In a few minutes he fell to the floor dead.
The whole conference was in consternation, and I was just dumbfounded. Harold Wood and Alf Milligan rushed over to look after me, and took me in a taxi back to our hotel. I went upstairs to our bedroom and told all about it. Together with Harold and Alf we went round to Quilla's room, and Tommy, who had been resting on the bed, came in her stockinged feet and opened the door.
"Where's Quilla" she said, with a smile on her face. And then the truth dawned on her and she burst into tears. Not for long, however, she dried her eyes, and we attended to the melancholy business arranging for the removal of the body by air to Melbourne and securing seats on the plane for the three of us. I have never met a braver woman than Tommy. Though she was heart broken, she restrained her grief. Their daughter met us at the Melbourne Airport, and Flo and I were taken. home by Norma. I was exhausted and went to bed until I recovered.
The Executive of the Babies Home met once a month in the home of individual members. It was soon realise that if the respective wives of the members met at the same time, they would have much to contribute. So we all met in my office, the men in one room and the ladies in another. We all congregated together for supper.
The Babies home Maintenance Circle was formed by the Ladies and many Churches had a branch wherein the members made all sorts of things such as nighties, woollies, etc. for the Babies.
SERVICES IN THE CHURCHES
Offices for the Babies Home were eventually secured in the first floor of Temple Court, and Mrs. Brown came up to my office every morning. We went through the mail together. Every quarter we prepared the plan for Church appointments that had been arranged in various Circuits. This became a big job, for as the movement spread we were taking 800 services in the year throughout Victoria. On the Labour day week-end, it was customary for many car owners to take four passengers each and proceed to the distant country towns. According to instructions a speaker would be dropped at each town where appointments had been arranged, the driver himself taking the appointments in the town which was the terminus of the trip. As each Speaker would take three services, including the Sunday School, it was usual to cover a little over 100 services in this particular week-end.
THE PROVINCIAL CITIES
Later on the Provincial Cities joined in the movement. When Wilson and I first visited Geelong we met with a very cold reception. We were fortunate however, in capturing Reg Ebbott, who became one of the greatest apostles we ever had. He was a ball of energy, a dedicated man, and with a fine organising capacity. He became the centre of Geelong activities. It was Geelong was contributing 300 pounds a year. Last year Reg told me they reached the wonderful amount. of 1,500 pounds. (1962)
Ballarat soon got under way under the inspiring leadership of Edgar Bartrop. It was not long before it too reached 300 pounds per annum. Edgar arranged competitive concerts between the Churches, and on the final night, their huge Albert Hall would be packed. The enthusiastic competition was tremendous, and gave the Babies Home a rallying centre in Ballarat.
Bendigo also built up a fine band of young people under the leadership of Viv Bradbury. Their preaching band toured the district for miles around, and preached in every Church available. Every year there was an annual get-together in each of the three Provincial cities. A Melbourne team would go to the City which was celebrating, services would be taken in every Church in the area. On the Saturday night a monster tea-meeting of all the local workers with the Melbourne team would be held in the main Church Hall. Excitement would run high, everyone bubbling over with the joy of Christian Social Service.
What the Church owes to this revival of youthful Christian faith action is something that can never be measured.
Even little Rupanyup under the leadership of Bill Griffin, toured the country side and raised something like 300 pounds p.a. As well as giving the young men an opportunity to become articulate, it gave them the opportunity of joining into a revival exhilarating and inspiring.
RAISING FUNDS
It was the practice that, when a young man volunteered to become a Speaker, he would at first be accompanied by one of the experienced men until it was proved that he was to take a service on his own.
Many of our young men who later entered the Ministry or became Local Preachers gained the logical experience and inspiration from speaking for the Babies Home.
Some ministers were rather chary of permitting us to come into their Churches, as they were afraid that with the tremendous appeal of the slum baby, there would be such a financial response that the Church funds would suffer. So we never sought permission to take up a collection in any Church.
I remember Arthur Wilson and I discussing the matter of finances at two o'clock one morning as we were coming home by train after a weekend in the Horsham. circuit. We came to the conclusion it would be wise to appoint an Agent in each Church, supplying him with a book ruled to take 13 columns for each quarter, so that collections could be made on a voluntary basis. This book had cover and was known as the "Blue Book" and in comparatively short time it was the means of raising 5,000 pound s a year. It is still in operation. When sufficient contributors fill a "Blue Book" about (13) a second book is provided and it is suggested the Agent appoint a sub-Agent, for every new book necessary.
Five years after the purchase of the land, we had collected together 22,000 pounds, (which included some generous givers apart from the "Blue Book") so there was practically enough to cover the cost of building.
A competition for the plans of the Home was instituted , and a young unmarried Architect, Geoffrey Bottoms, was acclaimed the winner. It certainly was the simplest and most convenient plan submitted, proved to be very efficient in operation.
One Sunday morning, Arthur and I were speaking at the Ivanhoe Church, and at the conclusion of the service, Mr. George Gay, 3, Master Builder offered to build the Babies and the Nurses Home free of profit, a gracious offer which we gladly accepted.
LAYING THE FOUNDATION STONE
The Laying of the Foundation Stone of the Babies Home was an event in Methodism, for this was the first time in the history of this State, that a Church had resolved to rescue slum babies. A record crowd attended the Ceremony, and the Rev. A.T. Holden, laid the Foundation Stone.
Some time later, a Garden of Memory was planned. Any person wishing to honour the name of a deceased relative, could have a tree planted in the Garden, and the name of the Loved One was engraved on a brass plate that was attached to a small stone column near the front gate. Later on, an Avenue of Remembrance was planted right down to the gate.
A most unique function was the planting of a cypress hedge right round the Estate. Holes for the trees were dug by the gardener, and on the day appointed, hundreds of children who had each contributed the sum of 2/6 to buy a cypress, gathered right round the block, and on the blowing of a bugle, each child turned the pot upside down, in which was his plant and then planted it in hole. We believe we won hundreds of young folk to be champions for the Babies Home, because of the participation in the planting of the hedge.
For some years we ran a monthly magazine – we called it "Excalibur," after the sword of King Arthur. Henry Tromf drew the pictures on the cover – a young exalted-looking young man riding on a prancing white charger. It fulfilled its purpose – gave the many Baby Home centres the right to tell their fellows what was doing in their particular areas. It also advised all the enthusiastic youth of the day, of the work that was being done for slum babies.
THE POWER OF ENVIRONMENT
The Cause, the saving of the slum baby, inspired the youth of the Methodist Church, enabling them to put their spiritual ideas into actual practice for the benefit of the little babies, otherwise condemned to live in a slum environment, often of a vicious or immoral nature. The change of environment worked miracles. There is one case I remember well, though it is typical of many. A little baby girl was committed by the Court to the Babies Home. Her mother was a prostitute, her father in gaol. I saw her when she was about 17 years of age, at a camp of young people, she was outstanding, graceful, gentle, intelligent and a born leader. Nobody except myself knew of her heritage, and of course she did not. She was adopted by a lovely Christian couple, and the environment of parents, their wholesome love and upbringing was so reflected In he-, character, that. she grew up to be a charming lass, in truth "a perfect young lady."
THE ENTHUSIASM OF YOUTH
What a wonderful enthusiasm the young men and women of Methodism brought into this venture. The young women were a tower off strength. Many Churches organised their women folk into a "Maintenance Circle" who served and made night-clothes, etc. for the babies, and also quilts, sheets and other things needed in the Home.
Many Churches provided enough money to cover the cost of a Nurse's bedroom, while scores of people gave enough money to endow a cot perpetuity.
We were now called upon to get on with the job of raising 30,000 pounds . Those who would put the proposition before the various Congregations of the Methodist Church right throughout the State would need to have three essentials:
a) A first hand knowledge of the appalling conditions in the slums.
b) The ability to tell the story
c) An assurance that the Christian answer was the only efficient one.
Arthur Wilson and I were the first speakers , and took several services in the various Churches jointly. We were joined by Douglas Thomas, Arthur Parker, Harry Meadows, Bert Williams, George Padgham (who also became a wonderful secretary and organiser, and later on, a very successful President) Edgar Bartrop of Ballarat, Vic Bradbury of Bendigo, Bill Griffin of Rupanyup, Reg Ebbot of Geelong and many others.
The young men met in my Office in Temple Court one evening a week, listened to lectures in conditions found in the slums (illustrated by slides), listened to Ministers who told them the best way to prepare their message, and the right approach to its delivery from the pulpit and so on. At the same time they made visits to the slums with Miss Dickins, Sister Annie, and other Mission Sisters, or with Committee members who had gained first hand knowledge of slum conditions, until there was a splendid well-trained band of young men on fire to rescue the slum baby.
THE OPENING OF THE HOME
On the day of the opening of the Home, early in December, 1929, we were about 3,000 pounds short of the total we needed to open the building free of debt. So Arthur Wilson said from the platform, "we want 3,000 pounds in three minutes." How far short the collection was I do not know, but I know that George Nicholas made up the balance. Arthur's platform appeal was quoted in the paper next day, and Archbishop Mannix said, "Who are these Methodists who can raise 3,000 pounds in three minutes?'.
The Nicholas Brothers were very good to us. One day George suggested to me that he would like to drive me up to his Macedon home to spend the day. I agreed, but asked permission to bring the plans for the Babies Home with me.
After lunch we spread the plans on the table, and he asked me to suggest what he and his brother Alf should give. I suggested that he and his brother should each give 2,000 pounds which would cover the cost of the two wards on the Ground Floor, one each side of the Entrance Hall. We would name them after their respective wives. Driving home, he told me that he and Alf had already agreed to give this amount, which of course made me supremely happy.
Later on I was advised we should have all our windows in "vita glass." as this allowed the curative rays of the sun to enter. I told Alf about this, and asked him if he would be good enough, when he got to England (he was just about to leave Victoria for a trip to England) to contact Pilkingtons, the makers of this glass, and persuade them to supply it "for the first slum baby home in the world" at wholesale prices. This he did, the glass duly arrived, costing 400 pounds and when I asked for the bill, Alf told me he had paid it.
As well as this and other big donations, we were collecting about 3,000 pounds a year from the "Blue Books." Many people, including a great number of young people, were giving a regular amount every week. As our speaker would state our case in the Church service where he was speaking, he would ask if that particular Church would be able to support a baby, 75 pounds per annum, to feed a baby, 50 pounds p.a. or nurse a baby, 25 pounds p.a. it was amazing to find the number of Churches that arranged to "support" a baby, or to feed one, or to nurse one.
A photo of a baby would then be sent to that particular Church, and if convenient, that special baby would be baptised in that Church. This was a great occasion, and the Agent in that Church would take advantage of the emotion aroused to gain all the support he could for their particular baby.
THE SPEAKERS' TEXT
The text that our Speakers almost invariably took was "Whosoever receiveth one such little child in My Name receiveth Me." There was naturally some hesitancy amongst many people to adopt a baby that came from the slums – a hesitancy that applied not only to our Home, but to all babies in public Homes. We believe that the text we adopted, with its positive statement that any one receiving such a child received the Master Himself; did much to induce people to adopt a baby. The demand for adoptions grew so great that the supply was not equal to the demand. The spiritual truth that we preached spread abroad until the demand in almost every baby home was greater than the babies available.
To remove any doubt, however, we arranged for babies to go out on "appro," so that if the intending foster parents found the baby unsuitable, they could return it to the Home. I do not know of any case where this happened except where the baby developed some difficult physical or mental disability. In such a case, we arranged for the transfer of the baby to a Government Home.
IS IT SAFE TO ADOPT A BABY
After the opening of the Home, Professor Douglas Copland, suggested it would be interesting to see what happened to those babies after they had been adopted some 17 or 18 years. So I made a Survey of the first hundred babies who were adopted. The Survey revealed that 96 out of the 100 adopting parents said they would gladly adopt their baby if they had the choice again. Two said they were doubtful (one of them said "I'm too old to adopt a baby") and two said "No!" On further enquiry it was felt that in both these latter cases it was probably the parents who were the problem, rather than the child.
The survey was thoroughly checked by Dr. Hal Cooke, a Government Psychologist, to whom we owe a great deal of thanks. The Survey revealed that the children under review had developed as well, in fact, in many cases better, than the average child of normal birth and environment. Health, on the whole was very good, the I.Q. above average, schooling results good. In every way they compared favourably with the ordinary children in the outside world.
Sometimes it happened, but seldom that a baby was not adopted for some reason or another. It would then be transferred to the Children's Homes at Orana. It was obvious that the Babies Home and Orana would have to amalgamate sooner or later, and this they now have done, a new Department being formed. "The Department of Child Care" under the superintendency of Dr. Keith Mathieson. Keith was one of my Sunday School boys. He came a Chaplain in the Navy, and was eventually a Prisoner of War on the Burma Road for three years.
Keith is a fine fellow, very able, and ranks high among child psychologists.
BEGINNING OF SLUM ABOLITION
There was a great limitation to the saving of babies in the Slums. When a baby living in the slum had parents who were moral and wholesome, the Court would not consent to commit that baby to a Babies Home. The only practical solution was to lift the whole family out and place it in a decent home, and then demolish the slum they left.
So I began to read all I could on slum abolition and re-housing.
I found that there were more books on the than I could read, and new books were constantly being published. So I asked a few friends if they would join me in an intensive study of the subject.
First there was my lifelong friend, Os Burt, one of Melbourne's ablest solicitors. He unhesitantly said he felt it was time for him to do something of this nature. Then I approached Marcus Barlow, who was my next door neighbour in Temple Court. He was not only architect to Temple Court, but to many other City buildings also. He was equally known for private house architecture. On his death, Robin Boyd said that Marcus had changed the sky-line of Melbourne more than any other Architect. Then there was of course the Rev. Palmer Phillips who had ;been so helpful in the preparation of "The Economics of the Slums" and dear old Father Tucker, the Superior of the Brotherhood of St. Laurence. It was this group, he said, that launched him. on his slum abolition and re-housing schemes. There was also Saxil Tuxen, a well known Surveyor, Mrs. Woinarski of the Melbourne Ladies Benevolent Society, a representative from the Y.M.C.A., also the Y.W.C.A. as well as the Jewish Philanthropic Society, George Hexter Pastor at the Collingwood Mission, Mr. Grieg, Secretary of all Charities Organisations, and many others, about forty in all. The organisation was dubbed "The Barnett Slum Study Group." The members met in my. Office at 5 o'clock on each Wednesday afternoon. After an introductory talk on the slum problem as far as I had envisaged it, and pointing out the need to gain further information, each member agreed to read a book on Slum Abolition and re-housing, and in turn give a talk to the group. Discussion followed, and it was all taken down by two stenographers, typed and edited, then roneoed and sold to members at twopence a copy.
During the following two years, members would volunteer to give a lantern lecture on the slum problem to a Church, a Lodge, or any where an opportunity offered. As Marcus Barlow had printed in Indian Ink on the bottom of each slide, a synopsis such as "House in Argyle Street, three rooms, Mother and Father and four children, rent 1 pound p.w.," there was little chance for a speaker to go wrong. Each Speaker would ask his audience if they wanted to do anything, to write to the Premier and press for a Slum and Housing Investigation Board.
I remember on one occasion speaking to a Select School for Girls at Mount Macedon, most of the scholars coming from the homes of wealthy Western District Squatters. As they listened to the harrowing story of the slum, most of the girls burst into sobs. I asked if they wanted to do anything, would they write to the Premier, but not on school paper. The Burser told me some time later, that every girl in the School, except two, wrote to the Premier.
MEETING MOSEIVITCH
One of the most interesting times I had was to speak at a Jewish luncheon in the City. it was a memorable day, for the world famous pianist, Moseivitch was present.
From what I could gather of Jewish History, it appears that, on the return of the Jews from exile, Ezra entered in a book the name of every Jewish family that returned. it was called "The Golden Book of Record" or some other title. Ever afterwards, the name of any person who did something outstanding for Jewry was entered in the Golden Book.
The day I attended the luncheon, the excitement was intense, because the name of Moseivitch was entered in the Book, (or what seemed to be a detached leaf of the Book). Moseivitch was naturally more thrilled than he would have normally been had he been conferred with a knighthood, for this was the highest honour Jewry could bestow.
I greatly appreciated being present and after lunch gave a talk on Slum Abolition.
At the same time as the Slum Abolition Group was continuing its research, we getting publicity in the Papers. We had quite good reports in the Herald – and then silence. So I rang the Chief of Staff (a very nice fellow) and asked him what had happened. "Make no mistake" I said, "this campaign is going to succeed, and it would be a tragedy if, when we passed the post, the Herald was not there with its Band to welcome us." I spoke with some heat, and the next day the Editor rang me and asked if I would come and have lunch with Sir Keith Murdoch at the Herald Office. I accepted with alacrity. There was a very nice private dining room and all the Chiefs of Staff were there as well, with Sir Keith himself to welcome me. We had an excellent lunch and then Sir Keith took me into his private Office. "What do you want me to do?" he said, "I want to write a series of illustrated articles on our Inner Suburbs, and I want you to publish them." This he agreed to do. "Shall I write them one by one, or do the whole lot?" I asked. "Do them all, and let me have the lot together."
So that I should not be disturbed, I left the City and went up to my daughter Joy, who was then living at Castlemaine. I lost no time, but wrote a separate Article on each of the inner Areas, and illustrated them with typical photos of the slums. took them, all down to the Herald, and waited. Again after a fortnight I phoned the Chief of Staff, and asked him what had happened. "We are publishing the first article tomorrow." And they did. After waiting another week, I asked the Chief of Staff to come and have morning tea with me at the Savage Club. "You're a queer lot," I said, "You take a man's machine gun from him, fire one shot, and then put it away where the spiders can spin their webs on it." "Don't blame me," he said. "I wasn't allowed to use even the title you had, 'The Houses of the Poor', it was thought to be too socialistic."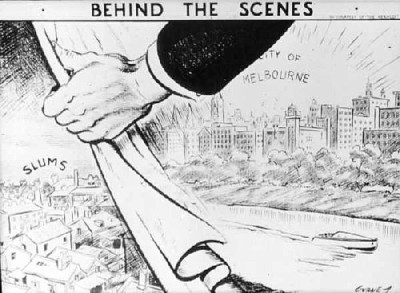 However, all the articles appeared, and caused a great deal of comment. Apart from the Missioners and Sisters and those that lived there, very few people had any idea of how sordid our slums really were.
PARLIAMENTARY TOUR OF THE SLUMS
After the publicity of the Articles, I thought it was about time for me to contact policy makers – political headquarters, so I asked my very great friend, Bill Slater (ex-Attorney General), would he be good enough to arrange for me to see the Premier, (Albert Dunstan). This he did, and on the due date, I arrived at the Premier's office with a huge bundle of enlarged photos of the slums, and some very pertinent graphs on the Infantile death rate, polio, infectious diseases, and juvenile delinquency, with relation to the Inner Areas compared with the Outer.
Mr. Dunstan and I sat on arm-chairs, side by side, I unrolled my set of photos and graphs, spread them out on the floor in front of us, and explained them to him one by one.
He was greatly impressed, and then, at the end of an hour, he turned to me and said, "What do you want me to do?." "I want you to go round the slums with me incognito, and see for yourself." He agreed at once. A little later he telephoned me and said, "Do you mind if my Chief Secretary accompanies me." To which I replied "Certainly not!" A little later he rang me again and said "The whole Cabinet want to come" to which I at once agreed. Then he rang again, "It's leaked out and the Labour Party want to come too," which was excellent. With the Missioners who were stationed in their respective areas, we very carefully planned the slum tour – the streets and lanes we would travel, and the homes we would visit. The procedure was – to pick up a Missioner with the Government car, and he would act as Guide for his section. When he had finished, he would disembark, and we would pick up the Missioner for the next area, and so on. We started at Collingwood under the guidance of Mr. George Hexter, a dedicated Missioner and we finished at Port Melbourne.
Naturally, I notified all the newspapers of the tour, so the Press with their photographers turned up in full force. We were a real cavalcade, consisting of eighteen carloads. People took off their hats as we passed, thinking it was a funeral procession.
With malice aforethought, I took them down lanes running off lanes, which the big cars could not negotiate. I was glad of this, because it forced us to alight when ever we visited slum houses that were built in the back lanes. I thought that to be on foot, would give the Premier and the whole party, a far more intimate knowledge of what the slums were really like. Rev. Palmer Phillips was our guide through Fitzroy. He knew the district and the people thoroughly.
With the friendliness that characterises the poor, the Premier was offered many a cup of tea that morning.
As we proceeded from suburb to suburb, the cavalcade grew less, I shall never forget the distress of an old woman living in a shack in North Melbourne. When it rained, inside, the water streamed down the wall of the shack, as the rain streamed down the outside factory wall. The plaster was so wet, that the minister for Health (who was with us) scratched his thumb back along the wall, and it left a groove in the wet plaster. The old woman burst into tears. She was afraid we were going to condemn her home, and she would be homeless. As she cried, she wailed, "Please don't condemn my home.' Where could she go?
DUDLEY FLATS
We went to the most squalid slums in the whole of Melbourne – the so called "Dudley Flats." They were built on the edge of the West Melbourne swamp. They were built of all sorts of rubbish gathered from the West Melbourne tip.
There was a little peninsula jutted out into the swamp, surrounded by water except for a little isthmus joining it to the mainland. The far end of the promontory was a gambling den. A dog was chained across the narrow end of the isthmus, so that the gamblers would be warned of the Police, should they be making a raid.
The most famous dwelling on the Swamp was that occupied by the Riddetts. It was made entirely of scrap-iron rescued from the Tip, bound together by wire – no wood supports, and not a nail anywhere. The bottom part of an old rusty cylindrical tank abutted on the outside, against a hole cut in the wall. It was filled with earth and on this all the cooking was done. Around the chimney, made of rusty sheet iron, was bound by wire, a coloured poster – "Eta Peanut Butter."
The bedroom was papered in blue. "Where did you get the blue paper from?"
"From the tip – they're bills with the printed side pasted to the wall."
There was also several pictures from the tin pasted on the wall, and a framed photograph of a bride and bridegroom hung there also.
"Is that a photo of your and your hubby?"
"He says him and his first wife!"
"Are you his second wife then?"
"God knows where I come in the count," was her forthright reply.
The land on which their shanty was erected was fenced by an old bedstead also salvaged from the Tip. Inside this enclosure was another little tin kipsy, with a bag stretched in it, and a chamber under the bed.
"What's the kipsy for?"
"Oh, we know a bloke who's had a lot of bad luck, and so we put that up for him." "He dosses in there, and we see that he gets one good square meal a day."
And those two people were on the dole!
The master piece of building construction was the Toilet. it was built out over the creek, a water closet in very truth. The Premier and his party were convulsed with laughter when they saw it.
On a subsequent visit there, Mr. Riddett said,
"We've had a bit of bad luck, Mister! WE'VE LOST THE DOLE!"
"How was that?" I asked.
"The Government offered me a job up the country, but I couldn't go."
"Why?"
"Well, I couldn't leave my house, or it wouldn't be here when came back."
"Couldn't your wife look after it in your absence?"
"Oh Mister, you wouldn't leave your wife here alone, would you?"
The next time I visited the Riddetts, I found they were earning their living by collecting old iron from the tip, which was being exported, I was told, to Japan. While I was there, they sold two bags at 6/- a bag.
They were also gathering mushrooms from the swamp which they sold to City Restaurants. The Riddetts, like the rest of the inhabitants of Dudley Flats were no doubt Metho fiends and no-hopers, but I liked them for the fire of charity, that still burned in their hearts.
By the time we reached Port Melbourne, only two cars were left, that of the Premier and one for the Minister for Health.
We entered a two roomed shack, a living-cum-bedroom about 12 feet square, and a small kitchen. In the bedroom were a double bed and a single bed. The widow and one child slept in the single bed, four children slept in the double bed – two at the top, two at the bottom, heels to heels.
The floor of the kitchen was covered here and there with small pieces of tin as they covered the holes of rats that had gnawed in the flooring.
After we left this house, the Premier and I sat outside in his car. In a dejected voice he said: "Mr. Barnett, when I think of the homes that you and I live in and the homes we have seen this morning, it isn't fair." "No, Mr. Premier, it isn't fair." I said. "What are you going to do about it?"
THE CABINET'S REACTION
After this tour, the Cabinet formed a Housing sub-committee in order to discuss the position. I was asked to attend and give my views, which I did with conviction. I said it was imperative that a Slum Abolition and Housing Investigation Board be set up to investigate the whole position thoroughly.
"The Chief Secretary would know what I mean." He had been a General in the World War. "He would not think of sending a soldier out of a good position in a trench until the new position had been surveyed. The slums are the enemy of the nation, and they need to be thoroughly surveyed before we can really know what the problem is."
I was asked if I would attempt this survey on my own. I said, "No!," its too big for one to do, I had made a survey of a small portion of Fitzroy, and that had cost 100 pounds. London made a survey of its City and that cost many thousands of pounds. A Board should be appointed of people who would rather do this work than have a knighthood bestowed on them.
The Cabinet compromised and appointed a small Housing Committee of which Mr. Pye, M.L.A. was appointed Chairman with Mr. Forrestal from the Treasury acting as Secretary. Marcus Barlow, Os Burt and I were also on the Committee. A sum of 35,000 pounds was set aside which was used to build forty houses at Port Melbourne. This solved the problem for the forty-four families re-housed here, but did nothing further.
So we kept pegging away. Members of the Slum Abolition Group just meeting and taking lantern lectures wherever they could.
APPOINTMENT OF SLUM ABOLITION BOARD
Dr. Ramsay Mailer also started to agitate for slum abolition. So we asked him to unite with our group. He arranged for a great public meeting in the Melbourne Town Hall, at which both he and I were to speak. The morning of the night when the meeting was to be held, the Premier rang me up and said, "You can have what you want." I called a hurried meeting of Dr. Mailer, Os Burt and Marcus Barlow, and we discussed the position. Os Burt rang up the Premier and asked him if he were in earnest or was this just a political manoeuvre. Mr. Dunstan assured Os that he meant business and the final objective was slum abolition. Dr. Mailer refused to believe Mr. Dunstan, and though he was offered a seat on the Board of Housing Investigation and Slum Abolition, he would not accept it. The meeting held in the Town Hall that night had lost its sting because the premier had forestalled it by agreeing to form the Board we had urged. He also allowed us to nominate that Board which consisted of Os Burt, Marcus Barlow, Harry Crosbie (representing the Trades Hall), Miss Frances Pennington, Tom Forrestal of the Treasury, Mr. Pye, M.L.C. and myself as Deputy Chairman with Harry Davey of the Education Department as Secretary, (and a wonderful secretary he proved to be.)
The Board met four mornings a week. (Two guinea a sitting), but as that would have amounted to 442 pounds p.a., the Premier, with all a countryman's shrewdness, fixed a maximum of 300 pounds p.a. We travelled along every Road, Street, Lane and Right of Way within five miles of the G.P.O. We saw some very sordid slums, many built on to rights of way, some in the back yards of houses facing the main street. Many were on tiny allotments, frontages of 10' × x 12';, one 8'6". Some were built of galvanized iron, now so thoroughly rusty that you could easily poke a stick through the walls. The rents were extortionate and the dwellings were always overcrowded. We found over 2,000 houses without a bathroom, over 3,000 without a wash-house, over 5,000 without water laid on in the kitchen. They were depressing places, very uncongenial for children, though some were scrupulously clean.
Bathrooms were rare, and where existed sometimes very ingenious. In one house a six foot passage was divided into two parts, one part remained a passage, three feet wide, the other part, 6 feet long by three feet wide was the bathroom. it was hardly wide enough to contain a galvanised iron bath which so completely filled the whole space, that the bather had to undress in the adjoining bedroom, and as he opened the bathroom door, he would have to step straight into the bath. After his bath, he would have to step back into the bedroom to dress.
It was depressing to see the effect that slums had on the inhabitants. Many were dull and low spirited, some were cheerful, but it was obvious that the environment in thousands of houses was not fit for human beings.
SLUM OWNERS WERE NAMED
One of the duties of the Board was to list the names of owners of' houses considered to be unfit for human habitation. These names were published in the Board's Report, giving full particulars – if a Company, the name and address of each shareholder. The very idea caused a furore of protest, and the Chairman of the Real Estate Association waited on me and asked that the list be not be published. I went to see the Premier and asked him what his opinion was. "What do you think?" he asked me. "If the name of a person is published because he is selling meat unfit for consumption, why should not the names of owners of houses unfit for human beings not be published too?" The Premier agreed and the names were duly published in the report.
PRIVATE INVESTIGATIONS
Previous to the appointment of the Board, I made certain investigations into several matters relating to the welfare of children.
Once every year, after the publication of Vital Statistics, 'I wrote an Article for the "Age," on the Infantile Death Rate. These revealed that about twice as many babies died in the inner Areas compared with outer Areas. The articles greatly upset certain Councils for each year I tabulated the rates in each Municipality, grading them according to the number of deaths on a hypothetical ladder, and pointing out how many steps up or down the ladder the Municipality had gone during the year. Some Councils were so upset that they rushed up to the Government Statist Office to check my figures.
Some even insisted on seeing the Birth or Death Certificates. The incidence of the Infantile Death Rate was always practically twice as high in the Inner Areas compared with the Outer Areas. The whole rate dropped consistently over the years, in the Inner Areas to practically one half, but even then maintained the same ratio of 2 to 1. I also wrote a little book covering aspects of Children's Courts in relation to their living standards, When this little book was published, Jack Barry, (whom I knew very well, he was a judge of the Supreme Court) telephoned me to express his gratitude. At the same time he admitted "I am sorry that none of us in the legal world never took the trouble to make a survey of juvenile delinquency. We have been satisfied in dealing with results, which has 'little remedial value, and have entirely neglected to study the causes. I am ashamed that this pioneering work has not been done by one of the legal profession, but has been left to a Public Accountant to do what should have been our job."
Jack, (now Sir John Barry) wrote an article for the "Age" published in January 1965, which was a summary of the speech he made at the Third National Conference of Australian Prison After-Care Council held at Hobart, 28th January, 1965, in which, he discusses the need to investigate the causes of criminality and the steps to be taken to reform the criminal. He proposed that there should be established in Australia an Institute of Criminal and Penal Science. I rang Jack up and congratulated him on the article, and said I thought he was leading the Commonwealth in this field. He replied "It all stems back to a little book you wrote over 30 years ago." "The Making of a Criminal."
Figures were also obtained with respect to Infectious Diseases and infantile Paralysis.
Compared with the Outer Areas and outlying districts, the Inner Areas had per 1,000 births:
2 times as many Infantile Deaths
3 times as many suffering from Infectious Diseases
4 times as many with Infantile Paralysis
5 times as many juvenile Delinquents
All this information was used in the preparation of the Report of the Housing Investigation and Slum Abolition Board.
THE UNIVERSITY
I was very conscious how little I could foresee the economic results of the campaign to save slum babies . I felt I might be a blind Sampson pulling down the pillars of society.
Just as the scheme to rescue slum babies was getting under way (1925) the first Commerce School was opened at the University, under the Leadership of Professor Douglas Copland. Under the urgent pressure off Frank Mardel, I decided to take up the course. I was then 42, but as I had not matriculated (State School Teachers under training were too busy studying for their necessary Educational exams to prepare for matriculation) it was decided to allow all accountants who had qualified by examination to enter the Commerce course without matriculation. This opened the door for me to enter the University.
It was hard going. I entered on an Honours course, attending six lectures a week for three years, and every Sunday taking two or three Baby Home Services as usual.
I know I am not in many respects, a very bright student. For me, to understand a subject it must be presented in simple terms. Take economics, for instance, I bought all the text books prescribed, but they were so much like Greek to me. But the book set for Matriculation, "Economics for the General Reader," by Clay was so simply written that I could grasp it. I practically summarised the whole book, read nothing else, but I felt I understood it. I read nothing else, but nevertheless I was fortunate to gain third place in Victoria and First Honours.
At the finish of the course I was lucky enough to have received three first and three second honours, which made me eligible to present a thesis for the degree of Master of Commerce without any exam. I therefore wrote a thesis on the "Economics of the Slums" and as none of the examiners knew anything about the subject I was awarded the Masters Degree with Second Honours.
The Thesis was well illustrated by reproduction of photographs and graphs and was, of course, the result of our work in the slums. The basis of it was a survey I had made of the slum-minded living in an area of Fitzroy. I was very much helped by the Rev. Palmer Phillips, at that time the Superintendent of the Methodist Mission in Fitzroy, without whose help I could not have collected the facts which were the basis of the work. It was fortunate that, the Church and Social workers in Fitzroy met every month to discuss their work. Mr. Phillips marshalled all the Ministers and Sisters and Social Workers to gather the facts that I needed for the survey. They very thoughtfully denoted those who they considered were slum-minded and out of their personal knowledge they helped me to in each questionnaire.
Among other things the size of each allotment was noted on the questionnaire. This was recorded by a very enthusiastic young Mission Worker, and as I was afraid he was apt to make things appear worse than they really were, I arranged with Marcus Barlow the Architect, to send one of his staff to check each measurement, in a professional way, so that the record would be above reproach.
I suggested to the Editor of the Herald that he should publish the thesis in booklet form. He agreed to publish a couple of articles (prepared by him from the thesis) and see what reaction from the public was forthcoming. After they were published, I discussed them with a number of friends, asked each one what he thought of the article. They were all shocked, so I asked them all to write a letter to the Herald expressing their views. Many agreed, some said they wouldn't know what to say, so I wrote letters for them which they signed, and forwarded to the Editor. The Editor told me that they had never before had so many letters on any one subject. I could not of course have done this if I were out for any personal gain, but the need of slum abolition was so tremendous that my personal feelings were submerged in the intensity of that need.
After worrying the Editor for six months, (I went down to see him. faithfully every Wednesday for that period) he at last agreed to publish the Thesis in booklet form. However, its distribution was poorly attempted that I persuaded him to give me the whole edition (10,000 copies in all) which I handed to the Babies Executive for sale, the proceeds of course going to the Home.
UNIVERSITY FRIENDS
I made a great number at friends at the University. There were a number of men like myself who had never had the opportunity of entering the University before. Most of them were qualified Accountants who took the opportunity to use their Accountancy qualifications in lieu of matriculation.
One outstanding man was Frank Murphy, a keen intellect, as straight as a die, very cheerful, and an inspiring friend.
When exams were over, a few of us decided to meet for lunch once a week. They were a wonderful group of fellows. Eric Ingram (Manager of Ira & L. Birk), who got six first class honours. He essayed to go abroad for his firm, but when he got to Los Angeles, the Representative there, for no known reason, made him resign as Manager for Melbourne. This want of confidence in him broke his heart, and he died in Los Angeles.
Then there was Gordon Whitlam, General Manager of Cadburys in Victoria, and after his retirement, Manager of the Melbourne Zoo. He became lecturer in marketing at the University.
Frank Kennedy, a retiring but lovable fellow, Manager of Siemens.
Eddie Peverell, who became Auditor General for Victoria.
Jack Eddy, a brilliant economist (first-class honours) who became the economic Editor for the Herald.
Alf Seller, Assistant Professor in Economics.
Alex Fitzgerald and his brother Garrett, (one of our leading firms of Accountants), both lecturers at the University. Alex was knighted for his outstanding work for the State.
Our lecturers were not only very capable, but very human as well. Professor Copland, the Dean of the Commerce Faculty, was only 30 years of age when he was appointed, 17 years younger than I was when I entered as a student. I remember him trying to explain a problem on the blackboard. He got, mixed, so he said, "That's wrong I'll try again." He did with no better result. As he rubbed out this second attempt he said "I'll look it up, and let you know next week." This palpable honesty greatly increased his prestige, and also endeared him to us. As many of us were older than he, he gave us the privilege of calling him by his Christian name, a privilege we also adopted with many of our Professors.
There was Professor Gordon Wood , a distinguished expert in Economics, Geography, a most versatile Lecturer, and a ready wit.
Then there was the beloved Frank Mauldron, extremely able, very humble, a practising Christian and a great friend to all of us.
STATISTICAL CHAIRMAN OF BUILDING INDUSTRY CONGRESS
Before my appointment to the Housing Commission, I was appointed as Chairman of the Statistical Committee of the Building Industry Congress. Os McCutcheon, as Chairman of the Congress, asked me one day to have lunch with him at Scott's Hotel, an invitation I readily accepted. Very courteously he informed me that the Congress wanted me to resign from the Statistical Committee. I asked "Why?" "Because they are afraid the Commission's interests would clash with those of the Building Industry." I refused to resign, however, until I had met his Committee.
When I met them, I asked them why they wanted me to resign. They were dumb, then someone said, "But haven't you something to say to us?."
I told them that I thought their real objection was because they had the idea, that as Deputy Chairman of the housing Commission, I would urge the Government to nationalise the Building Industry. This I pointed out, was not in my mind at all. As long as the various industries connected with the Congress played the game with the Commission, and did not attempt by means or combines or anything else to force up the cost of building we would not dream of attempting to nationalise them, but if at any time they took action to force up prices unfairly, then we would certainly urge the Government to take steps to prevent rise in costs.
Then I left the meeting but was later advised that the Congress unanimously agreed for me to retain the Chairmanship of the Statistical Committee.
The Statistical. work that was done proved of some benefit. The Architect of the proposed new Melbourne Hospital had seen my graphs showing a constant rise in building costs over many years. Would I take these to the Premier, he asked and tell that there seemed to be barely any sign of reduction, for the trend was still upward, and therefore now was the time to build the Hospital. This I did, convinced the Premier and the order was given to proceed at once with the building.
REPORT OF HOUSING INVESTIGATION AND SLUM ABOLITION BOARD
After two years of strenuous work, Housing Investigation and Slum Abolition Board presented its Report. It was profusely illustrated, and it completely shocked Melbourne. The Parliament could no longer refuse to act, so it appointed a Slum Abolition and Housing Commission. Naturally, its members included most of those on the Investigation Board – Os Burt, Miss Pennington, Jack Connor (formerly a Taxation Commissioner) as Chairman, and myself as Deputy Chairman, and Harry Davey as Secretary. Later Mr. George Porter was appointed as a country representative.
Os Burt did a wonderful job. The Premier wanted legislation in a hurry. Os had anticipated him and supplied as much as he wanted within twenty four hours. He studied every Housing and Slum Abolition Act throughout the Empire, also powers of requisition which the Railways and other Public Bodies had. I am of the opinion that, on the whole, there is no better Slum Abolition and Housing Act in the British Commonwealth. He worked at high speed. We spent many nights together, and met at the Savage Club for an hour almost every morning to discuss the problem.
Harry Davey was a wonderful Secretary. He was absolutely indefatigable, a splendid organiser, and possessing a sparkling wit. Jack O'Connor was a great Chairman, genial, wise and always unruffled.
And then Miss Pennington – always wide awake to give the woman's point of view, and tremendously anxious to see that every house built should provide the maximum of convenience for the housewife and mother.
Harry Crosbie looked at every problem from the point of view of the worker. He was very wise, but determined.
It was obvious that it would be unfair to demolish a slum house without first providing another dwelling for the misplaced tenant. The building of houses had to precede demolition.
It was obvious that the people who lived in slums were extremely poor, and why they lived in slums was because the rent was comparatively low. It would be stupid to expect them to pay the economic rent of a new house. But this is exactly what the Government did expect. They did not want any re-housing scheme that would run at a loss.
As far as I could gather housing schemes all over the world recognised the fact, and estimated rents of the new houses at what they could reasonably expect a tenant to pay.
So we suggested a scheme of differential rents based on the family income, roughly about 20%.
But the Cabinet objected, so I wrote a personal letter to the Premier, explaining the absolute necessity of differential rents, and pointing out what other nations were doing. I finished the letter by saying if no scheme of differential rents were adopted, he would not need me, only a real estate agent, and an Architect would be necessary. The Cabinet debated the matter till 2.00 in the morning and then gave in. The Commission has always run on such a scheme since.
MR. CHIFLEY
The Housing Commission had not been very long in existence before Mr. Chifley, the Prime Minister telegraphed me while I was on holiday on Mount Buffalo asking me would I accept the Chairmanship of the Commonwealth Housing Commission which the Federal Government had decided to institute. I replied that as Deputy Chairman of the Victorian Housing Commission, I felt compelled to remain with Victoria.
When I returned to Melbourne, Dr. Coombes sent for me and pressed me to join the Commonwealth Housing Commission, but I again declined.
Then Mr. Chifley asked me to come and see him when he was in Melbourne. This I did, and he again urged me to accept the Chairmanship for the Commonwealth Housing Commission. I told him I thought I would be of more use to slum abolition and re-housing if I remained with the Victorian Housing Commission as it was actually tackling the problem. The Commonwealth Commission was purely investigatory, would spend hundreds of hours, travel thousands of miles, and accomplish nothing probably practical.
Already Os Burt and I had surveyed the position in every State, both from the point of view of the existence of slums, and its then present legislation, and had written a book, "Housing the Australian Nation," which covered this ground. He asked me if Os Burt would accept the position. I assured him that he would not.
My prophecy turned out to be correct. The Commonwealth Commission travelled thousands of miles, interviewed hundreds of people, wrote a voluminous and interesting report, but nothing practical was done in the shape of slum abolition and the re-housing of the occupants.
PRESS MISREPRESENTATIONS
We made slow progress in actual slum abolition during the first years while the war was one. It was almost impossible to destroy even a slum shack if no other house could be provided to house the people whose home was to be demolished.
How easily one's intentions could be misinterpreted. On one occasion I was speaking to the Professional and Business Women's Club when I was asked why the Health Officers did not condemn slum houses. "That would be useless," I replied, "until we had built houses in which we could put those to be de-housed." The Age next morning reported that I said, "Health Officers are useless."
But an even more startling report was made in the Press. I had told the story of my first visit to the slums, and how the Mission Sister had said, after I had given a talk to slum children in the Mission hall-, that she knew every child present and the Mother of every child, and that practically every Mother either kept a sly-grog shop or a house of ill-fame. Next day The Age stated that I said "practically every woman in Fitzroy either kept a sly-grog shop or a house of ill-fame."
Then the Fitzroy Council met and asked me for an explanation. In reply I sent then to them a copy of "The Unsuspected Slums" in which I had mentioned that the Mothers of the Children to whom I had spoken in the Mission Hall were guilty of these offences. I referred them to page 9 of the booklet wherein I stated that many of the women contacted in Fitzroy "Even some those living in the poorest quarters are patterns of cleanliness and models of good citizenship. Though they lack this world's goods, some of the old women not only take a great pride in their houses, but in character are nothing less than 'saints'."
I went on to say in the letter, "I am glad that Fitzroy Council is interested in slum abolition and offer to help them fulfil their objectives with all my heart." I received no reply to my letter.
I was startled to see in the "Sun" one day, a large heading, "Housing Chief slates Mr. Lazarni" who was the Commonwealth Minister of Housing. The whole report was a pure fabrication, so I rang the Editor and he protested, he said it was the work of a reporter so rang the reporter. He denied it, said it was the Editor, but begged me not to make any bother about it or he would be sacked.
I rang Lazarni, and told him I had not said one word of what was in the article, but he refused to believe me, and slammed down the phone in my ear. I was furious, but because of the Reporter and his fear of losing his job, I could say no more.
THE ARCHITECTURAL PANEL
Despite the war the Commission did a lot of foundation work revising the law, looking for suitable land, surveying slum areas and noting what was urgent, and what could remain till the war was over.
We also appointed a team of architects: Best Overend, Laird and Buchan, John Scarborough, Leith & Bartlett, Frank Heath.
Bert Overend was a most original architect, very knowledgeable and teachable. Tom Buchan of Geelong had a lot of experience on housing. He was the "doyen" of the Panel. His son John and I became very friendly he was out to learn. John Scarborough was the architect of Scotch College Chapel, etc. etc. Leith was an Engineer as well as an Architect, and was very helpful at Holmesglen, when we set up the concrete factory there.
Harold Bartlett was a partner of Leith and Bartlett, and Chairman of the panel. He was an enthusiast, and dedicated himself entirely to the task.
The panel was really a path-finder in the building of small houses, and the Government Architects appointed when we left the Commission owed them a great deal for their investigations and the solid work that they did.
We spent two half days or one full day per week on the Commission, and our fee per member was 400 pounds per annum.
Mr. Dunstan asked me to accept the Chairmanship before Jack O'Connor was appointed, but as it meant resigning completely from my practice, I felt compelled to refuse. I acted, however as Deputy Chairman.
After the war was over the Commission was soon able to make the pace. Owing to the tremendous housing shortage, (estimated at 70,000) the building of houses was given preference over slum abolition. Even a slum was better than no shelter at all. The Commission built houses not only in the suburbs of Melbourne, but also in the country towns. Where new industry was to be started in a country town the Commission realised that housing was necessary there also.
THE CITY MUTUAL LIFE ASSURANCE SOCIETY
Frank Burchett, a Superintendent in the City Mutual Life Association was a great friend of mine.
As there was no representative from Victoria on the Directorate of the C.M.L. he induced me to stand for Victoria. This I did, and Henry Coleman (of Sydney) and I won the poll by a big majority. This necessitated going to Sydney every month with the result I went to Sydney no less than 86 times during my period as Director.
For the most part I travelled by train, but when "sleepers" were cut off, I sometimes travelled by plane. On one occasion it was an austerity plane, seats along the sides. The day was terrifically hot, the plane jumped and bumped, fell like a stone, and behaved like a kite in a gale. I was dreadfully sick, so were most of the passengers.
When I attended the Director's meeting next morning I was rather washed out. A director ordered a glass of whisky for me. I took one sip, and unhesitantly rejected it. Immediately the Director who had ordered it said, "It's a pity to waste it," drew the glass towards him, and drank the lot.
I was not happy on the Sydney Board, as all the time there was a good deal of underground engineering among the Directors – a persistent whispering campaign which made me 'feel most uncomfortable. Charlie Ralph was the Manager, and a finer more straight man I never met. Eventually I got so tired of going to Sydney, the Directors suggested I retired from the main Board, and establish a local Board in Victoria, which I did, nominating Os Burt and Sir Thomas Nettleford as fellow Directors, I being appointed Chairman at the same fee as all the Directors received, viz. 600 pounds p.a. Os and Sir Thomas 300 pounds p.a..
We soon struck trouble. Mahoney, the Agent in charge of country business, had been a very efficient, go-getter, but now he lay back on his laurels. Every 100 pounds premium he got for the Company, cost the Company 102 pounds. This was intolerable, so we resolved that if he were to retain his retainer (1-2 pounds per week) as well as 50% on the premiums he secured, he should bring in new business of at least 5,000 pounds per month. This he failed lamentably to do.
Our Victorian Board was such a success that the Head Office Board decided to come over to Melbourne for the purpose of creating a local Board in Adelaide and one in Hobart.
Mahoney met the two Sydney Directors who came over, Peter Truman (the Chairman) and Henry Coleman, and took them both to the races. Here he poured into their ears a very untrue story – that he was unable to get business because the Victorian Chairman was a Communist.
This was a major bombshell, and I was called to come and meet the Sydney Directors at the Windsor Hotel. The only evidence they had was that I was the Auditor of Australian Soviet House. I pointed out that I was Auditor to the Free French, Italia Libera, and the Chinese Co-operatives, all in an honorary capacity, but I was paid for my audit of Australia Soviet House. They then wanted to know how many Communists were on the Committee of Australia Soviet House.
So I went down to interview the Secretary of Australia Soviet House (John Rogers).
He told me that the Carpenters Union had done all the woodworking on A.S.H. in an honorary capacity, so the Committee, as a gesture, appointed the Secretary and Assistant Secretary of the Union (both of them Communists) on the Committee of A.S.H, but they had never attended a meeting.
I returned to the Windsor Hotel, and I told this to Truman and Coleman. Then I asked them what they wanted me to do. Truman replied, "We want you to resign."
"What? from Australia Soviet House?"
"No! From the City Mutual."
"Why! You know I am a Christian, and could never be a Communist to approve of sabotage, slaughter and atheism." "Yes, we know you are not a Communist, but it is unfortunate that many people think you are." "Do you want to crucify me because of the ignorance of certain gossiping and vindictive people."
"Yes, we must."
I asked for time to consider the matter, but they insisted on my giving them an answer on the spot.
So I counselled with Os Burt, who with Tom Nettleford had been present throughout the interview. Os told me as I was appointed by Head Office, I was their servant, and had no option. I may mention that if either of them had spoken in my defence, the Sydney men would have retreated. But unfortunately, someone had accused Os of being Solicitor to the Communist Party, so he opened not his mouth, neither did Tom, Nettleford. So I was forced to resign on the spot.
Then they urged the rest of the afternoon how much they would give me – 12 month's Director fees, or six months. They gave me exactly nothing.
Then they appointed Tom Nettleford Chairman of the Victorian Board, doubled his fees, as well as an extra 100 pounds p.a. as expenses.
I wondered why this vindictive action was taken. Then I remembered that when I was on the Sydney Board, they wanted to appoint an Auditor. A Mr. Marks was nominated by Truman, but with that innate hostility many worldly men have towards the Jews, he was rejected by the Directors. Another young man was nominated, (an Associate of the Federal Institute of Accountants) and I was deputised to look into his record. This I did, found him to, be looked upon as very conscientious and capable and reported to the Board accordingly. Truman was rampant. (I heard afterwards he wanted young Marks to be partner in his firm) and he indignantly asked me why I had made any investigations into the new Auditor's credentials. I told him it was done at the request of the Board.
"He's only a member of the Federal institute," Truman said. (The Federal Institute was open to non-practising accountants, and though the exams are practically the same, it had not the status of the Professional Organisations. Since then however, there has been an amalgamation of the Accountancy institute.
To Truman's query, I replied, "Yes, I know, but he got his qualifications by actual examination, and you know Peter, that many of the Chartered Institute passed no exams." "Yes I know" said Peter.
(At first, when the Chartered Institute was formed in Australia, any Accountant who had been in practice for five years was admitted without examination.) I did not know that Peter had never passed any exams, and was admitted to the Chartered institute because he had been practising as an Accountant. Had I known this, I should never have made the statement I did. Even though Peter said nothing, he stored all these things in his heart, for he was a very vain man, always boasting of the audits and liquidations he had, which I found later were mostly fabrications. I did not know but Peter never forgave me and took the occasion to dismiss me from the C.M.L. on a charge that he knew was absolutely false.
The dismal from the C.M.L. had wide repercussions. Pat Gorman, (the well know Barrister) was then Chairman of the "Truth" Newspaper, and he wrote a very scathing article on the front page featuring a picture of Tom Nettleford opening Australia Soviet House under the flags of the Union Jack and the Hammer and Sickle. The whole thing caused a furore in certain quarters. A woman wrote to me from South Australia stating that she had written to Head Office asking for an explanation and they had replied that I had voluntarily resigned. I replied telling her the truth – that I was forced to resign.
A representative from the Melbourne Staff waited on me, saying they were threatening to resign as a protest to my victimisation. I urged them to do no such thing for it would have meant the loss of all their superannuation rights and would achieve nothing.
A little time before my enforced resignation, John Rodgers, the Secretary of Soviet House, had returned from a visit to Russia, and proposed to give a talk in the Melbourne Town Hall on his impressions of Russia. Before the Town Hall authorities would grant Rodgers permission to speak in the Town Hall he had to obtain the backing of twenty sponsors to his application to rent the Hall. He secured umpteen sponsors, and then approached me to be the twentieth sponsor.
On payment of the rent of the Hall arrangements were made to prepare for the meeting. Suddenly the Town Hall authorities cancelled their Permission for Rodgers to use the Hall. The Sponsors then applied to the Court pleading that the Council had no right to cancel its permission. But the appeal was dismissed.
As a sponsor my name was used in all the press publicity given to this incident. John Rodgers was not a Communist but wanted simply to tell the people how Russia had impressed him. The whole affair added fire to the demand of the City Mutual for me to retire as Victorian Chairman of the City Mutual Life Assurance Company.
All of those unhappy episodes started a conflagration. While those who knew the truth had implicit faith in me, and many whom I did not know were sympathetic, yet there were those people who are fanatically anti-Communist, who thought "where's there's smoke there's fire" and who became suspicious of me. One client, the Housewives Association, advised me that they had appointed a lady Auditor. But this was the only client lost.
Maurice Nicholas wrote to me from London, and as Chairman he requested me to resign from Nicholas Aspro, at the same time he summarily dismissed me from all the private Companies he controlled. I showed his letter to his Uncle George, who promptly replied "what would the public think of their Company if it sacked Os Barnett for nothing." At the same time I wrote to Maurice disclaiming all interest in Communism as it was contrary to the reaching of Jesus. I did not resign from Aspro, nor from any of Maurice's private companies, and we still act as their Auditors.
To stop any further reverberations, I phoned Jack Cleminger (a client of ours) and the Principal of a big Advertising Company, and asked him to lunch with me at the Savage Club. We discussed the matter, he knew as a Christian I could not be a communist, so I asked him to do me a favour, advise me of anyone who said I was a Communist or a Fellow Traveller, and I would issue a writ. When I got back from lunch I rang up Claude Mooney (another client), the President of the Advertising Association and asked him to come and have lunch with me. "It's all right Os," he said, "Jack has just rung me and he says "Os Barnett is no more a bloody Commo than I am." Whether it was the threat of a writ or not that stopped the undercurrent, I do not know, but I had no further trouble with clients threatening to resign.
WRITING BOOKS
Greatly moved by the need of slum babies, and later aware of the need of slum abolition, it was inevitable that I should be forced to express my views in print.
As well as certain speeches that have been printed, certain surveys were made by me to illustrate the need of the under-privileged. I conducted a survey of the youths in the Castlemaine Reformatory for boys over 17 years of age, for a period of twelve months, and also of 22 of our Childrens Courts for a period of six months. The results were embodied in a little book "The making of a Criminal" splendidly illustrated by my daughter Betty. The amazing discovery resulting from this survey was the fact that 95% of our juvenile delinquents came from broken homes.
Another pamphlet that caused much comment was "The Poverty of the People of Australia." It was based mostly on the Report of the Federal Statistician, the survey being made as at 30th June 1933. At that time 50.2% of the married men in Australia were receiving less than 3 pounds per week. This survey proved to be of great help at the General Conference of the Methodist Church held in Brisbane a little later. In the report submitted by Rev. Palmer Phillips the social injustice of poverty was pointed out. One of the dear old Conservatives stated that there was no poverty in Australia. This brought me to my feet, and after an unlimited time, granted to me by the conference, I traversed the facts of the Statistician's Report, and also the Report of the Income Tax Commissioner, with the result that the whole of the Conference, except five dear old Conservatives, accepted the Report in full. The Report was clearest exposure of some of the gravest injustices of the present system, and set a social standard which later conferences could take as a foundation.
I was apparent that Os Burt and I would sooner or later, get the urge to write a book on housing. This we did, "Housing the Australian Nation." It covered the whole six States, reviewed the actual conditions in the slums as well as the current legislation.
Later on Frank Heath joined Os Burt and me in another book, "We Must Go On, a study of planned reconstruction and Housing." The central idea was, now that the war was over, we could not go back to the old conditions, but "we must go on." We used two pictures to illustrate the idea one picture of a London slum, which had been bombed, and one of a wrecked Cathedral. It was obvious that no one would wish to re-build the slum according to the old pattern, but it was also evident that the Cathedral should be restored.
We carried the idea of well illustrating our thesis on practically every opening of the book. On one side, a typical illustration with an appropriate caption underneath - on the other side the precise explanation. Our hope was that members of Parliament and others interested, after looking at the pictures and reading the captions would be tempted to read the book thorough
Os Burt naturally wrote on all the aspects of the necessary legislation while Frank Heath confined himself mostly to town and regional planning and illustrated his writing with splendid plans and pictures.
FLYING TO SYDNEY
As a Director of the City Mutual it was necessary for me to go Sydney every month to attend a Director's meeting. As the war was on, there were no sleepers on the Melbourne-Sydney line so one was compelled either to sleep in the luggage rack, (which I often did) or sleep sitting up.
I therefore went to see the Controller of Planes to see if I could get a seta on a plane, but I was so rudely refused that I determined to report the Chief to his Minister, a man whom I knew well.
I relented however, realising that he was the target of every Member of Parliament and all those who considered themselves to be V.I.P.s. So I turned the other cheek and sent him a copy of "We Must Go On" graphed by the three of us.
The next month I rang him and asked was there any chance off getting a seat on a plane.
He said, "You sent me that book "We Must Go On" and my lad is doing surveying at the University, and it is a great help to him. Yes! you may have a seat. When do you want to go?"
I( gave him the date and told him I wanted to take the Chairman of the Panel of Architects of the Housing Commission with me, and he readily assented.
The sending of' the book was not done with any ulterior motive but it turned out to be broad cast on the waters.
The Methodist Book Depot were the Publishers of 10,000 copies of "You Must Go On." When they had sold enough copies at 6/- to cover themselves they reduced the price to 4/6, later on to 1/6, and then sold the balance to Halls Book Shop at three halfpence a copy, who retailed them at 3d. In another week they were sold, every interested University student buying one at that price. This pleased us immensely.
Some time last year a lecturer at the University phoned to see if it were possible to obtain a copy of 'We Must Go On." He said the only copy that he found available was in a second hand book shop and was priced at 30/-, rather a big increase from 11/2d. We were able to supply his need.
METHODIST GENERAL CONFERENCE AND THE SOCIAL PROBLEM
At the Methodist General Conference in Adelaide in 1939, when war seemed inevitable, about one hour was devoted to the Christian's attitude to war. I was most anxious to speak in length on the subject, but could not attract the President General's attention.
I was indignant and expressed myself in a letter to the "Spectator" pointing out that Laymen for the most part, were diffident about speaking in the presence of so many ministers, that on the subject of the Christian's attitude to war, only one layman had spoken, and that for only three minutes, and I had tried for twenty minutes to catch the President's eye without avail, that right through the Conference after calculating the expenses incurred with respect to the Laymen attending the Conference, it was estimated that each minute a Layman spoke cost 5 pounds 5 shillings.
Two results f followed, one the letter was printed in other State journals and It was only necessary thereafter for me to raise a finger and the Chairman would immediately notice it and give me an opportunity to speak.
The other effect was that I was determined to have my say on the Christian's attitude to war. I read carefully right through the whole of the Gospels and in particular with reference to what Christ said about the use of force.
I was asked to speak at the Methodist Girls' Fellowship, and they were so impressed with the subject matter that they roneoed the talk and sold it for 3d a copy.
Eventually the Christian Pacifists Movement asked permission to publish it which 1 readily agreed. It was published under the title, "The 'New Testament Basis of Pacifism."
The Methodist Hierarchy was very upset, and I was asked to meet a sub-committee of the Standing Committee, though the reason for asking me was camouflaged.
I enjoyed meeting them especially when they brought up the subject of the little booklet. They asked me:
Would I withdraw the booklet until the War was over? "No! Now it was more important while war was raging to put what I thought was the Christian viewpoint."
Would I remove my name from the title page? "Definitely, no."
Young men may make the book a study in their Bible Classes and may be unduly influenced by it. "I think it is only fair that the Young Men, now under great pressure from Press and Pulpit to enlist, "(nearly every pulpit was draped with the Union Jack) should have the opportunity to hear the Pacifists point of view."
If any of these Young Men were so influenced that they refused to enlist if called upon to do so, did I realize though it would mean nothing to me, they may be placed in a difficult position, perhaps dismissed from their job, socially shunned or even go to gaol.
I resented the remark "though it would mean nothing to me" I said I knew most of the young men intimately, knew their attitudes and their convictions and their hopes, and what happened to them would seriously affect me. So the offending clause was withdrawn with an apology.
Summing up, I said I would re-consider the matter and seek guidance from the Holy Spirit. If He guided me to withdraw the booklet, I would do so without delay. If His guidance was to the contrary, I would rather go to the stake than withdraw it.
The next thing that happened, I received a phone message from the Defence Department asking me to call and see a certain officer. I went and was most courteously received. The officer said, while turning over some papers. "You have written a book." "Yes" I replied, and though I knew at once what he wanted, in a playful spirit I replied, "The last book I wrote as I can remember, was "The Making of a Criminal."
"No, it wasn't that. This little book was first roneoed, and then printed."
"Oh, you mean the "New Testament Basis of Pacifism."
"Yes! That's it." "Well, what about it?"
"Why did you write it?" "The Pulpit and the Press were urging men to enlist, and I thought it was only fair for them to know the Christian basis of Pacifism."
"We think you have done a good job, but we don't like the Pacifist pledge on the back page."
"Neither do I. It was put there without consulting me, I am removing it."
"Well we have no more to say."
"Would you tell me why you sent for me?"
"We had three anonymous letters asking us to prosecute you, but our Prosecuting officer, Colonel Mayman, said as long as he was Prosecuting Officer, he would never consent to prosecuting Oswald Barnett."
"Was that George Mayman."
"Yes!"
"Well, he ought to know. We did Commerce together at the University."
We then had a general talk, especially about Juvenile Delinquency, and he said he would like to be working with me on the job.
I wrote accordingly to the sub-committee, but the Chairman did not read my letter aloud to them but simply said, "I have received a letter from Mr. Barnett, and he cannot see his way clear to change his mind."
Members of the Standing Committee went down to the Book Depot to obtain a copy of the booklet, and were informed it was sold out!
EDUCATION – AN ADVENTURE
I have always maintained that Education is an adventure, and the Teacher if he understands his subject so thoroughly that it is a joy to him, can lead his students into the most enthralling kingdom. It depends upon the teacher being interested in the humanity which he is privileged to teach, and also that he be so interested in his subject that he teaches, not because he must, but because he wants to do so. The other fundamental is that the teaching must be simple, the language as far as possible, in plain Anglo-Saxon. To do this the teacher must have more that a textbook knowledge, he must revel in his subject.
Good examples of both types of teaching were perfectly illustrated in the classes of English conducted at the University. One Lecturer read from his notes, and you had to go like a steam engine to take them down. They were full of technical knowledge, but lacked humanity. But the student who memorised the notes was almost sure to pass, though it is extremely probable the course had not developed any love of English whatever.
On the other hand, Professor Wallace would not permit a student to take complete notes. "What I want, he used to say, "is not an accumulation of facts about literature, but an appreciation of it." So I wrote him a poem about it, saying how thrilled we were to be introduced into the wonderful world of letters, how we wandered hand-in-hand with the immortals and listened breathlessly to what they had to say. And then in the mist of all our exaltation we heard a bell, and a voice that said, "Beware the day."
So we stopped wandering with the Great Ones, we had no time to listen to them for now we must concentrate, not on the Immortals, but what the Scribes had to say about them. Ruefully we left the Garden of Literature, and trudged along the road of hard facts and dates and allusions.
So the Professor rang me up, and asked me to come and see him; which I did with great pleasure. "I read your poem with keen interest" he said, "and I thoroughly agree with the sentiments you express. But can you suggest how it could be put into practice, and do away with the nightmare of exams?"
I confessed I could not make any simple suggestion.
LECTURING AT THE UNIVERSITY
It was an inspiration, after completing the Commerce course to be asked by Associate Professor Wood to take a Tutorial Class on Economic Geography in connection with the Commerce School at the University. I had a splendid lot of students, all eager and friendly and I think we all enjoyed the Tutorials. They revealed to me how little I knew for I was often stumped by the questions the students asked, and was often helped by other students who knew the answers.
At the close of the year, however the students came to my office, and presented me with a silver inkstand. I was overcome with a deep sense of unworthiness, though I greatly appreciated their gesture. I had enjoyed them, their spirit of camaraderie, and we had adventured together and established very human relationships.
The following year I was appointed a Lecturer in Economic Geography, lecturing on the great articles of Commerce, and also the British Empire. I had a class of 110 students, mostly adults, (including Bill Slater, Attorney-General).
They were all very friendly and most attentive. I put a tremendous amount of time into preparation – 300 hours of office time, and every night in the week except one. (The children as we sat around the fire on a winter's night were often the ones on whom I practised.)
I found the great articles of Commerce tremendously interesting and set out with the idea of making their study by the students just as fascinating as I found it to be. I realised that simplicity and illustration would play a great part. Having a simple mind and a child's love of pictures, I started by reading Arthur Mee's Children's Encyclopaedia to get the story, took the book down to the photographic laboratories, to get lantern slides of the appropriate pictures (I was allowed 30/- for slides, but I spent 13 pounds, which the school subsequently paid).
Then I would start something like this: "Many years age there were some monks living in Arabia who were compelled to fly from their country, so they migrated to Abyssinia. When there, they noticed that at certain seasons, the goats grew very frisky. They came to the conclusion that it was due to the phases of the moon. But one monk, more scientifically minded than the rest, noticed this friskiness followed when the goats ate certain berries growing on the mountain side. So he too, greatly daring, ate some of these berries and as a result suffered a mild exhilaration. The berry was the coffee berry, and this is the story-of its discovery."
Such an introduction aroused the interest of the students, and from thence it was easy to proceed by slides, to the cultivation of coffee, and by means of graphs (also on slides) to show the development of the coffee trade.
I may say at the end of a lecture, the students knew all that I knew and I would go flat out to prepare for the next lecture.
Gordon Wood complained that I was making the lectures too interesting and he found it difficult to fail any of my students. This proves, of course, that if the lectures are interesting, the students will easily grasp them, and only the very dull with fail.
WE SELL OUR HOUSE "COLLES VALLES"
As the children thought it was too much for Le to cope with our house in Cherry Road, I reluctantly agreed to sell it.
Le and I had designed it and were very proud of it. It has an atmosphere of its own and was very comfortable. We enlarged the breakfast room, and made the whole of the Eastern wall into a Landscape Window looking out on the Courtyard and Lily Pond. We also put a landscape window in the kitchen giving a view of the side garden and stone well. A third landscape was put in the lounge.
We could see across to Macedon from this window. As Balwyn Park was opposite to us we had a magnificent view across country to "The Hump." It was a glorious outlook.
It hurt also to leave the garden, which was very beautiful with many trees (described by Will Comeadow as "specimen trees").
When recuperating from a gall-bladder operation up at Mount Dandenong with Auntie May, I was struck with the beauty of a little stone well in the garden. So when I came home I built one in the side-garden, planted a poplar each side (but later these were removed as their roots interfered with the sewer pipes).
I had great joy in stone work, particularly in building a semi-circular stone seat in the front garden. I planted all sorts of aromatic herbs around it, so that if my daughters sat there at any time, they would be surrounded with an atmosphere of fragrance. This stone seat greatly boosted my ego. I planned to pave that part of the back garden nearest the house, with flag stones. They were really the off-cuts from the monumental mason and cost 12/6 load. I engaged a bricklayer, Bill Richards, a splendid tradesman and a good fellow. He arrived while I was at breakfast, and so, in the interval he toured the garden. Then he said to me, "I don't know who built that, semi-circular stone seat in the front garden, but whoever he was, he was a tradesman." This was one of the proudest moments of my life.
Le often complained about the wooden floor in the front verandah which took a lot of labour to keep it clean. So Bill and I ripped up the boards, put down cement and reinforced it, and paved it with multi-coloured slate from Harcourt. We also veneered the front and end of the verandah with slate, and the effect of the whole job was very pleasant.
GEORGE BAKER
We have been at "Colles Valles" only about three years when the disastrous maritime strike of 1917 occurred My off-sider at Office, Denny Mannix, one Monday morning told me that the St. Vincent de Paul Society on the day before had found in Coburg a family consisting of Father and Mother and eight children, who were in a bad way. One of the children had run a message for a neighbour for which he received three pence. With this the Mother bought some bones and made soup. This was all the food the family had to eat. St. Vincent de Paul Society, having satisfied themselves of the truth of the position undertook to pay the rent, another member provided bread, and so on. "We ought not to do this" said Denny "because they were not Catholics. They were Methodists and your people should be looking after them." "Send the man into see me" I said, and so he came – George Baker, a stevedore locked out in the 1917 strike.
I asked him if he could nail a fence. "I've never done one," he said, "but I'll try." "What wages do you want?" "I dunno" he said, so I gave him the basic wage at that time of 10/- a day, and 1/- extra for fares. He did not tell me, but Denny did – he gave one half of his earnings to the family next door where the Father was also locked out by the strike. There is no doubt whatever that the poor are the most generous people in the world. After the fence was finished, Baker came out to "Colles Valles" every Saturday, to help me in the garden or in any other things I was doing. We all loved him, hardworking, generous, a real "sentimental bloke." He also built a fernery for me. I would lay out the necessary timber every morning with instructions as to what I wanted and when I came home it would be well done.
Poor Baker got cancer and was a patient in Austin Hospital.
Le and I went for a tour with Steve and Min Le Pine up through the Blue Mountains to Sydney and back via the coast. We were at Lakes Entrance on our way home when I got word that Baker was dying. At once I telephoned Rupert Willis who was then the Medical Superintendent at the Austin Hospital, but he told me it would be useless to come back as Baker was unconscious and very near the end. I believe that while he was conscious every time the door opened, he would say, "This is my friend, Mr. Barnett." I was extremely sorry I was unable to see him before he died. He was one of the finest men I ever knew.
AUNTIE MAY
The passing of my sister "Auntie May" was a great blow to all of us. I was conducting a meeting of the Good Companions in my office, when I received a phone call to come home at once as Auntie May had collapsed. Fortunately, I caught a taxi passing Temple Court, but by the time I got home, May was unconscious.
It appears she had come home as usual, carrying her usual number of parcels, which she surreptitiously left at the front door, to avoid any criticism of her parcel carrying, (she was always carrying parcels for someone, magazines and books for other people, especially the soldiers during the wars.) As she came up to her little sitting room she called Brian, and asked him to bring in the parcels she had left at the front door. As he came into her room she slumped in her chair, so he called his mother, also Le Annette who fortunately was home at the time. May had had a stroke, and Le Annette had to cut her clothing to get it off, then with her Mother's help to get her into bed.
When I arrived she was in a coma, so I did not have the privilege of speaking to her. Dr. Bill Carrington came and, much to my relief stayed with me until Auntie May passed away. I greatly appreciate Bill's kindness.
May was one of the finest people I ever met. I was one of twins. My Mother looked after my twin brother until he died and May looked after me. In fact, she looked after me all my life. It was she who helped to clothe me, provide all sorts of little things to please me, and took the stand that I was to be a Civil Servant, and this way avoid the curse of unemployment.
She was the Manager of the Glove and Hosiery Department of Ball & Welch and was considered to be the first glove lady in Melbourne. When she was 60 years of age, the General Manager of Ball & Welch began to dismiss all the older employees as an economy stunt. This moved my sister to tears, and one morning on our way to town, I resolved to settle her anxiety. So when we got to the Town Hall, I took May to the Manchester Unity Arcade, where two small shops were vacant. May agreed, so we went straight upstairs to the Secretary of the M.U.I.O.O.F. and arranged to rent one shop. Shortly afterwards we took the other shop and when the shop in Collins Street became vacant we moved into that.
May brought Gwen Lucas with her from Ball & Welch and paid her 3 pounds per week. She also drew 3 pounds per week which was more than the shop made the first year, for we were in the depths of depression.
Business improved gradually, and boomed during the war. While in Ball & Welch she was very kind and understanding to the Commercial Travellers who called on her. They so appreciated this that during the war, when stocks were very difficult to get they saw it that she was supplied.
By her will, May bequeathed the business, one-third to Gwen Lucas, one-third to me, and one-third equally between our five children and my sister Ethel.
May was one of the most unselfish people I have ever met. She was a fairy-godmother to me. As a lad of about fourteen I always had to meet her at the Rathdown Street tram terminus (now abolished) and escort her home. I took her to Choir practice every Thursday night and if I saw a boy about to take her home I would vanish. We thus developed a love for each other that was rather unusual between a sister and a brother. How I wish that I had the opportunity now to show her how much I appreciated her.
BELMORE ROAD
Before we finally left "Colles Valles" we purchased two blocks, of land in Belmore Road, Balwyn. One was bought by Auntie May, who felt she would like to live next door to us in a little house of her own. Her block was 60' wide, our adjoining was 75'.
We planned two houses, one for her and one for us. She died however, before hers was started so I bought back her block at the price she paid for it.
We engaged Leith and Bartlett as Architects, one of their partners Allan Love being in charge of the job. A.V. Jennings was the builder. Joy had much to do with the design of the house. In the original plan the front door opened to the North. Joy objected as she said, with a strong North Wind blowing, we would be blown out the back. So the plan was altered, placing the door on the East. Side. This necessitated the planning of a hall. Its size was about 100 square feet. This amendment caused a great upset.
The original plan had been passed both by the Camberwell Council and the Building Directorate granting permits. When the new plans were drawn, the architects then submitted to the Council. They were marked 'Approved.' Harold Bartlett then telephoned the Building Authority and they said they approved of the alteration. suggested however, that he should see Jack Gaskin, (the head of the Department) and get his approval in writing, but Harold felt that this was unnecessary.
Os Burt had written an Article which was published in the "Age" smarting under the officiousness and ignorance of the Minister for Housing (Bill Barry) – he criticised him rather severely.
The result was that Barry wrote to the Commission stating that none of us was to write or speak on housing matters without getting his consent in writing. We wrote back to the Premier asking him to get Barry to withdraw his letter. I suppose this put the Premier (Jack Cain) in a dilemma, so nothing was done. But Barry never forgave us and waited his opportunity.
When Barry was glancing over the lists of permits, he noticed that the Council permit given to me was greater than the permit. He immediately wrote to Bert Jennings (the builder), Harold Bartlett, (the architect), and me ordering us to stop building operations at once.
It so happened that, just at this time I had suggested to Os that as Barry was our Minister, we should stop fighting him. (This was just before his stop order arrived.) So I made an appointment to see him. His letter to me arrived the day before I saw him.
When we met we chatted together in a friendly manner, and I did my best to give him some conception of the housing and slum problem. He seemed very pleased, and said "You received a letter from me about your house?" "Yes!" I replied. "Well, disregard it. I'll get Gaskin to go out with you and inspect the building."
So Jack Gaskin and I went out to inspect the new house. He looked it all over, saw the plan with the approval of the Council marked on it, and then he said, "It's a jolly shame, leave it to me, and I'll get that stop order revoked."
I waited, and waited, and waited, but no revocation came.
In the meantime, the Labour Party had been defeated, Barry was out, and Warner in again as Minister for Housing.
When Barry left his Ministerial Office, he left only one file on the table, the one referring to me. He had written an instruction on it – "Prosecute."
Warner approached and said that the Cabinet did not wish to prosecute me. He said "If you don't, I'll bring it up in Parliament." As the Cabinet did not want to give Barry any opportunity of this sort, they very unwillingly gave way.
The case came before a Magistrate in the Kew Court. Bill Slater (ex Attorney General) one of my best friends, and a lovely fellow, took charge of the matter for me, (and refused to take any charges for his services.)
It was evident that the Building Permits Department did not wish to press the matter. Their officer in attendance said that they had never had a more frank witness than me. He added that his Department looked upon me with great respect. The magistrate said, "As this matter seems to be a very technical one, I'll dismiss the case." Jackie Norris, prosecuting for the Crown, whom I knew well, jumped up and said he also had a great respect for me, but though it appeared I had received verbal approval to enlarge my house, it was not in writing, and was therefore a breach of the law. The Magistrate then said "As it is only a technical breach, I shall impose a technical fine – 40/-."
The Newspapers had made a great splash about it. On its placards the "Sun" newspaper had printed "Housing officials charged." I believe there was ground for me to take action against the Sun, as the placard implied "Conspiracy," but I would not bother.
Both the architect and builder were each fined 40/- too.
Through all this upset I am glad that I was not perturbed. My conscience was clear, and I was very conscious of the Presence of the Holy Spirit all the way through.
Despite the unwelcome publicity we greatly enjoyed the new house. We had a nice lily pond in the courtyard at Cherry Road, which we reproduced in the new garden. We also removed many shrubs, rhododendrons, and azaleas to the new garden, before we sold the house.
The building of the new house was duly completed, and the sale of "Colles Valles" was put in the hands of Douglas Kitto (who did Commerce with me) a City Agent. The price was quoted at 3,500 pounds but the price fixing authority lowered to 3,000 pounds. An appeal raised it up to 3,200 pounds. It was sold at that price, though I was advised by the Agent, I could get much more on the black market. As soon as the peg was lifted, the new owner sold it for 5,000 pounds.
We had a happy twelve years at Belmore Road.
A garage in the back garden had attached to it, a bedroom for Brian and a workshop for me. Later, when Brian married Doris, the workshop was converted to a shower room and kitchen. The bedroom became a bed sitting room, and they lived in this little flat until their own house was built.
NORLANE
Whenever I went to Geelong it worried me that though there was much industrial expansion at Norlane, there was little provision made to house those working there. They went to their work by car and bus and bike by the hundreds.
At last I personally contacted the President of the Shire of Corio, and told him I thought that the Commission would favourably consider any reasonable proposal to build a Housing settlement at Norlane. He contacted all the heads of the industrial concerns in Norlane, and it was arranged that I should meet them at dinner at the "Australia."
After the dinner I outlined briefly the way I thought the Commission should be approached. They asked me if I would draft an appropriate letter outlining the present needs and the probable expansions. When it came before the Commission a few days later, the Chairman remarked "That's a good letter," "Yes," I said, "I think it is," without of course revealing the part that I had played in it.
So the Commission arranged that its Land Officer (Claude Widdop) should go down with me to make a preliminary survey of the need.
As we motored down to Norlane, Claude said to me, "I don't understand all this haste. Norlane was never brought before us before, and now it's become a matter of extreme urgency. I wonder why?" So I confessed, pledged Claude to secrecy and Norlane went ahead like a house on fire. And the Commission never had the slightest premonition how it all began. It would of course, eventually have happened. All I did was to speed it up, as I thought it merited prompt attention.
POLITICAL JUGGLING
There was, as could be expected some political juggling going on behind the scenes, respecting Housing.
The Commission had planned to build a model town at Robin Vale. The surrounding area had been thrown open for soldier settlement, so the Commission put a blanket over the area outside the blockers' selections. Here it planned the loveliest and most modern town in the Commonwealth, all replete with Community Hall, School, allotments for Churches, and model railway siding, and the like. The land was valued by the acre, according to the purpose for which it was then used. But the Owner, the ex-mayor of Bendigo was a friend of the Premier and he persuaded the Premier to "lift the blanket" but very kindly reallowed enough land to remain under the blanket on which the Commission would be able to build perhaps 60 houses.
The advent of the Soldier Settlement had increased the value of his land out of sight. I suppose he made many thousands more by the blanket being removed (through the Commission the land was valued fairly, and subject to arbitration, if the vendor so desired.)
So the poor unfortunate who later on would buy the land after the advent of the blockers, would probably pay as much per foot, as the land was worth per acre.
On another occasion the Commission blanketed the old Fitzroy Racecourse, then under the control of John Wren. Wren sent Sir Gilbert Dyett, to interview the Commission. "Don't be in a hurry," he said. "We believe in British fair play." (When anyone refers to himself as the advocate of British Fair Play, I suspect rampant dishonesty.)
The land was owned by Company "A." Another Company was formed, Company "B." "A" sold to "B" at twice the price the land was worth. Had we referred the matter to arbitration, the price of the land when it was last sold, would have determined the p rice we had to pay. This was twice too much, so by "British fair play" we were jockeyed out of this land. Fortunately there were not many of these behind the scenes manipulators. There may have been a few minor attempts such as an Estate Agent who came to see me when the Investigation Board was at work, and tried to interest me in the purchase of a huge area at Broadmeadows at 60 pounds per acre. Of course the Board had no power to buy land. Then he approached me after the Housing Commission was appointed. "You remember I offered you some land at 60 pounds per acre. Well, the Government won't notice the difference if the price is 120 pounds per acre. That will cover us all." "Will that cover me?" I asked. "Yes!" was his reply. "Well! Nothing less than 1,000,000 would cover me" I said. "Have I said too much?" "No" I replied, "but we start to deal with you about that land, we'll start at 60 pounds and come down, not up. Is that clear?" He vanished like snow before a summer sun.
RESIGNATION
We resigned from the Housing Commission membership The end came suddenly. The term of appointment was for five years each time. The day before the end of the second term, a Cabinet Minister told Os Burt we would be not reappointed. We were too socially minded, too 'pink' in fact.
Os Burt told me of the coming event , and so we both resigned the day before.
The Minister for Housing, Mr. Warner, sent for me a few weeks after, and asked me would I again take a seat in the Commission. After some discussion, at his earnest request, I agreed to do so. He assured me the Cabinet would support his nomination, but was wrong – I was still too 'pink'.
LE'S ILL HEALTH
During the last five years that we lived in Belmore Road, Le's memory was gradually getting worse. It was not really upsetting but it meant I had to take over the management of the home – the cooking and the washing etc. which I was glad to do. In fact, during this period Le was never more lovable. I was her total security and she wanted me close to her all the time. A dozen times a day I would take her face in my hands, and say as I kissed her "I do love you darling." Her reply was always the same, "I love you best of all."
The end came suddenly. I arrived home from the Office to discover her in bed. She had walked home from a meeting at the Church, and as she was tired, she went to bed. She wanted to get up for dinner, so I helped her out into the dining room, and we dined together very happily. After dinner, I felt she would be better in bed; as I helped her to stand up, she suddenly slumped, and I had to do all I could to keep her upright. She was unable to walk, and she was too heavy to carry, I put my arms round her waist, and dragged her backwards up to the bedroom, frequently stopping on the way, the perspiration pouring out of me. I got her into bed and phoned Joy who was around in a few minutes. The Doctor came soon after, and after an examination, he said she had had a stroke, and must at once go into Hospital. She was quite unconscious as the Ambulancemen carried her out to their conveyance. It was a very melancholy journey to Epworth, Le unconscious, and I holding her hand, and knowing it was the last ride we would have together.
Next morning as Le Annette was driving me down to Epworth, she stopped her car on the tram track in Burke Road, just at the end of Barker's Road, to let the traffic pass that was going North. After being stationary a few minutes, a tram suddenly bumped into the rear of her car. The driver had no excuse to offer except to say, in a doleful voice, "perhaps I am too old to drive a tram."
A man hurried out of the house in Bourke Road, just where the accident occurred. Le Annette was naturally a little upset, particularly as she was expecting a baby in a fortnight's time. The man asked us in to have a cup of tea, which we accepted with gladness. He was Lesley Farrer Price. We did not meet him again for some time, then down at Point Lonsdale we met him and his wife Ruth. Since then we have become firm friends of them both.
A witness to the accident said he would gladly give evidence as the Tramway Authority had given him a raw deal on a similar the occasion. There was no need to call on him, as the Tramway Board paid all expenses without question.
After she reached Hospital Le was still unconscious, lying there with a lovely colour in her cheeks, a perfect picture. As I bent over her I kissed her and said, "I do love you darling," and though she had her eyes shut and seemed to be unconscious, she said "I love you best of all." it was the last time she spoke.
SINCE MY BELOV-ED WENT TO THEE.
O God, how dark it is. Since my Belov-ed went to Thee
The light has gone, and I am all alone.
I stumble on with listless steps
And breaking heart,
And ever ask the ageless question – "Why?"
No answer comes
Except the echo still repeating – "Why?"
My reason tells me she is gone,
But still my heart refuses to believe
And says it is not true,
'tis but a fearful dream
From which I shall awaken soon,
But yet I cannot so deceive myself
I know it is a fact –
A fact immutable.
Her sweet face I shall take no more
In my cupped hands,
And press my lips against her lovely lips.
No more shall I embrace her in my arms,
And hold her to my throbbing heart.
Oh how I yearn and yearn for her.
My heart is ever reaching out
Until my eyes are dim with tears I fear to shed.
She was my inspiration and my joy,
We lived together as one life,
The more we needed each the other,
The more we loved,
We loved and understood.
And now, it seems,
The purpose of my life is gone,
And I an overwhelmed
With loneliness.
And yet I dare not let
Self pity flood my soul,
Nor let a selfish apathy
So blind my eyes
I neither see nor care.
I am persuaded that
It was the fulness of the time
For her to go,
And I an grateful for the way
She left this world for Thine.
It all was merciful and kind.
Although with aching heart,
I yet must strive to re-construct
My little world.
I must not make my soul
A secret cloister for my grief,
But open wide the door
To let the heavenly breezes through
To sweeten it for use again.
I cannot let the present pain
Blot out the lovely past –
The sorrows we together shared
In silent sympathy,
The joy, the laughter, and the fun we had
Through all the halcyon years.
So shall I live again
The precious time I had with her.
As memory softly enters in
I feel that she is near to me,
I see her lovely face,
And sweet communion hold with her.
While I am practising the presence of my Love,
Peace overflows my soul.
I am content, because I know
That in the morning we shall meet again.
The Doctor arranged with a Specialist who came and saw her and said there was no hope. One of the children drove me to the Hospital every day. June flew over from Canberra, but she did not recognise any of us. She lay there unconscious for a week, and early one morning, Matron Holding telephoned me to say she had passed away peacefully during the night.
And thus ended forty-eight lovely years. We have been tremendously in love from the moment we had plighted our troth in a little boat up the river at Studley Park.
She was a wonderful woman, a perfect wife and an understanding and devoted Mother. After her passing it seemed to me the sun had gone out, and all was dark. I was utterly desolate, although all the children rallied round me most lovingly. I prayed earnestly and got most consolation when I expressed myself in a poem. I poured out my heart, and in doing so, I found great relief and the Peace of God.
The children were very good, and while Brian's second house was being built, he and Doris and the children came and lived with me. Each of the girls and Brian offered me a home, but I decided to live on in Belmore Road, though I had dinner with them, every one in turn. Certain friends were very kind in asking me to dinner, Wally and Jean Golder, Belle Clarke, and Flo Fowles and others.
All of them kept open house for me and this proved a godsend to me.
THE PATERSONS
The Patersons lived opposite to me. Tom (Chairman of the Road Safety Council) and his wife Nancy and four children. They were real friends. I treated their house as my home, went over there every Saturday afternoon, helped Tom with some carpentry job or other, and stayed to tea. it was a wonderful place for me. Every time they went out for a picnic, they took me and I became Uncle Os to the children.
We had a wonderful trip, Tom, Nancy and I to the Snowy River Project. I took my old Ford, and Tom and I drove in turns. As Tom was in charge for finance of roads in the Commission's Territory he was naturally a V.I.P. We met the Chairman, Sir Hudson at supper the night we arrived. He was a very courteous gentleman, modest to a degree, but highly efficient. I understand the Engineering Profession was asked to nominate one of their number to receive a knighthood. Sir William was the unanimous choice.
On the following morning he met us at the Hotel and took us down to his Office. He showed us various models, and explained that when it was decided to install a new section of the undertaking, the practical men built a model to a very accurate scale, the small stones in the model dam we inspected were all scientifically measured so that they would all be of the same size. They then organised the "backroom boys" (i.e. the scientists) to work, out the problem mathematically. Both the practical boys and the scientists had to agree before any work was done on the new scheme.
The accuracy of their work was manifested when they built a tunnel 14 miles long through a mountain, and when both teams met they discovered that there was only three quarters of an inch difference in the levels.
The Chief Electrical Engineer, Mr. Ampt took Tom in his car, and Nancy and I followed in the Ford. It was a glorious tour, especially as it snowed and the whole landscape was covered in a mantle of white.
We stayed in one of the Commissioner's houses, internally heated and most comfortable.
The whole project is majestic, and set in the most magnificent mountain scenery.
As it was snowing on the morning we left, Sir William sent a jeep along ahead of us for safety sake. Already a truck and a couple of cars had gone over the edge that morning. However, we safely navigated the snow regions, and arrived home after midnight. The most trying part of the trip was not travelling in the snow, but evading huge semi-trailers in the dark all the way from to Melbourne.
However, despite all the nervous strain the glory of the whole was worth while.
TOUR AROUND THE WORLD
I had often longed to go for a trip around the world, but never thought. I would have the money necessary to do so.
One day, as I sat in the dining room. and looked through our big landscape window at our lovely side garden, I suddenly realised if I sold that piece of land – about 55 feet frontage, I would get. enough to pay for a trip round the world.
I mentioned the matter to Tom Paterson, who was expecting the Government to send him abroad on a road safety trip, We eventually persuaded Nancy to come with us. Tom was expecting five months leave, but when this was whittled down to four months, and then to three months, Nancy and I decided to go together on cur own, so we left sixty three days before Tom left home.
I may say I had some doubt as to how I would weather plane travelling especially after my hectic trip some time before on my way to a Directors' meeting in Sydney. However, I need not have feared. I was not sick, did not feel sick, nor did I see anyone else sick in the whole 30,000 miles of travel. As one pilot explained, we can nearly always avoid trouble. We see a storm coming, and ride above it. We may get caught in one if we are coming down and a storm is raging between us and the landing ground, but that is very seldom. His confidence proved to be true for us. Twice we were ordered to put on our belts, but nothing happened. We have over-ridden the storm. Air travel proved to be so happy, I would never travel by boat, for the sea brings the best out of me. in a short trip on a ferry from Capri to the Blue Grotto, the weather was too rough for us to enter the Blue Grotto, and I was as sick as a dog.
Otherwise we had a glorious trip. Nancy mothered me like one of my daughters would have done, and in every way was a perfect companion. Our journey to Darwin, thence to Manila, and Hong Kong, and Bangkok and Delhi and Agra (Taj Mahal) and Istanbul and Athens and Rome and Cortina and Heidelberg and Cologne and Amsterdam and then finally to London is told in more detail in the diary I wrote every day, re-typed by Helen, and then illustrated by all the postcards and other pictures I Was able to gather from Tourist Bureaux and the like.
After meeting Tom, we went with him up to Scotland, Tom's birthplace, where we met his relatives. They made a royal fuss of him and Nancy, and I too was included in the wonderful welcome and hospitality accorded to the three of us.
We left Tom in Scotland visiting old friends, while Nancy and I flew to Bergen in Norway, then to Oslo and Stockholm and Copenhagen, where there was a conference of "Road Safety" men from all over the world.
When in Melbourne my visa to U.S.A. was revoked, because it was thought I was rather 'pink'. I protested strongly and was asked to support my claims from responsible people. I got wonderful letters from Irving Benson, Alex Fitzgerald, Eugene German, John Jungworth, and propitiously from Calvert Barber, who helped most considerably.
He saw the Consul, and then wrote that I was known as a Methodist throughout all the Commonwealth, was on the State Conference and the Australian Conference, and on many Church Committees. Calvert went on to say that if my visa was not re-instated a wave of feeling would sweep throughout the whole Methodist Church in Australia, and that he said, would not strengthen the bonds of friendship between U.S.A. and Australia.
When I left Australia, I was advised that my visa would be reissued, but I reached Copenhagen before I got any finality. I had had a severe outbreak of dermatitis when at home, from which I had almost recovered. The anxiety brought on another severe attack. I did not know whether I should go back to London, go to Canada and await Tom and Nancy there or go home. The Consul at Copenhagen asked me to wait till the following day when he would receive his mail from London, I told him I could not wait as I had, booked to go to Amsterdam in the morning. So eventually, he said, "I'll take a chance," re-issued my visa. You can hardly tell what a great relief this was, though it was months before my dermatitis was allayed – in fact, it has never quite disappeared.
From Copenhagen we flew to Paris, where on Sunday night, 20th September 1958, (incidently my 74th birthday) one of the most unique events in history took place. De Gaulle by an overwhelming majority (80%) was elected by a democracy to be the distinct dictator of France.
From Paris we flew across London by night, a lovely sight, then to Iceland to refuel, and on to New York.
One of the most enjoyable features of the whole trip was due to the fact that as Tom was known all over the "Road Safety" world, wherever we went we were met by policemen who escorted us everywhere and never failed to pay for our dinner.
I wondered if in America, as a result of the revocation and re-issue of my visa, whether I would be subject to any espionage. If I were, I was quite unconscious of it. In fact, I found Americans, both official and civilian, very kind and generous, especially the Scottish. It seemed to me that half of Tom's native village, in Scotland, had migrated to U.S.A. They were certainly as hospitable as the Scottish we met in Scotland, and that is saying a lot.
HOUSING AND THE CHURCH
"Housing and the Church" was another P.S.A. subject, and it was printed by the Methodist Social Service Department of Victoria, and also by the Anglican Social Service Department of N.S.W. (inspired by Rev. Coghlan).
It was plea for all the Protestant Denominations to use one Church building in the new Housing Commission areas. The Churches were not prepared to do this. In fact, they were highly competitive.
In the first Housing Commission Settlement at Fisherman's Bend consisting of 376 houses, no less than 13 Denominations sought to buy land. As naturally, we could not arbitrate as to which Churches should have preference, we set aside a well-appointed Community Hall which the Roman Catholics could use on Sunday mornings and the combined Protestant Churches on the evening roster.
I understand the Roman Catholics Service was well attended, but the combined Protestant service averaged only about fifteen people present. it seemed it was really nobody's baby, and had no clerical inspiration.
Later on, I met the representative of all the Protestant Churches, a meeting chaired by Archbishop Booth.
The Archbishop said they knew I wanted to establish a United Church, but though the idea was right, "they were not up to it yet."
I pointed out what had happened at Fisherman's Bend, and that the Commission could not arbitrate which Churches should be allowed to build in Commission areas. "But" I said, "if all the Protestant Churches united in this matter and came to an agreement among themselves as to which Churches should enter any specific Housing Area, then the Commission would make plans of any new areas available to such United Church Committee and allow the Churches which were selected to purchase the necessary land in any one area, on the unanimous approval of every member of that Committee."
The meeting accepted this proposal whole heartedly.
FLO
When abroad I of course, had to procure presents to bring home to my family and to certain friends who had been very kind to me.
I bought a silver spoon in Bangkok which, one Saturday night, I gave to Flo Fowles. I had invited myself to dinner. When I gave Flo this spoon she was overcome. Why I did it, I do not know, but I said to her, "Could I kiss you, Flo?" And she, with great emotion threw her arms around my neck, and gave me such a fervent kiss, that both of us knew, without any words, that we were in love with each other. I never proposed to her, there was no need, we knew, and we have known it ever since.
Flo had lost her husband some years before. I had lost my wife, and here we were two very lonely souls who had known each other for thirty years, and had always had a great admiration each for the other. Our coming together was as natural, as two drops of rain water on a window pane seem to be attracted to each other, suddenly and with swiftness rush together and become one to pursue their course with greater zest and decision.
As I write, it is now over four years since we married, four very happy years.
Fortunately all the members of my family received Flo with open arms, and fell in love with her, a love which Flo returned with enthusiasm.
Of Flo's daughters, Norma (surely one of the loveliest girls ever born) received me with open arms, and ever since she and her husband Bruce, have been my firm friends. Their little boy Peter, was born soon after we were married. Peter is a great little chap, very intelligent and very interesting. He adores his grandmother, (Gran) and has, I feel a deep affection for me, which I certainly have for him.
Joyce, Flo's eldest daughter was a bit upset at my intrusion at first, but she and her husband have received me graciously. There is no doubt that their two children, Ian and Jan have taken me into their hearts. I have never met two more affectionate children.
Our marriage has been very wonderful. We are of opposite temperaments, I am radical, Flo seems to be somewhat conservative, I am what she calls ebullient, she on the other hand is well controlled. Nevertheless we have a wonderful companionship. In all things fundamental we are in perfect agreement. Flo is wonderful as a companion, always is thinking of me, and my happiness. Her whole life is wrapped up in me and my welfare.
We are both tremendously in love and very happy. After the loneliness we both had, to be together, to understand each other, and to spend our lives each in serving the other, to the limit of our ability, each trying to save the other by anticipating what can be done to share any burden, each thinking of the other and what can be done to make the other happy, it is a lovely life we are sharing together. It is so satisfying that we must beware of living to ourselves and shutting out the world and it's needs. We realise that our happiness must be shared with others in need, and not held exclusively for ourselves. Every day we thank God for giving us each to the other, realising that our companionship enables us to fulfil God's will more perfectly. God has made the Autumn of our lives one that is full of golden beauty and happiness, and for it all we are deeply grateful.
While I was in Epworth Hospital, dear old Flo came to see me three times a day. You can imagine what a comfort she was, particularly when my eyes were bandaged and I could not see. It was then she would sit by my side, and write down the thoughts that came to me in the darkness. When the bandages were removed, the loveliest thing I saw was her dear face. While I was blind, she wrote down many little poems that my love for her had inspired. Of all I ever wrote, none more sincere than these, and nothing gave me more satisfaction than trying to express my love for her, even though the expressions were totally inadequate.
EYE TROUBLE
in June, 1961, I discovered that two hairy threads were blocking the vision of my left eye. I had known for thirty years or more that I had a cataract in each eye and on each of my six monthly overhauls by Doctor Garlic, I used to ask "What will win, Death or the cataract?" And invariably the Doctor answered, "Death."
But now I felt the Doctor had proved to be wrong, and I of course, asked him what was the matter. He would not tell me, but at once referred me to an eminent eye surgeon, Dr. Cormsell, to whom I went the following morning.
He examined me thoroughly, said I had a detached retina, and arranged for me to go to Epworth the following day, a Saturday. At the Hospital I was propped up in bed, with my legs straight out before me and one fixed solid object on each side of my head, so that I would keep the eye perfectly still.
On the Tuesday morning I was moved up to the operating theatre, given a local anaesthetic, when Dr. Cormsell operated on me for two and a half hours. I was conscious of all he seemed to be doing though there was absolutely no pain.
He seemed to cut the membrane with a pair of scissors, I could feel the grate of the scissors as he cut. Later, he seemed to sew up the opening, draw the stitches tight, tie off all the ends, cut them with scissors, and it was all over.
With both eyes bandaged so that I was absolutely blind, I was trundled back into bed, legs straight out in front of me and body upright, with these uncanny weights each side of my head. I was to remain in this condition for fourteen days, unable to do a thing, and fed like a young magpie. Fourteen days, each of twenty four hours is a long time to remain erect, blind and motionless.
The blankness is unfathomable, but I had many 'appearances'. I cannot explain them but they were extremely realistic. Dear old Flo, who came to see me three times a day, was sitting by my bedside holding my hand, quite simply, quite naturally. Suddenly I found myself in an underground stable. All the posts were black, so were the cross beams, and all the horses were wholly black or dark bay. I knew the Matron was sitting a little way in front on my bed, but now a black horse came between us, while at my side stood a pair of Shetland ponies. I could have reached out my hand and touched them.
Then suddenly the whole scene vanished and I was back in the blackness of blindness.
Another time was under a poppet head. All the beams were black, and I was looking through the tall uprights on to a grey and barren world. Suddenly that scene vanished. Several times I seemed to be in the back yard of a country hotel, a row of outhouses in front of me, bordered by a brick path, probably the servants' quarters. Then the scene would fade out. Now all these experiences were extremely realistic, though I have never known them in actual life.
The most outstanding appearance was distinctly vivid. I was sitting bolt upright in bed as usual, when suddenly the walls were draped in a soft white cloth, the ceiling disappeared, and the light of heaven streamed in. All at once a figure, his body horizontal his arms outstretched, floated over my bed. He too was clothed in white, wore a white cowl on his head which completely covered his face, and under the cowl a yellow light was burning. No wings were visible, but I realised he was an angel. I shivered, a cold chill ran down my back, and I said to myself, "So the Angel has called for me." Then I straightened up, and said to myself, "Why should I be afraid, I know Christ and he knows me." As I looked up it seemed to be very beautiful, and I got an intense longing to go with the angel. "This," I said, "is going to be the greatest adventure of my life."
Then I thought of Flo, and said to the Angel:
"I'm sorry, Sir, I cannot go,
I cannot leave my wife below."
The cowl shook as if the angel saw the joke, the light turned from yellow to amber and the whole scene disappeared as suddenly as it came.
I have always believed in life after death, but this appearance was a great confirmation. Surely it will be the greatest adventure one can ever have.
The days in Hospital seemed very long. There was little difference between them and the night, except that the nights were quieter. Both day and night were great opportunities for thought. I thought about prayer, and how often it was inspired by a selfish motive. It was often a case of "gimme, gimme," of asking God to change his mind and to do something special. It became increasingly obvious that true prayer was a petition to God asking Him in mercy to reveal His will to us, and then give us the power to fulfil that Will. If God is Love, then His will for us must be the most wonderful thing for us. If it was really putting all our will at the service of God, and so getting into rhythm with Him and all His boundless purpose.
It became evident that prayer for others, if it was really, sincere, meant that we committed ourselves to God so that He could fulfil our prayer through our co-operation.
Despite the aloneness I was never really lonely. The great handicap was that I could not see. At last came the fourteenth day, and the Surgeon was to remove my bandages, and if the operation was successful, I would be allowed to wear peep-hole glasses to protect my eyes from too much light. The glasses were of dark cardboard, and had a hole in each lens, of about ½", through which I could peep.
The day dawned, the Surgeon removed the bandages, and I was profoundly disappointed. I had expected perfect sight. After the period of blindness I thought that I should see as I had before the operation. But it was not so. The left eye had little sight, it was out of harmony with the right eye, my perspective was blurred. I could not understand it and was profoundly depressed. And then I thought of the blind man to whom Christ gave sight.
You remember the story. "What do you see?" said Jesus. "I see men as trees walking." What an incongruous reply. But this man had never seen. With respect to sight he had to learn to see just as a baby would.
He had never seen a tree, he likened it however to a man, because he felt they had the same physical appearance. He had never seen a man. Both were tall and upright, and somewhat cylindrical. He had often walked into a tree, and thrown his arms around it.
Now he saw somewhat hazily, and men and trees together. How alike they were, but the great difference was – the trees were motionless, the men were walking. He had to learn how to use his sight. There was never a truer story than this. It could be told only by a man who was born blind, and then suddenly received sight.
I was like that blind man, and had to learn to use my sight.
All went merry as a marriage bell. I wore my peep-hole spectacles, saw the surgeon every week, and he was delighted with my progress, I was his prize patient.
And then came the day when I thought I would be seeing the surgeon for the last time, the limitation of the peep-holes would be removed and I would be able to wear my normal spectacles. So, with happy and expectant hearts, we went to see the surgeon again. Imagine our tremendous disappointment when he said, "I'm sorry, but the retina has broken away again and you will have to go back to hospital."
For the first period in hospital, despite all its darkness and limitations, I was reasonably patient and happy. As the surgeon said "You are very buoyant."
But the second time in hospital I was full of impatience and hostility. After six days of blindness, I was so depressed and irritable that I told the surgeon I could not stand another eight days of blindness, and he said he intended to reduce it to four days. It proved to be a costly reduction.
At the end of ten days the bandages were removed. As soon as I was well enough I went home.
Soon after I felt the eye was in trouble again. it became inflamed it looked like a bit of raw steak. So we sent out an S.O.S. to the surgeon, and he came out to see me. The retina had broken away again, and I was committed to bed and blindness again.
I shall never forget the next four days. I was the most bad tempered man on earth. During the period I had a birthday, and the family gathered around with their presents, and one a most beautiful Camellia, (magnolia flora). Though I appreciated their love I was still in revolt. Flo and the children couldn't understand it. "This is not like Pop," they said.
After four days the surgeon came out again, said there was no improvement, the bandages were removed, and I had to face the future with one good eye – not so good for it too soon felt the strain and has given me many an anxious moment. When one has two good eyes, one does not worry about them. But when he loses the sight of one, he realises that he has only one eye between him and blindness, and he becomes apprehensive.
The ordeal to which I had been subjected simply rocked me. The thought of it even now fills me with horror. The all-effacing blindness, no sight to see the beauty of the world, worse than all, unable to see the faces of one's loved ones.
The children were magnificent, the way they gathered around me. They were not allowed to see me in Hospital, but when I came home, they visited me every day. As for Flo, she was marvellous. Never did a woman express her love and devotion to her man, more than she did to me.
There were three bright spots from outsiders. Firstly the Matron and nurses in the Hospital, especially Nurse Yvonne Price, one of the most beautiful girls I have ever seen, very humble, ever efficient and a benediction.
Then another little nurse who couldn't stand the pain of the Hospital – Judy Clunies Ross, who came out to help Flo to nurse me while she awaited her call to the Berry Street Foundling Home. When she left, dear old Cath, Flo's cousin, came to help Flo. Never was there a kinder and more lovable person.
Looking backwards, I realise that my impatience after the second operation may have contributed somewhat to its failure. For that I am truly sorry, and it will be a bitter lesson all my life.
To be able to write (by dictation) some poems when I was blinded was a great outlet to my feelings, especially the love poems I wrote my wife.
Unfortunately the cataract on my good eve has developed, and greatly limited my sight. It is a worry and if it gets much worse, I shall have to undergo another operation. I certainly will not prepare for it until it is absolutely necessary.
HOMES FOR THE AGED
Looking back I seem to have been interested in the whole span of life.
First, there was the rescue of slum babies.
Second, the rehousing of families living in the slums.
Third, the provision of homes for the Aged.
Fourth, the provision of a hospital for the non-ambulatory frail aged.
So it goes from birth to death.
The Department of Adult Care is under the direction of Rev. W.J. Johnson. John is an amazing fellow, for he is responsible not only for the care of the aged, but the Migration Scheme and International House for overseas students.
John first contacted me when he was Secretary to the Home Mission Department. He induced me to write a poem every year for the annual Home Mission issue of the Spectator.
The Church acquired two properties to house the Aged, "Overton" and "Armesley." The demand for entry was so great that John planned the erection of eighty-one complete flatettes (with community kitchen, lounge, dining room, library, etc. ) at a total cost of 270,000 pounds or something over 3,000 pounds per flat, which the Government would contribute 1,666 pounds per flat.
An applicant for a flat paid 1,500 pounds or as much as she or he could, some being unable to pay anything, having to rely on the generosity of donors to the scheme. The response has been so good, that the whole cost has been covered.
Wesley Church converted the Parsonage at the back of the Church, into a Home for Old Ladies. It was left another property in Coburg, has bought the house adjoining and will on the combined site erect some thirty-four flats for the aged people.
REV. FATHER TUCKER
A few days before Christmas (1964) Flo and I were in town doing some shopping. As we were passing the Royal Arcade we met Father Tucker the Superior of the Brotherhood of St. Laurence. We stopped for a little chat, and he said, "It was because of you I went into this slum work. When I came to Melbourne over 30 years ago, I knew nothing of the slums. Then I read your little book "The Unsuspected Slums" and the facts you revealed about the tragedy and unhappiness of the people living in the slums, so woke me up to their pitiful plight, that I determined to do all I could to remedy their miserable condition. So it was you who inspired me and drove me into the slums to do what I could to abolish the conditions in which they were forced to live."
I was very humbled to hear this, though glad I had been some inspiration to him. Father Tucker has spent his life since then in all manner of activities respecting the injustices inflicted on slum people. He has built houses for slum people, including the settlement at Carrum Downs and Lara.
Father Tucker is now making an appeal for 75,000 pounds and in his little brochure he writes:
"For 34 years the Brotherhood of St. Laurence has been helping our Forgotten People in such ways as through –
"Its social workers help families tackle problems like unemployment, conflict between husband and wife, over-large financial commitments, or anxiety over children's behaviour. This help can prevent serious family breakdown such as desertion and the separation of children from their parents
"Its homely hospital "Carinya" at Box Hill, which provides loving care for the frail aged; and Kebble Court, Carrum Downs, and St. Laurence Park, Lara, which provide other necessary accommodation for the aged.
"It's Coolibah Club where the elderly, from congested inner areas gather and make friends, and the Youth Centre where young people join in construction and healthy activities.
"But the Brotherhood has now reached the stage where it must put up its 'House Full' sign unless it is enabled to extend its facilities. It urgently needs 75,000 pounds – not a large sum in today's terms for new buildings, new services, and for its social service research programme."
POETRY
All my life I have been interested in poetry. When I was about eight years old, I made up a little poem for my father's birthday. It was really a little bit of doggerel, and poor at that, but it pleased Father.
When I became really interested in spiritual things, I tried to express myself in verse. When I fell in love, I naturally had great inspiration. To write, however, inadequately, does relieve the inward tension. When dear old Le died, I was torn asunder, and I only obtained relief when I tried to express in verse what I felt. I could then begin to re-mould my life.
Up to date, I have copies of over 500 poems that I have written. The best of them, about one quarter, I have had printed in a little book "How Lovely is This World." Publishing poems is a costly business, for I realise no publisher would take the risk of publishing a book from an unknown poet. I therefore published them myself, appointing Sewards as distributors. I owe a great debt to Flo and to Helen for careful checking of proofs, and to Betty for the way she laid out the book and prepared the dust jacket.
The poems are me, and I have been greatly cheered by the responses many friends have made. Irving Benson did me a great service when he devoted his Saturday evening column in the Herald to a very lovely write up of the poems. Trevor Hyard did a similar thing in the "Spectator." To them both I am very grateful. G. Inglis did the same in the South Australian Methodist Paper, a very fine review. Many people wrote to me and thanked me for the book which cheered me wonderfully.
I know quite well I have not the ability to write for the intelligentsia. I belong to the common people, and naturally always write so that they will understand what I am writing. The greatest joy has been to receive letters from many people who have said that I had expressed their thoughts but they did not have the ability to express them in words.
Writing, whether it has been poems or articles, has always been an outlet for my thinking. As well as some little books and many pamphlets, I wrote many articles for the daily press, mostly of course on the slum and re-housing problem, which helped I to develop a public conscience on the matter.
For some years, Rev. John Johnson, while he was Secretary of the Home Mission Department, induced me to write a poem for the Spectator on the occasion of the annual issue of Home Mission Appeal.
When John was appointed Director of the Department. of Adult Care, he asked me to become Chairman of the Publicity Department. The Committee met in our home, and one of' the first things we did was to arrange a luncheon at the "Victoria" to which we invited many prominent men and women.
Fletcher Jones was the Speaker and gave a witty and telling address. As a result, a great number of people contributed generously to the fund.
Since then, every year we have a little brochure called "Autumn Days" issued. It has been most beautifully produced, due to Betty's artistic talent. On the cover of each issue has been printed in colour, a beautiful picture of some Autumn scene. The first was "Autumn on the Ovens River." The next told of the plight of the Aged Folk and their need of a home, and it was profusely illustrated by photographs of elderly folk in the present homes owned by the Church, but which were proving inadequate, there being over 300 on the waiting list.
When Rev. Johnson took to the printer the 'dummy' (a complete lay-out of the brochure prepared by Betty) he was so impressed that he said, "I'll give twenty-five guineas to that." He showed it to a Director, and he also promised the same amount. A Jewish friend of mine took me to lunch at Menzies, and when told him the story he also gave twenty-five guineas.
In a few weeks after its preparation the Brochure had in over 1,000 pounds.
The last brochure was on the need of a Hospital for the aged who were too frail to look after themselves. It was a lovely production with a coloured picture on the cover of Autumn in Washington. John Johnson wrote the story of the need so beautifully that is had not been issued a week when a recipient of the brochure sent us his cheque for 1,000 pounds. A printer had made some criticism of the expensive advertising of the Church.. But the Department of Adult Care has proved that attractive advertising brings good returns.
MY RELIGION
Being born in a Christian family, I naturally was interested in religion from early childhood. At first I was afraid. I remember when I was about twelve years of age talking to a school mate, "You know Harry, if I could look into the Book of Life, (in which the names of all those who were "saved" were inscribed), there is just one thing I would want to know, – was my name there?" Harry felt the same. This attitude of mind no doubt due to the fearful messages of doom the Evangelists of that day proclaimed. When a great mission was in progress, (and there were many in my youth) the appeal was to flee from the wrath to come, give your life to Jesus and be "saved."
The appeal was of a low order, though it had been common, I should think for many centuries. I have seen men and women by the hundred "come to Jesus" as the result of this kind of appeal.
In the Sydney Road Methodist Church, a handsome young missioner named Nicholson, told how as a sailor, the ship he was on was wrecked coming round the 'Horn'. "In a moment" he said, "we were clinging to the keel of an upturned lifeboat, praying like Popes." He was 'saved' spiritually and physically.
His sermon on the afternoon I heard him was on the bottomless pit. "After a year you will still be falling, after a thousand years you will still be falling" and so on. But it had remarkable effect. People by the hundred, mostly women with tears streaming down their cheeks, swarmed up to the communion rail and were 'saved'. Saved for what? I wonder!
Then there was the other method of evangelism. "All those that are Christians stand up." Then the workers got busy on those sitting down, trying to persuade them to "come to Jesus."
At one such service in the Baptist Church, Brunswick, Arthur Wilson and I sat down in protest, immediately to be accosted by a 'worker' seeking to "save us." In polite, but no uncertain terms, we told the 'worker' what we thought.
This sort of appeal helps many people to think, and to make up their minds as to the kind of life they should lead. if that be so, it is a real 'conversion', a turning from the old life of selfishness, seeking forgiveness for the waste up to date, and dedicating one's life to God, to seek to do His will, by His grace, to love Him and to love one's neighbours.
If the decision is based only on fear, it gives a wrong impression of God, and will not last. I believe what Rev. John Westerman once said to me, "anything that makes God seem unattractive, whether it is in the Bible or not, I don't believe it." Neither do I. I believe with all my heart that God is love, and every thought of beauty and of goodness, spring from Him alone.
GOD IS A SPIRIT
When we were very young,
We thought of God in heaven above,
A wise old man and kindly too.
As we began to think,
We realised God cannot be confined
Within a human form,
For He is everywhere.
God is the loveliness of all the world,
The perfect love that understands,
The Source of all self-sacrifice,
Compassion that will never fail,
The Wisdom and the Truth,
And all the beauty Christ revealed
When on the earth.
The sum of all the good,
In heaven above,
And in the earth below,
Is GOD,
Whose Personality Breathes over all the world,
On saint and sinner too,
For He is Father of them all,
And loves everyone.
What is God like? We can have the most perfect picture available to mankind if we look at Jesus. He was the most perfect example of what God was like. Of all the humans who have ever lived, no matter how good, no matter how wise, Jesus overshadows them all. To read the Gospels is to be amazed at the truths Jesus expressed So simply that 'the wayfaring man need not err therein.' He reached the highest point of philosophy, the depthed the greatest depths of human suffering.
He was the most balanced man that ever lived – Never gave way to anger, but only to righteous indignation when He realized the Priests were false to the ideals of their religion.
From His birth to His death, He never made one mistake – never faltered, never shrank from danger – never omitted to love the despised, the dispossessed and the outcast. In all that He was and did, He was revealing God – the God of love.
His crucifixion was the inevitable result of His opposition to the selfishness and pride of the religious leaders of His day, but the fact that He was rejected by His fellow countryman was harder to bear than the physical agony on the Cross. It was the staggering rejection by His own people, the people who had followed Him gladly, that caused Him to feel utterly deserted; it seemed as though even God had deserted Him. "My God, My God, why hast Thou forsaken Me?"
Right to the end in His direct extremity of pain, He was revealing what God was like – the love that suffered, the agony of the body, and the even greater agony of the soul. He had revealed the love of God in every detail of His life. Now He completed that revelation by the manifestation of perfect love on the Cross.
My religion is very simple. it is based on the text "God is Love." I can see no other alternative – He is either a God of Retribution, a sort of Head Master just waiting for the opportunity to punish his pupils, or He is Love wholly benevolent, all the time seeking to promote the happiness of those He has created. This to me is the only sensible view. I remember Betty said to me one day that she could not understand a personal God, but she could understand God being love. As we grew older we naturally shed the idea of God that we had as children, "the old man in the sky," and we are probably in somewhat of a maze. This text, however, is a sheet anchor, "God is Love." Accepting that, we can rest assured and happy.
WHAT IS LOVE?
There is an utterance of Jesus that makes life very purposeful and beautiful
"Thou shall love the Lord thy God with all thy heart (all the affection), with all thy mind (all thy brains), with all thy soul (all thy aspirations) and all thy strength (all thy enthusiasm), and though shall love thy neighbour as thyself."
This brings us to the point, what is meant by the word "love." (in Greek "agape.") I phoned Rev. Norman Lade (our Professor of Theology) and said to him.
"I want to have a talk with you, Norman."
"What about?"
"About love!"
"About what!" he cried in amazement.
"It's alright, Norman, I mean the Creek word 'agape'."
"Come and have lunch with me."
So I went up to Queens and had lunch with him.
"Well, what does 'agape' mean?"
"The best definition I can give you is – 'agape' means a deep concern." When I got home I turned up the word 'concern' in the Dictionary (the next book to the Bible). 'Concern' comes from two Latin words, 'con' meaning 'with' and 'cenar' meaning 'to see'. That is 'concern' means 'seeing together', or as we would say in every day language – standing in the other fellows shoes, and seeing with his eyes, studying him from the inside, his heredity, his environment, seeing how and why he ticks the way he does, and then what we can do to help him, going fifty-fifty with him.
That simple definition gave me a lot of help. I found that I could not judge people off hand. I must be a spiritual Christopher Columbus, sailing on a voyage of discovery. This makes life far more interesting and exciting.
Then reverently, we must apply the same method when we think of God. What is His plan for the world? Surely to bring happiness to the beings He has created, to establish a Brotherhood amongst all men, banishing selfishness and injustice, racial discrimination, and the motive – "spoils to the victor." The establishment of what Jesus spoke so eloquently, "The Kingdom of God," is far more than a theological concept, it starts in the individual soul, changes the whole outlook from "inward" to "outward." As we attempt to stand in God's shoes, as it were, and look through His eyes, we realise that His plan of brotherhood and happiness to all men is far from being fulfilled.
War is hovering over us all the time, newborn nations are clamouring for their share of the world's wealth. Strife fills the very air. it almost seems that we are nearer to "Hell on Earth" than we are to "Heaven on Earth."
If we are attempting to see the world through God's eyes, we must realize what a tremendous sorrow it must be to Him, instead of a world of harmony and brotherhood there is much discord and enmity. How can God establish His Kingdom, the Brotherhood He intended ? It is obvious He must rely on us. If we love Him as Jesus suggests we should, then we can express that love only in loving our neighbours, as we do ourselves.
We can bring in this "brave new world" in no other way. Loving one's neighbour, not theologically, but practically is real religion, and the only real way of expressing our love to God.
Why is it so difficult to love our neighbour? When God created men out of dust, He made him an animal, with all an animal's senses. He sees, smells, tastes, hears and feels just like every other animal. And then a miracle occurred. God breathed, into man and man became a living soul. He was still an animal, but an animal with a difference, an animal with a bit of God in him. As a result there would be within him an eternal conflict, "the animal urging him to follow his animal instincts and please himself, but the Spirit of God constantly suggesting to him to control his animal instincts, and follow the higher, the unselfish life of service – to love his neighbour as himself.
But the dominant animal instincts never sleep, and unconsciously we follow them quite naturally, but the Spirit knows defeat and eternally seeks to warn us against the selfishness, and the joy and satisfaction of unselfish service.
The Spirit of God, the Indwelling Holy Spirit, is ever with us. Just as God, planned all the Universes, and Galaxies with billions and billions of stars, and I am informed every one of them in motion, some moving incredibly swiftly, others taking years to complete their orbit, but all under the inimitable laws of God, so that they do not clash, all moving with the utmost precision and revolving in their orbit to the exact second. God, as God of Love, as well as planning these perfect physical laws, has also planned spiritual or moral laws for the benefit of man. It is man's definite pivot of purpose to live in harmony with these moral laws. The Indwelling Holy Spirit who knows the end from the beginning, is always within man, seeking by His quiet voice, to guide him from selfishness into happiness. It's so easy to follow the selfish urge, the instinct of the animal. We so often pray "What, O lord do You want me to do" and all the time we have made up our mind to please ourselves. The animal instinct within us urges us to take a selfish course, to get what we can, to express our anger forcibly and so on, and the Inner Voice is shouted down. "I don't care what you say, I'm going to do it, or get it, or say it, whatever you will." "I don't care" always expresses definite refusal to accept the guidance of the Indwelling Spirit. It's all so stupid. Here is the Eternal Spirit who knows all the laws of God, the laws that are framed for man's happiness, and express the perfect will of God. He is not attempting to inflict something unhappy upon us, to clip our wings, to make us rigid and miserable. Rather His plan is to bring perfect happiness and to obey the Inner Voice is the way to achieve that happiness.
It means on our part that we must be perfectly honest. We pray "Shall I go?" – perhaps it is my duty to go. "Shall I stay at home?" – that may be my duty. If we are honest, we shall be prepared to go and just as prepared to stay at home. We are absolutely honest, and place ourselves unreservedly in the hand of the Indwelling Spirit and say "What is it You want me to do?" If we are entirely without bias, we shall get the answer. 'Tis then we work in conformity with the plan of God, fulfilling His perfect law of love, and will understand the meaning of the words: "All things work together for good, to them that love God." Love is the keystone, love which means seeking guidance from the Inner Voice, and which whole heartedly abandons the urge of self and; accepts the answer given by Him. Who is seeking to bring happiness and goodwill to all mankind? God is with Love.
How incredibly foolish we are when we reject the guidance of" the all wise and all loving God which is available to every human being, and follow the urge of the animal instincts which say "please yourself."
THE END OF LIFE
At my age, one naturally realises that the end of life is not very far distant: What does the future hold? is there any need to be afraid? in the following poem I tried to face up to the ultimate:
STAND UPON THE BRINK OF TIME
I stand upon the brink of time
And look out to Eternity
I would not hasten from this lovely world,
But, surely as the day will follow night,
So will the "Great Adventure" whisper, "Come!"
And I shall go expectantly.
'tis strange to think that I no more
Will watch the surging crowds along the street,
Nor listen to the traffic's roar;
No more shall I entranced,
Behold the sun behind its crimson curtain slowly sink;
Nor I shall see
The moon low hung on distant hills.
'tis strange to think
That I shall not be here
To see the beauty of this world,
The glory of the seasons as they come and go,
But I shall be in God's enchanted land,
And, liberated from my earthly frame I shall be joyously aware
That God is everywhere,
Despite all my unworthiness
He's very close to me,
And I am conscious He is Love.
If my thinking be true, then there is no need to fear Death.
DEATH IS NO REAPER GRIM
Death is no Reaper grim and merciless,
Death liberates the soul
And opens wide the gate
To never ending Spring,
And, when our earthly sojourn is complete,
He comes
With life that knows no ending,
And, swiftly as the light,
He gently carries us
To realms of utter loveliness
Beyond all beauty we have ever dreamed.
Here our unworthiness is shed
Like Autumn leaves,
For chill frustration cannot enter here.
Here reigns unselfish happiness,
Here we are gloriously aware of God,
And know that he is Perfect Love,
His presence wraps us round,
And this will be the loveliest thing of all,
That God will be so close to us,
That we shall be
In perfect harmony with Him.
Maybe we still can be God's messengers,
And can transmit
To needy ones on earth,
The hope, the joy, the strength they, need,
Fulfilling His great plan of Love
To save the human race.
If love and goodwill were marshalled there no doubt that it would make a magnificent start to establish the "Brave New World," in other words, the "Kingdom of God" would begin here on earth.
WHAT OF THE CHURCH?
In my youth practically all the Churches were comfortably filled. Today, most of them are bewailing a dwindling congregation.
What is the reason?
I would humbly suggest that the Church has an insufficient goal to inspire its members.
In the days of wide spread evangelism, the Churches were full. There was a constant mission to save people's souls, a mission, that was based mostly on fear. People were told that unless they were saved, they would go to Hell. The fear of the Hereafter was a tremendous force that urged thousands of people to be converted.
But the fear motive has lost its appeal. People would seem to be unafraid of Hell today. They deny its existence. So the Church. has lost its great motive – saving souls for Heaven.
What compelling motive can take this place of fear? It seems to me the only motive worthwhile is the motive that inspired Jesus – the establishment of the Kingdom of God on earth – which means a wholesome brotherhood, the abolition of poverty, and the total rejection of War.
If the Church had a world-wide mission to abolish poverty and War, because it was convinced that that was God's purpose, it would have a red hot mission that would electrify the whole Church.
The Communists have a gaol – a world brotherhood without God. Our goal surely is greater – a brotherhood with God. What a mighty revolution that would be – loving our fellows, sharing with then, because we love God and all that God means.
MY CORNISH HERITAGE
As I look backward over the years I am struck by the fact that Cornwall had so much to do with my outlook. To begin with, both my parents were Cornish and though I was born after my parents arrived in Australia I was born into a Cornish atmosphere. Cornish cooking was part of my environment – Cornish pasties, custards and tarts, marinated pilchards whenever we had a shoal in the Bay. Every Christmas relatives at "Home" sent saffron for the traditional Cornish saffron cake.
The Cornish mines were a frequent topic of conversation especially the jokes connected with them. Oswald Prior's book "Little Cornwall," the story of the Cornish miners who worked the copper mines at Moonta in South Australia, catches the Cornish atmosphere exactly.
The major factor in my environment was religion. Wesley's revivalists swept through Cornwall like a flame, until practically every village had a Wesleyan Chapel. Our family life in Australia continued to revolve around the Methodist Church. We all went to Sunday School at an early age, about 4 ½ years, and later to Church. In our later childhood we attended Sunday School at 9.30 a.m., Children's Service at 11 a.m., Sunday School at 2.30 p.m. (followed every month by a prayer meeting) and Church again at 7 p.m., also followed by a prayer meeting.
Evangelistic Missions were held regularly in the Church, and sinners were expected to repent their sins, and make a confession at the penitent form, and be saved.
On Sundays we were not allowed to engage in any sport whatever, nor to ride in a train, tram or a horse drawn vehicle.
Cards and the theatre were strictly taboo. They were the playthings of the Devil. Gambling in any form whatever, and raffles were ruled out entirely. Alcohol was strictly forbidden.
One is amazed at the "liberal" atmosphere of today compared with the robust narrowness of our upbringing. Though I have broken through most of these limitations I am not sorry that I was subject to them in my childhood.
As a matter of fact I sometimes feel that the liberty of young people today is in danger of becoming dangerous licence.
It is only now, on reflection after writing my diary, I am aware of the tremendous influence Cornwall had on my upbringing.
When the Romans invaded Britain, the unconquered Britons fled westward, to Cornwall, Wales, the western part of Scotland, and even to Ireland. They were unconquered people, primal in their instincts, easily moved to emotion, but very faithful in their friendship.. I am then a Celt, and hope that I shall always retain the best characteristics of the Celtic Spirit.
---